Queen Elizabeth II marks 60th anniversary of her coronation
June 5, 2013 -- Updated 0031 GMT (0831 HKT)
STORY HIGHLIGHTS
Members of the royal family join a service to celebrate 60 years since the coronation
The queen acceded to the throne in 1952, but her formal coronation took place in 1953
Prince William and his pregnant wife Catherine are among the guests
London (CNN) -- Members of the royal family, UK government and dignitaries gathered Tuesday in Westminster Abbey for a service to mark the 60th anniversary of Queen Elizabeth II's coronation.
The queen was accompanied to the service by her husband, Prince Philip, as well as her son Prince Charles and her grandchildren, among them Princes William and Harry.
William's pregnant wife Catherine, the Duchess of Cambridge, was also present. She is expecting their first child in July, just over two years after they were married at the abbey.
Prime Minister David Cameron gave a reading as the service began amid pomp and ceremony.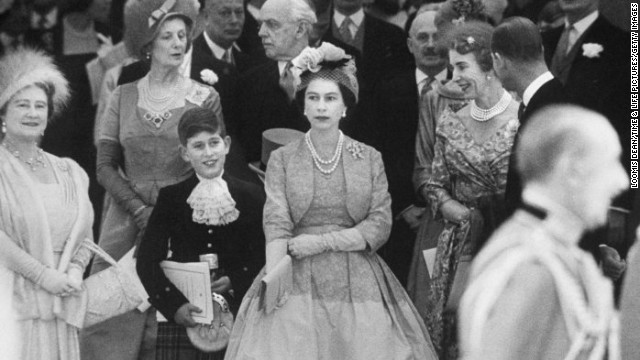 Queen Mother Elizabeth, from left, Prince Charles and Queen Elizabeth II attend Princess Margaret's wedding in 1960.
Queen Elizabeth II watches a University of Maryland vs. University of North Carolina football game at Maryland's Byrd Stadium during her 1957 official visit to the United States.
The queen speaks at a state dinner in Ghana in 1961.
Queen Elizabeth visits Ethiopia in 1965.
Queen Elizabeth II visits Ethiopia in 1965. See the full gallery on Life.com.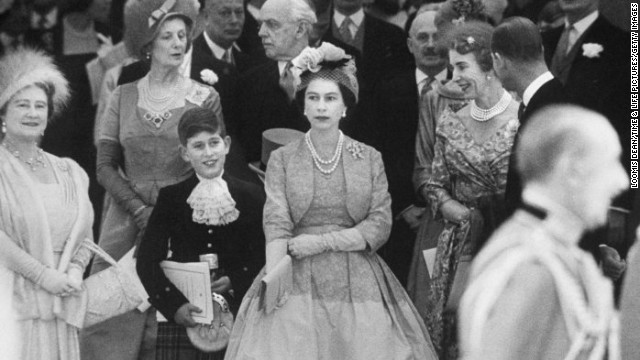 Rare, classic photos of Queen Elizabeth II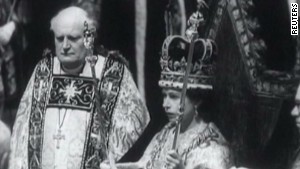 Celebrating the Queen's 60th anniversary
The queen acceded to the throne in 1952, but her formal coronation took place on June 2, 1953.
Archbishop of Canterbury Justin Welby in his reading paid tribute to the queen's "60 years of commitment" and service since she was crowned.
The Bishop of London, the Right Rev. Richard Chartres, also hailed the queen's "affectionate service" to her people in the United Kingdom and Commonwealth and "the strength and inspiration she fosters" there.
The music and choral works performed at Tuesday's service reflected the choice of music for the coronation 60 years ago.
After the service, the queen and Philip stepped out into brilliant sunshine amid the tolling of bells, climbing into a glass-topped limousine for the return journey to Buckingham Palace.
Diamond Jubilee celebrations were held last year to mark the queen's 60 years on the throne.
There have been 38 coronations at Westminster Abbey since the coronation of William the Conqueror in 1066.
A special "coronation chair" ordered built by Edward I, who reigned from 1272 to 1307, has been used for almost every coronation since the 14th century.
Queen Elizabeth II's coronation in 1953 was the first to be televised, allowing her British subjects to watch the entire ceremony.
OPINION: Why Queen Elizabeth won't step down

Part of complete coverage on
December 19, 2013 -- Updated 1704 GMT (0104 HKT)

Google's acquisition of a military robot maker prompts Douglas Rushkoff to ask how the deal fits the company's value of "don't be evil."

After their leader Kim Jong Un had his own uncle executed, how do ordinary North Koreans feel?
December 21, 2013 -- Updated 1708 GMT (0108 HKT)

Despite wanting to be a great power, India often fails to behave like one, writes Jeremy Carl.
December 21, 2013 -- Updated 0035 GMT (0835 HKT)

What scope do western governments have to influence change for the better?
December 19, 2013 -- Updated 1319 GMT (2119 HKT)

Extremist attacks of the kind that claimed the life of UK soldier Lee Rigby do not come out of thin air, analysts say.
December 20, 2013 -- Updated 1814 GMT (0214 HKT)

From tycoon bankruptcies to billion-dollar takeovers, 2013 has been a roller coaster year.
December 19, 2013 -- Updated 1026 GMT (1826 HKT)

Which has been the craziest year in travel history? It just could be 2013.
December 19, 2013 -- Updated 1216 GMT (2016 HKT)

Kickstarter is one of the world's largest crowdfunding websites -- over 53,000 projects have been born.
December 21, 2013 -- Updated 1719 GMT (0119 HKT)

Browse through images you don't always see in news reports, taken by CNN teams all around the world.
December 20, 2013 -- Updated 1525 GMT (2325 HKT)

Each day, CNN brings you an image capturing a moment to remember. Look back at the photographs that chronicled 2013.
December 21, 2013 -- Updated 0910 GMT (1710 HKT)

Never mind the baubles -- one of these Christmas trees is made of macaroons.
December 19, 2013 -- Updated 1203 GMT (2003 HKT)

What do you need to map a billion stars? A billion-pixel camera certainly helps.

Today's five most popular stories