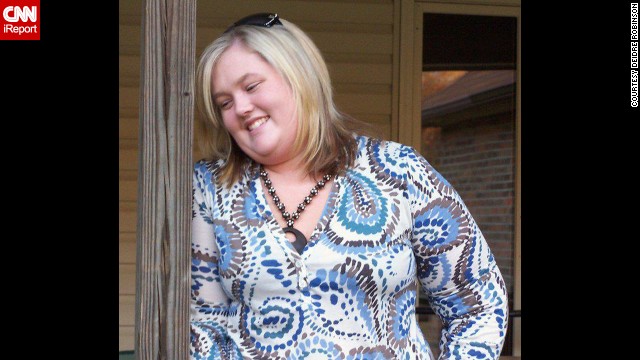 Deidre Robinson never liked to have her picture taken because she was self-conscious about her weight. She has lost more than half her body weight -- 170 pounds -- since this photo was taken in 2008.
Robinson said she was the only person in her family with a weight problem, calling her sister, Danielle Banegas, "genetically thin." "She ate everything I ate, but didn't gain weight like I did," she said. Banegas and Robinson are pictured here in 2007.
This photo from 2008 is one of the few pictures that Robinson has of her and her family from before she started losing weight in 2009. "I hated the way I looked in a picture," she said. "When you look at yourself in the mirror when you're getting dressed, you see yourself differently. When you see yourself in a picture, that to me is when you see what you really look like."
This image from 2008 is one of many turning points that Robinson said caused her to change her lifestyle.
This photo from January 2009 is one of the last pictures that Robinson posed for before starting Weight Watchers and Zumba classes the following month.
Robinson posed in a bikini in summer 2011, around the same time she opened her first Zumba studio, Fitness Shakers. She went from a size 24 to a 2.
This promo shot for Fitness Shakers was taken earlier this year. "It's amazing to think I used to have these huge round chubby thick arms and now I've got this muscle definition," she said. "Pounds don't even bother me anymore. Now it's body fat percentage."
Robinson shows off her 170-pound weight loss in this photo from earlier this year.
Now Robinson teaches about 10 classes at Fitness Shakers each week. She also has 10 instructors teaching additional classes at her two South Carolina locations.
Deidre Robinson
Deidre Robinson
Deidre Robinson
Deidre Robinson
Deidre Robinson
Deidre Robinson
Deidre Robinson
Deidre Robinson
Deidre Robinson