Hottie in seat 17D? Send her a drink!
April 25, 2013 -- Updated 0326 GMT (1126 HKT)
STORY HIGHLIGHTS
Virgin America launches seat-to-seat ordering service
Passengers can send cocktails and chat with perfect strangers
The "send to another seat" button makes meeting fellow passengers easy
(CNN) -- The best thing about flying? Gawking at good-looking strangers.
Maybe you spotted a Ryan Gosling clone in the departure lounge who set your heart aflutter. Or perhaps that mysterious tattooed woman who set off the metal detectors with all her piercings caught your fancy.
There's just one problem. Serendipity fails to strike. You board the plane and find your dream girl/guy isn't seated anywhere near you.
But there's good news for helpless romantics.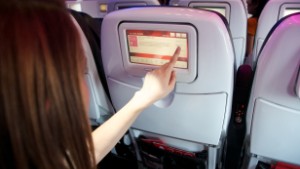 Virgin's in-flight entertainment system now doubles as Cupid.
Thanks to Virgin America's not at all creepy new service, passengers can use the airline's "Red" in-flight entertainment system to send a drink, meal or snack to the object of their affection.
So, once you've pinpointed your designated hottie with Virgin's digital seat map, what comes next? Browse the menu and decide what to send over.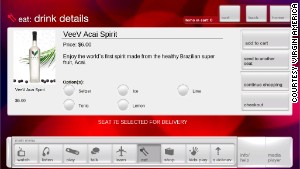 The "send to another seat" button makes meeting fellow passengers easy.
Maybe he looks like a Bombay Sapphire kind of a guy. And what lady can resist an ice cold Bud Light? She'll be yours in no time.
Follow up with a text sent through the seat-to-seat messaging system. The cheesier the better.
"This Bud's for you, sexy lady."
"Is there an airport nearby or is that just my heart taking off?"
Getting lucky
Virgin America launched the new seat-to-seat delivery option this week to mark the start of its Los Angeles to Las Vegas service, though it's available on all of the airline's U.S. flights.
The big man himself helped introduce the new feature with a video titled, "Sir Richard Branson's Guide to Getting Lucky."
"I'm not a betting man, but I'd say your chance of deplaning with a plus-one are at least 50%," he concludes.
The only problem we foresee is a surge in the number of passengers prowling up and down the aisles "going to the bathroom" for a fourth and fifth time.
12 in-flight innovations that will make your trip better

Today's five most popular stories
Part of complete coverage on
November 16, 2014 -- Updated 2326 GMT (0726 HKT)

Take a trip to the Chinese town that has more relics than people.
November 13, 2014 -- Updated 1742 GMT (0142 HKT)
You know about reggae and Usain Bolt -- but you probably aren't aware of these other Jamaican superlatives.
November 14, 2014 -- Updated 1152 GMT (1952 HKT)

Artist creates brilliant tribute to Dutch impressionist painter -- a cycle route that glows in the dark
November 14, 2014 -- Updated 0633 GMT (1433 HKT)

European airlines beware: These 320kph trains are upping the travel game with roomy seats and onboard wi-fi.
November 13, 2014 -- Updated 1053 GMT (1853 HKT)
For such a relatively small collection of islands, the UK packs in an phenomenal range of beautiful scenery.
November 12, 2014 -- Updated 2237 GMT (0637 HKT)

Rovos Rail's epic trips out of South Africa pamper passengers with fine dining, vintage comfort and even a bathtub.
November 18, 2014 -- Updated 0137 GMT (0937 HKT)

Self-taught Iranian photographer gains rare access to shoot religious buildings as they've never been seen.
November 11, 2014 -- Updated 0345 GMT (1145 HKT)

The subject of erotica has a way of making people uncomfortable.
November 7, 2014 -- Updated 0037 GMT (0837 HKT)

UK's Heathrow Airport pairs destinations with fragrances to evoke long distance travel. We do too.
November 6, 2014 -- Updated 2100 GMT (0500 HKT)

Bumper cars, a freefall simulator and robot bartenders are just a few of the cool features on Royal Caribbean's new Quantum of the Seas.
November 2, 2014 -- Updated 2258 GMT (0658 HKT)

Up in the mountains and across deep chasms, these bridges are both spectacular and terrifying.