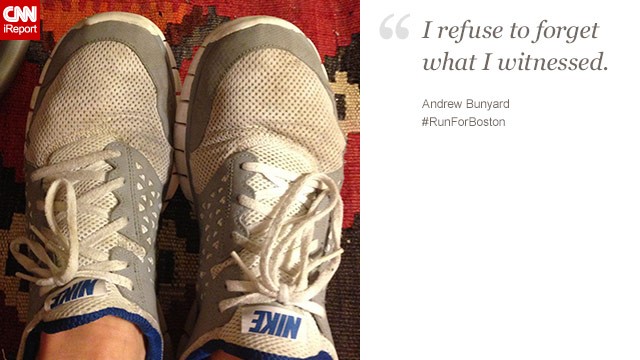 Andrew Bunyard, 28, works at a hospital in Boston. "I refuse to forget what I witnessed and heard," he said.
Sharon Berger Cooper, 40, from Parkland, Florida, said the tragedy in Boston made her more grateful for her health and ability to run.
Lauren Germaine, 33, lives in North Carolina but calls Boston home. She hopes to run the marathon there next year.
Kylee Seibert, 27, from Bowling Green, Ohio, says she was inspired by "people running towards the scene" after the blasts in Boston.
Rosalind Cohen-Baruch, 44, from San Francisco, started running to lose weight and feel better about herself. She's running for people who have had that feeling taken away.
Cheering spectators are the only reason Ezra Gonzales-Müller, 35, from Germany, says he can finish a race. "I am devastated that they were targeted," she says. "My heart weeps."
Sean Houston, a CNN employee in Atlanta, says people who helped victims in Boston "remind us of the best of America."
"The bombings reminded me that I have a gift. I have my legs," says Catina Culshaw, 39, from Birdsboro, Pennsylvania.
Mark Giannetti, 23, lives near the site of the bombing. "I've been running every day to try and keep my mind clear," he says, "which doesn't quite work."
Jenifer Jagielski, 45, from Sydney, who broke her foot running, says the sport is great because it lets friends and family members share ups and downs together.
Deborah Kara, 26, who lives in Saudi Arabia, says Boston's victims "deserve our full support and cheering."
"I never thought I would say this, but I am going to run that marathon next year," said Karin Kenney, 45, of Massachusetts.
Texan Jennifer Kirkpatrick, 41, plans to run the Dallas Marathon.
Joseph Larramendia, 24, from New Jersey, wants to run to demonstrate how "strong and resilient" Americans are.
Run for Boston Facebook group
that has about 25,000 members.
John Mulholland, a 42-year-old in Illinois, started a
started a website
where people can log the miles they're running for Boston.
Becca Obergefell, 26, from Ohio,
Beatriz Orozco, 28, from California, likes running for its sense of community -- and because she only has to compete with herself.
"I'd like to show marathon runners and those watching that I'm inspired by so many of them," said Jessica Pilkington, a 27-year-old who works in Boston.