China to open disputed islands to tourism
April 8, 2013 -- Updated 1753 GMT (0153 HKT)
STORY HIGHLIGHTS
Sightseeing cruises flagged to start in April on disputed island
Area is in a region claimed by a number of Asian countries
China considers Sansha its newest city
Hong Kong (CNN) -- Sightseeing cruises to China's newest city, Sansha, located on a disputed island in the South China Sea, are set to commence this month, according to a Chinese official.
The move is certain to add to the dispute over sovereignty claims to the area.
Woody Island, known as Yongxing Island in Chinese, has a population of about a thousand, including military personnel. It's located 300 kilometers southeast of Hainan and was established as China's latest prefecture in June 2012.
The city of Sansha has the smallest land area, but the largest sea area in China.
Sansha's government has been set up to administer the Spratly Islands (Nansha Islands), the Macclesfield Bank (Zhongsha Islands) and the Paracel Islands (Xisha Islands), which include Woody Island.
The islands are partly claimed by Vietnam, Malaysia, the Philippines, Brunei and Taiwan.
Shown in the map above are the islands. Closest to Sanya are the Paracel Islands. Further east is the Macclesfield Bank and south are the Spratlys.
Sightseeing only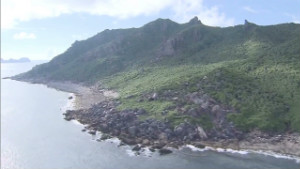 Islands in dispute.
The cruise tour statement is a sign that China is bolstering its claim to the territory.
Visitors won't be allowed to stay on the island. Instead, cruise-goers will eat and sleep onboard and only sightsee on the island, said Hainan deputy governor Tan Li at press conference at the annual Boao Forum for Asia over the weekend.
"We have started the planning and development of Sansha, including basic infrastructure, at full speed," Tan was quoted by state-run Xinhua News Agency (Chinese).
"Sansha's sightseeing routes, scenic spots and docking locations have been confirmed. We are hoping to begin [the cruise operation] before May 1."
Some 12 projects, including a berth for larger supply ship, freshwater supply, sewage and garbage treatment facilities are under development in Sansha.
The first phrase of Yongxing Pier has been completed and begun trial operation.
Sansha's first mayor, Xiao Jie, said last month the development and improvement of Sansha city will strengthen China's sovereignty of the islands.
Xiao said that the priority would be conservation of the natural habitat, according to the state's travel network, The Travel Channel.

Today's five most popular stories
Part of complete coverage on
November 24, 2014 -- Updated 0118 GMT (0918 HKT)

These quirky and beautiful subway stops make standing cheek-to-cheek with 45 strangers almost seem fun.
November 21, 2014 -- Updated 1314 GMT (2114 HKT)

Luxury vintage Land Rover tours explore Bedouin backwaters without bashing up precious dunes.
November 20, 2014 -- Updated 0250 GMT (1050 HKT)

Cities around the world have closed the brew gap, but the Oregon city's innovative scene continues to lead the beer parade.
November 19, 2014 -- Updated 2249 GMT (0649 HKT)

From gourmet hotdogs to Sevillian tapas, the food served in these London restaurants is worth lining up for.
November 20, 2014 -- Updated 1545 GMT (2345 HKT)

Plans are underway to build the world's tallest -- and quite possibly most terrifying -- roller coaster at an Orlando, Florida, theme park due to open in 2017.
November 18, 2014 -- Updated 1932 GMT (0332 HKT)

The 7th Annual Cruise Critic Editors' Picks Awards highlight the top cruise lines for North American travelers in 18 categories.
November 19, 2014 -- Updated 0206 GMT (1006 HKT)

Joining the ranks of pilgrims tackling Adam's Peak rewards with a spiritual awakening, or at least a stunning sunrise.
November 18, 2014 -- Updated 1313 GMT (2113 HKT)

Beautifully designed travel document reveals image of Northern Lights when placed under UV light.
November 18, 2014 -- Updated 0525 GMT (1325 HKT)

New concept offering luxury rooms in ancient dwellings helps spare beautiful villages from falling into ruin.
November 21, 2014 -- Updated 2247 GMT (0647 HKT)

Are you the butcher or the cattle? Tainted meat-obsessed fans are following the tracks of their favorite "Walking Dead" survivors.
November 17, 2014 -- Updated 0521 GMT (1321 HKT)

People never cease to find amazing ways to make water more incredible than it already is. Here are some powerful examples