China to open disputed islands to tourism
April 8, 2013 -- Updated 1753 GMT (0153 HKT)
STORY HIGHLIGHTS
Sightseeing cruises flagged to start in April on disputed island
Area is in a region claimed by a number of Asian countries
China considers Sansha its newest city
Hong Kong (CNN) -- Sightseeing cruises to China's newest city, Sansha, located on a disputed island in the South China Sea, are set to commence this month, according to a Chinese official.
The move is certain to add to the dispute over sovereignty claims to the area.
Woody Island, known as Yongxing Island in Chinese, has a population of about a thousand, including military personnel. It's located 300 kilometers southeast of Hainan and was established as China's latest prefecture in June 2012.
The city of Sansha has the smallest land area, but the largest sea area in China.
Sansha's government has been set up to administer the Spratly Islands (Nansha Islands), the Macclesfield Bank (Zhongsha Islands) and the Paracel Islands (Xisha Islands), which include Woody Island.
The islands are partly claimed by Vietnam, Malaysia, the Philippines, Brunei and Taiwan.
Shown in the map above are the islands. Closest to Sanya are the Paracel Islands. Further east is the Macclesfield Bank and south are the Spratlys.
Sightseeing only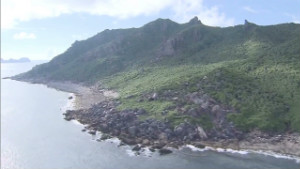 Islands in dispute.
The cruise tour statement is a sign that China is bolstering its claim to the territory.
Visitors won't be allowed to stay on the island. Instead, cruise-goers will eat and sleep onboard and only sightsee on the island, said Hainan deputy governor Tan Li at press conference at the annual Boao Forum for Asia over the weekend.
"We have started the planning and development of Sansha, including basic infrastructure, at full speed," Tan was quoted by state-run Xinhua News Agency (Chinese).
"Sansha's sightseeing routes, scenic spots and docking locations have been confirmed. We are hoping to begin [the cruise operation] before May 1."
Some 12 projects, including a berth for larger supply ship, freshwater supply, sewage and garbage treatment facilities are under development in Sansha.
The first phrase of Yongxing Pier has been completed and begun trial operation.
Sansha's first mayor, Xiao Jie, said last month the development and improvement of Sansha city will strengthen China's sovereignty of the islands.
Xiao said that the priority would be conservation of the natural habitat, according to the state's travel network, The Travel Channel.

Today's five most popular stories
Part of complete coverage on
October 28, 2014 -- Updated 0149 GMT (0949 HKT)

Luxury Action will turn your travel scripts into reality and film them. As long as you're willing to travel to this country ...
October 27, 2014 -- Updated 0913 GMT (1713 HKT)

As entertainment capital of the world, Los Angeles draws some of the best comic talent on the planet. Here's where to see it live.
October 27, 2014 -- Updated 0342 GMT (1142 HKT)

Not many people choose flights based on the quality of an airline's catering -- but those who do should check out Saveur's Culinary Travel Awards.
October 27, 2014 -- Updated 0251 GMT (1051 HKT)

On the island of rice, curry, tropical fruit and fresh seafood, eating is an honor to the taste buds.
October 23, 2014 -- Updated 1558 GMT (2358 HKT)

Sparsely populated (by humans at least), this East Africa country offers so much more than just Mt. Kilimanjaro.
October 24, 2014 -- Updated 1432 GMT (2232 HKT)

It's crowded and outdated, but Berlin's hexagon-shaped Tegel air hub has won a place in the city's heart.
October 23, 2014 -- Updated 0847 GMT (1647 HKT)

Shrine to a dead cat and a homage to fromage among Dutch capital's eccentric exhibitions.
October 22, 2014 -- Updated 0603 GMT (1403 HKT)

Slovenian Kickstarter project encourages travelers to hop on their suitcase and cruise through terminals to connecting gates.
October 20, 2014 -- Updated 1808 GMT (0208 HKT)

The guidebook asked staff, contributors and authors for well-known and lesser-known recommendations.
October 20, 2014 -- Updated 1607 GMT (0007 HKT)

An airport in Asia has stolen the crown from Manila's Ninoy Aquino, voted 'world's worst' three years in a row.