China to open disputed islands to tourism
April 8, 2013 -- Updated 1753 GMT (0153 HKT)
STORY HIGHLIGHTS
Sightseeing cruises flagged to start in April on disputed island
Area is in a region claimed by a number of Asian countries
China considers Sansha its newest city
Hong Kong (CNN) -- Sightseeing cruises to China's newest city, Sansha, located on a disputed island in the South China Sea, are set to commence this month, according to a Chinese official.
The move is certain to add to the dispute over sovereignty claims to the area.
Woody Island, known as Yongxing Island in Chinese, has a population of about a thousand, including military personnel. It's located 300 kilometers southeast of Hainan and was established as China's latest prefecture in June 2012.
The city of Sansha has the smallest land area, but the largest sea area in China.
Sansha's government has been set up to administer the Spratly Islands (Nansha Islands), the Macclesfield Bank (Zhongsha Islands) and the Paracel Islands (Xisha Islands), which include Woody Island.
The islands are partly claimed by Vietnam, Malaysia, the Philippines, Brunei and Taiwan.
Shown in the map above are the islands. Closest to Sanya are the Paracel Islands. Further east is the Macclesfield Bank and south are the Spratlys.
Sightseeing only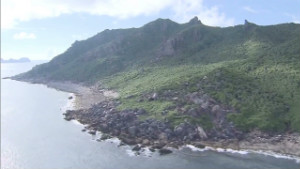 Islands in dispute.
The cruise tour statement is a sign that China is bolstering its claim to the territory.
Visitors won't be allowed to stay on the island. Instead, cruise-goers will eat and sleep onboard and only sightsee on the island, said Hainan deputy governor Tan Li at press conference at the annual Boao Forum for Asia over the weekend.
"We have started the planning and development of Sansha, including basic infrastructure, at full speed," Tan was quoted by state-run Xinhua News Agency (Chinese).
"Sansha's sightseeing routes, scenic spots and docking locations have been confirmed. We are hoping to begin [the cruise operation] before May 1."
Some 12 projects, including a berth for larger supply ship, freshwater supply, sewage and garbage treatment facilities are under development in Sansha.
The first phrase of Yongxing Pier has been completed and begun trial operation.
Sansha's first mayor, Xiao Jie, said last month the development and improvement of Sansha city will strengthen China's sovereignty of the islands.
Xiao said that the priority would be conservation of the natural habitat, according to the state's travel network, The Travel Channel.

Part of complete coverage on
December 8, 2013 -- Updated 0438 GMT (1238 HKT)

"To awaken quite alone in a strange town is one of the pleasantest sensations in the world."
December 6, 2013 -- Updated 0304 GMT (1104 HKT)

A Japanese blogger has gained Internet fame for taking selfies with a fake lover. Here's his sad/uplifting tale.
December 6, 2013 -- Updated 0151 GMT (0951 HKT)

Biman Bangladesh Airline will take star-crossed airliner on its last joy ride.
December 3, 2013 -- Updated 0303 GMT (1103 HKT)

Whistler, Chamonix, Aspen -- the best known winter sports resorts have become that for a reason.

More than just the merger of Buda and Pest, the Pearl of the Danube is also the cultural crossroads of Europe's east and west.
December 2, 2013 -- Updated 1316 GMT (2116 HKT)

Visiting the DPRK is easy these days, so long as you don't forget to play by their rules.
November 26, 2013 -- Updated 2330 GMT (0730 HKT)

The best places to indulge our second-favorite thing to do with ice.

Top drinking spots with bird's eye views of one of the world's greatest cities.
November 26, 2013 -- Updated 0138 GMT (0938 HKT)

Mulled wine, skating on the river, light shows over snow. Some cities are made for winter.
November 22, 2013 -- Updated 1607 GMT (0007 HKT)

Only 800 people a year are allowed to visit Namibia's bleak but beautiful Skeleton Coast, littered with whale bones and crumbling shipwrecks.
November 24, 2013 -- Updated 0500 GMT (1300 HKT)

Aah, slide shows. How we hated Grandpa's annual two-hour presentation of his trip to the Grand Canyon. But now, don't we kind of miss them?

For 24 hours, we made the world's busiest airport our destination and found a world unto its own. Join us on our journey.

Today's five most popular stories