Russian photographer apologizes for pyramid photos
March 28, 2013 -- Updated 2111 GMT (0511 HKT)
STORY HIGHLIGHTS
Russian photographer caused sensation with pictures from top of the Pyramid
Vadim Makhorov explains how and why he did it
Makhorov: "I would like to apologize for this ascension."
(CNN) -- Was it the ultimate adventure or an audacious act of disrespect that should be punished by law?
An Internet sensation was touched off this week by Russian photographer Vadim Makhorov and a group of his friends -- the group ignored regulations prohibiting the public from climbing on the Pyramids at Giza, Egypt, and came away with spectacular photos.
The images from Makhorov and another photographer, Vitaliy Raskalov, were taken on top of the Pyramids from positions that avoided detection by guards. The photos have incited reactions ranging from envy and awe to indignation and concern for the preservation of the ancient wonders.

Russian photographer Vitaliy Raskalov and his friends climbed the Great Pyramid of Giza. Climbing the Pyramids has been forbidden for decades for safety and preservation reasons.
The Pyramids were designated a UNESCO World Heritage Site in 1979.
Raskalov and his friends saw the colossal monuments from angles few visitors see. The group apparently waited until the area closed to visitors before starting to climb.
Carved out of limestone, the crumbling Great Sphinx features the body of a lion and the face of a man.
The Pyramids were built for fourth dynasty (c. 2575-c. 2465 B.C.) kings.
The group documented their illicit climb, and the photos have gone viral.
The Pyramids are just outside the buzzing city of Cairo.
In an email to CNN, Makhorov now explains his reasons for flouting the regulations, and issues an apology to Egypt and the world.
Vadim Makhorov's email to CNN
"I've always been drawn to Egypt. For as long as I can remember my dream was to get to the top of the Great Pyramid of Giza.
"When my friends and I arrived in Cairo the first thing we decided to do was to go and see the pyramids. We got there in the evening, just in time to witness the laser show.
"No words can express the fascination I felt when seeing my childhood dream come alive. Probably this very feeling made us climb onto the top of the Pyramid and see the the panorama of the whole complex, the desert and Cairo itself.
"It was already pitch black and nobody paid us any attention. We started climbing as fast and as soundless as we could. You have to be quite strong and agile to climb onto a meter-high block covered with dust.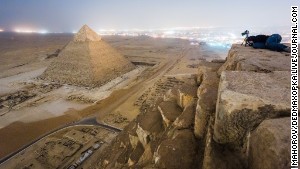 "The thought that we were going to witness something spectacular pushed us forward."
"It was exhausting, but the thought that we were going to witness something spectacular pushed us forward.
"It took us around 20 minutes to get to the top. We were taken breathless by the view.
"What we saw from up there was the seventh wonder of the world. We tried to capture the beauty of the scenery in the photos, so that the others could also see this magnificent panorama.
"We, of course, were not the first who dared to climb the pyramid.
"The pyramid's peak was filled with different inscriptions in many languages, some of them being hundreds years old.
"After enjoying the view for some time we started the descent. It turned out to be harder then climbing up. We were very lucky not to get [caught]. We would have been in serious trouble if we did.
"That's why I would like to apologize for this ascension. We didn't want to insult anyone. We were just following the dream."

Part of complete coverage on
April 18, 2014 -- Updated 1439 GMT (2239 HKT)

Tethered to an IV drip, 71-year-old Shin Young Ja lies under a thin fleece blanket, nursing a broken back and wracked with survivor's guilt.
April 18, 2014 -- Updated 1123 GMT (1923 HKT)

Family members of the missing passengers are pinning slim hopes on floundering air pockets.
April 17, 2014 -- Updated 1614 GMT (0014 HKT)

An Iranian mother slaps and then forgives her 17-year old son's murderer in dramatic scenes at the gallows.
April 16, 2014 -- Updated 1135 GMT (1935 HKT)

An "extraordinary" video shows what looks like the largest and most dangerous gathering of al Qaeda in years.
April 14, 2014 -- Updated 1230 GMT (2030 HKT)

Explore each side's case, reconstructed from Pistorius' court affidavit and the prosecution's case during last year's bail hearing.
April 16, 2014 -- Updated 1237 GMT (2037 HKT)

Mentions of the 1989 Tiananmen Square student protests or political reform are still censored in China.
April 18, 2014 -- Updated 0934 GMT (1734 HKT)

The Hadza are one of the last communities of hunter-gatherers in the world -- but losing their land.
April 19, 2014 -- Updated 0122 GMT (0922 HKT)

In choosing to change a traditional practice, Francis is being as radical as Jesus was in his own time.
April 18, 2014 -- Updated 1113 GMT (1913 HKT)

Too weak. Can't handle pressure. Unattractive to sponsors. Susie Wolff has heard it all.
April 18, 2014 -- Updated 1028 GMT (1828 HKT)

Browse through images you don't always see on news reports from CNN teams around the world.
April 18, 2014 -- Updated 1230 GMT (2030 HKT)

It's like finding a needle in a universe-wide haystack. Researchers have located a planet roughly the size of Earth that could be habitable.
April 18, 2014 -- Updated 0940 GMT (1740 HKT)

Dubai, long champion of all things biggest, longest and most expensive, will soon have some competition from a neighboring country.

Today's five most popular stories