Russian photographer apologizes for pyramid photos
March 28, 2013 -- Updated 2111 GMT (0511 HKT)
STORY HIGHLIGHTS
Russian photographer caused sensation with pictures from top of the Pyramid
Vadim Makhorov explains how and why he did it
Makhorov: "I would like to apologize for this ascension."
(CNN) -- Was it the ultimate adventure or an audacious act of disrespect that should be punished by law?
An Internet sensation was touched off this week by Russian photographer Vadim Makhorov and a group of his friends -- the group ignored regulations prohibiting the public from climbing on the Pyramids at Giza, Egypt, and came away with spectacular photos.
The images from Makhorov and another photographer, Vitaliy Raskalov, were taken on top of the Pyramids from positions that avoided detection by guards. The photos have incited reactions ranging from envy and awe to indignation and concern for the preservation of the ancient wonders.

Russian photographer Vitaliy Raskalov and his friends climbed the Great Pyramid of Giza. Climbing the Pyramids has been forbidden for decades for safety and preservation reasons.
The Pyramids were designated a UNESCO World Heritage Site in 1979.
Raskalov and his friends saw the colossal monuments from angles few visitors see. The group apparently waited until the area closed to visitors before starting to climb.
Carved out of limestone, the crumbling Great Sphinx features the body of a lion and the face of a man.
The Pyramids were built for fourth dynasty (c. 2575-c. 2465 B.C.) kings.
The group documented their illicit climb, and the photos have gone viral.
The Pyramids are just outside the buzzing city of Cairo.
In an email to CNN, Makhorov now explains his reasons for flouting the regulations, and issues an apology to Egypt and the world.
Vadim Makhorov's email to CNN
"I've always been drawn to Egypt. For as long as I can remember my dream was to get to the top of the Great Pyramid of Giza.
"When my friends and I arrived in Cairo the first thing we decided to do was to go and see the pyramids. We got there in the evening, just in time to witness the laser show.
"No words can express the fascination I felt when seeing my childhood dream come alive. Probably this very feeling made us climb onto the top of the Pyramid and see the the panorama of the whole complex, the desert and Cairo itself.
"It was already pitch black and nobody paid us any attention. We started climbing as fast and as soundless as we could. You have to be quite strong and agile to climb onto a meter-high block covered with dust.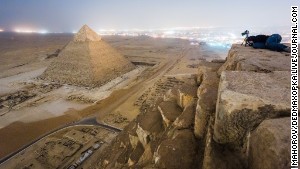 "The thought that we were going to witness something spectacular pushed us forward."
"It was exhausting, but the thought that we were going to witness something spectacular pushed us forward.
"It took us around 20 minutes to get to the top. We were taken breathless by the view.
"What we saw from up there was the seventh wonder of the world. We tried to capture the beauty of the scenery in the photos, so that the others could also see this magnificent panorama.
"We, of course, were not the first who dared to climb the pyramid.
"The pyramid's peak was filled with different inscriptions in many languages, some of them being hundreds years old.
"After enjoying the view for some time we started the descent. It turned out to be harder then climbing up. We were very lucky not to get [caught]. We would have been in serious trouble if we did.
"That's why I would like to apologize for this ascension. We didn't want to insult anyone. We were just following the dream."

Part of complete coverage on
December 9, 2013 -- Updated 1558 GMT (2358 HKT)

The Web is set to change our lives over the next decade. This will also question the use of personal data and balancing new powers with ethics.
December 9, 2013 -- Updated 0111 GMT (0911 HKT)

The image of the Shinkansen bullet train streaking past Mount Fuji is a powerful part of the iconography of the resurgent post-war Japan.
December 9, 2013 -- Updated 2023 GMT (0423 HKT)

Imagine the delight at unwrapping your Christmas present in 2043 and discovering you've been gifted a trip around the Moon.
December 9, 2013 -- Updated 0727 GMT (1527 HKT)

A new political party claiming to champion ordinary Indian voters makes a startling electoral debut.

Few words in Hungarian, including place names, are easily recognizable to foreigners.
December 10, 2013 -- Updated 0933 GMT (1733 HKT)

Browse through images you don't always see in news reports, taken by CNN teams all around the world.
December 9, 2013 -- Updated 1234 GMT (2034 HKT)

Walking into one of Yayoi Kusama's infinity rooms is like walking into a completely different universe.
December 9, 2013 -- Updated 1529 GMT (2329 HKT)

Meet Tony Allen -- famous for helping create Afrobeat by fusing different beats and patterns.
December 8, 2013 -- Updated 2116 GMT (0516 HKT)

Fans converged on the site where Paul Walker died to pay tribute to the actor. CNN's Paul Vercammen reports.

He was imprisoned for life but that did not quiet him. Nelson Mandela became South Africa's first black president, and an icon and inspiration.
December 9, 2013 -- Updated 1002 GMT (1802 HKT)

Watching digital artist Kyle Lambert's stunning photo-realistic iPad paintings emerge from a blank screen is an awe-inspiring experience.

Today's five most popular stories