In Cirque du Soleil, home is where the show is
March 18, 2013 -- Updated 0347 GMT (1147 HKT)
STORY HIGHLIGHTS
Cirque du Soleil's Kooza show is on the road for 300 days a year
A large part of the planning is making sure everyone's documents are in order
Each person is allowed three suitcases and must pack for all seasons
Young performers receive schooling on the road
(CNN) -- On the road for 300 days a year, a Cirque du Soleil touring troupe of 175 relies on the same precise planning for its travel arrangements as it does for its acrobatic moves and dare devil routines.
"Right now, we're in London, in the U.K., and we're working on making sure we have documents ready for Spain, for Russia, for France, because we're visiting those countries by the end of the year," said Geneviève Deslandes, the manager of the Canadian performing group's traveling show Kooza.
To plan for its visit to each city, one of the first orders of business is finding a place to stay. During their time in London earlier this year, the cast and crew stayed in the London Bridge area in 85 apartments.
"For London, it's really nice that we have everyone in the same place, but in Madrid, we're in 24 different places," said Jerome Vezina, the travel and lodging coordinator. He says they work on housing for about three cities at the same time.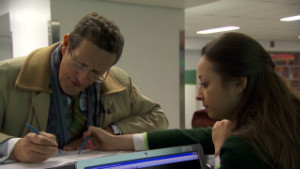 Car rental and cost-cutting secrets
Everyone must pack for all seasons, taking everything they will need all year round. Each of these ultimate road warriors is allowed three suitcases -- two to send ahead and one to travel with.
"We don't live in the present -- sometimes it's sad to say like that -- we really live in the future," Deslandes said.
More than just a circus, Kooza is a community that includes two physiotherapists and four chefs. Teachers provide schooling for the younger performers.
For 15-year-old Mongolian contortionists, it's straight from math class to warm-ups for the next show.
But learning on the road has its benefits, according to Thierry DeGagne, one of the teachers. "My student is reading about Rosetta Stone, and we're going to visit it," she said.

April 11, 2014 -- Updated 0212 GMT (1012 HKT)

Imagine you're a hotel company with a score of brands that seem, well, dated. All the flash amenities of yesteryear seem irrelevant today.
April 8, 2014 -- Updated 0414 GMT (1214 HKT)

The European firm has unveiled how passengers flying on its new A350 XWB might travel.
March 26, 2014 -- Updated 1335 GMT (2135 HKT)

Would you pay to cut in line for the toilets on a flight?
March 5, 2014 -- Updated 0218 GMT (1018 HKT)

Concorde is a thing of the past, but a number of companies are racing to release the first supersonic business jet.
March 3, 2014 -- Updated 0222 GMT (1022 HKT)

Though we're still in the early stages of 2014, it is already proving one of the most expensive years for the travel industry.
March 4, 2014 -- Updated 1715 GMT (0115 HKT)

At $83,200 a night, the Royal Penthouse Suite at Geneva's Hotel President Wilson is the most expensive hotel room in the world.
February 17, 2014 -- Updated 0348 GMT (1148 HKT)

From 'ascending rooms' and mini-bars to pillow menus and iPad-controls, discover the evolution of hotel room amenities.
February 17, 2014 -- Updated 1612 GMT (0012 HKT)

There's a new group of travelers in town -- and it hardly matters which town you're talking about.
February 13, 2014 -- Updated 0457 GMT (1257 HKT)

It's Boeing vs. Airbus as the heavy-weight plane makers face off at the Singapore airshow.
February 10, 2014 -- Updated 0203 GMT (1003 HKT)

How airlines are making in-flight maps more interactive and monetizing them.
February 4, 2014 -- Updated 0103 GMT (0903 HKT)

What do new planes have to endure during cold weather testing?

Today's five most popular stories