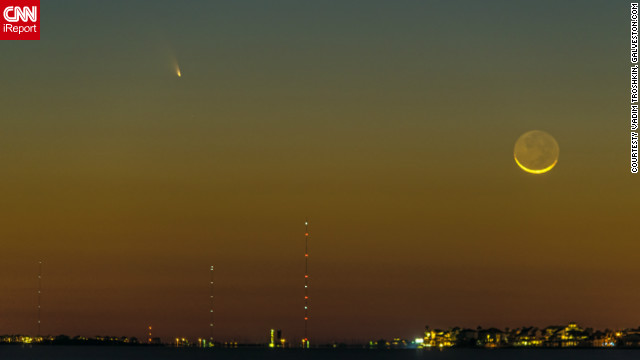 Comet Pan-STARRS was visible to many stargazers on March 12. In Galveston, Texas, web designer Vadim Troshkin shot this photo for Galveston.com and said he was glad to see the comet during "such a beautiful sunset."
Wes Little, a CNN producer, shot this photo of Pan-STARRS from the CNN Center roof in Atlanta.
Mike Price had his camera set up at a lookout on top of Mount Sequoyah in Arkansas when he captured this photo of the comet and the crescent moon.
Adam Block shot this photo of Comet Pan-STARRS from the top of Mount Lemmon in Arizona. Block marveled at the twilight sky and its beautiful colors.
Block zoomed in on the comet to show structure in the comet's tail as it shone in the sky.
Brian McMahon began snapping photos after sunset in Richmond, California, pointing his camera toward Mount Tamalpais. McMahon said the comet appeared in the photos 30 minutes after sunset.
Sidney Rosenthal stood at the edge of the Pensacola Bay in Gulf Breeze, Florida to capture this shot of the Pan-STARRS comet. He says he enjoys astrophotography and always marvels at celestial objects.
Larry Flynn and his partner were able to see the moon and a passing jet from downtown San Diego, but were not able to see the comet. They were surprised to see it faintly appear in the photo when they returned home.
Brian Karczewski, 24, captured the comet alongside the crescent moon overlooking the Ortega Mountains in California. "I love astronomy and find astrophotography a good challenge," he said. "I was very excited to capture the comet next to the moon. Never photographed a comet before!"
Jim Ribble, a former CNN Radio news anchor/editor, stood at the top of Burnt Mountain in Jasper, Georgia, to capture this view of Comet Pan-STARRS.
Michael Balaun headed up to Stone Mountain outside Atlanta for a good view of the comet and the moon. This was his third night on the mountain searching for Pan-STARRS.
Science journalist Philip Downey snapped this photo of Comet Pan-STARRS in Port Dalhousie, Ontario, looking west over Lake Ontario on March 14. "A cold wind off the lake doesn't begin to describe the conditions," he says. "But it was definitely our best chance to see it, so we took it."
Pan-STARR-y night
Pan-STARR-y night
Pan-STARR-y night
Pan-STARR-y night
Pan-STARR-y night
Pan-STARR-y night
Pan-STARR-y night
Pan-STARR-y night
Pan-STARR-y night
Pan-STARR-y night
Pan-STARR-y night
Pan-STARR-y night