Five stories you may have missed during the papal conclave
March 14, 2013 -- Updated 1312 GMT (2112 HKT)
STORY HIGHLIGHTS
Xi Jinping formally named as China's new president as part of once-in-a-decade change
Israel's Benjamin Netanyahu forms a coalition government excluding ultra-religious groups
Plans to embalm the body of Venezuelan President Hugo Chavez hit a snag
Ieng Sary, one of the leaders of the Khmer Rouge, dies while on trial for war crimes
London (CNN) -- The election of Jorge Bergoglio as Pope Francis, head of the Catholic Church and spiritual leader of the world's 1.2 billion Catholics, has dominated CNN.com's coverage over the past 24 hours.
You can read all about the first Latin American pope here. But while all eyes were on the Vatican, watching for the white smoke that signalled the announcement, there was plenty going on elsewhere. Here are five stories you may have missed while you were getting to know the new pontiff.
1. Xi Jinping was formally named as China's new president, as part of the country's once-in-a-decade leadership change. Xi, who took over as General Secretary of the Communist Party four months ago, replaces outgoing president Hu Jintao.
Xi's new role was rubber-stamped in a vote by 3,000 deputies at the National People's Congress. China's premier, Wen Jiabao, is also stepping down as part of the leadership overhaul; he will be replaced by Li Keqiang.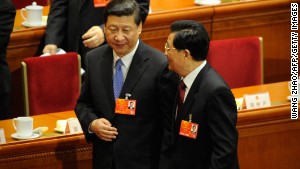 Xi Jinping set to take Chinese presidency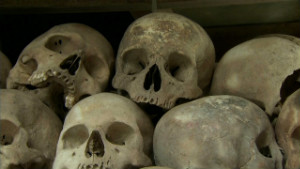 A look at Cambodia's 'killing fields'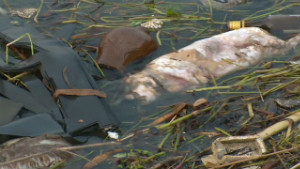 Why were dead pigs floating in river?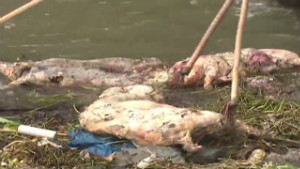 Dead pigs found floating in river
2. Israel's Benjamin Netanyahu formed a new government following weeks of negotiations. Netanyahu and his conservative Likud Beitenu Party forged a coalition deal with centrists and ultra-conservatives, which excludes ultra-religious parties.
The ultra-orthodox Shas Party will join the Labor Party on the opposition benches of the Knesset, Israel's parliament, while former opposition leader and government minister Tzipi Livni makes a return to government, as the coalition's Justice Minister.
3. Plans to embalm the body of Venezuelan President Hugo Chavez and put it on public display like Lenin and Mao Zedong appear to have hit a snag, with acting president Nicolas Maduro admitting the process might be "quite difficult."
Maduro reported that scientists had said "the decision should have been taken much earlier," though it is not clear why. He insisted, though, that Chavez, who died earlier this month after a battle with cancer, would always remain in the country's collective memory.
4. One of the leaders of Cambodia's brutal Khmer Rouge died while on trial for war crimes at a U.N. tribunal. Ieng Sary, who served as foreign minister of the regime, was the brother-in-law of infamous dictator Pol Pot.
Ieng Sary's passing, at the age of 87, leaves just two defendants facing judgment by the tribunal investigating the actions of the Khmer Rouge, which terrorized Cambodia in the 1970s, killing more than one million people.
5. The bloated carcasses of 6,000 pigs were found in China's Huangpu River, sparking health fears over contamination, after traces of porcine circovirus were found in a water sample.
Sanitation workers, clad in masks and plastic suits, were called in to fish the bodies from the river, as Chinese state media reported that a farm had admitted dumping the dead pigs.

Today's five most popular stories
Part of complete coverage on
October 21, 2014 -- Updated 0102 GMT (0902 HKT)

A 15-year-old pregnant girl is rescued from slavery, only to be charged with having sex outside of marriage, shocked rights activists say -- a charge potentially punishable by death.
October 22, 2014 -- Updated 0333 GMT (1133 HKT)

After sushi and ramen, beef is on the list of must-eats for many visitors to Japan.
October 20, 2014 -- Updated 1607 GMT (0007 HKT)

Airports judged on comfort, conveniences, cleanliness and customer service.
October 22, 2014 -- Updated 1748 GMT (0148 HKT)

Scientists use CT scans to recreate a life-size image of the ancient king.
October 22, 2014 -- Updated 0959 GMT (1759 HKT)

Despite billions spent on eradicating poppy production, Afghan farmers are growing bumper crops, a U.S. government report says.
October 20, 2014 -- Updated 1319 GMT (2119 HKT)

With so many new attractions on the way, the next few years are going to be a roller coaster ride.
October 16, 2014 -- Updated 0429 GMT (1229 HKT)

Thomas Malthus famously predicted that rising populations would create a food crunch: Could this be true?
October 21, 2014 -- Updated 0945 GMT (1745 HKT)

The lives of everyone close to Oscar Pistorius and the girl he killed are changed forever, his siblings say.
October 22, 2014 -- Updated 1402 GMT (2202 HKT)

Gene Simmons reflects on 40 years of KISS, and how even rock royalty needs sound business principles.
October 18, 2014 -- Updated 1033 GMT (1833 HKT)

From "Sick Man of Europe" to the world's fourth largest economy.
October 22, 2014 -- Updated 0915 GMT (1715 HKT)

Each day, CNN brings you an image capturing a moment to remember, defining the present in our changing world.

Browse through images from CNN teams around the world that you don't always see on news reports.