Drone came within 200 feet of airliner over New York
March 5, 2013 -- Updated 2008 GMT (0408 HKT)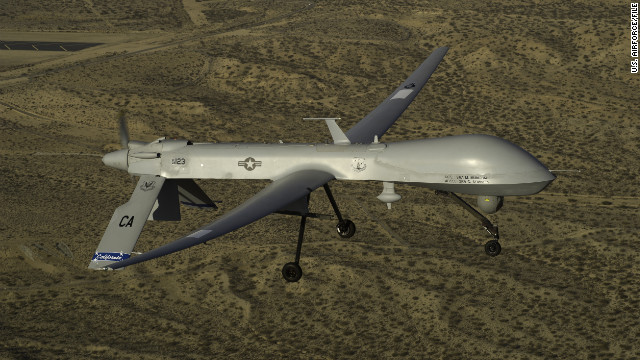 A U.S. Air Force MQ-1 Predator UAV assigned to the California Air National Guard's 163rd Reconnaissance Wing flies near the Southern California Logistics Airport in Victorville, California, on January 7, 2012.
A model of of the European "Neuron" UAV at the Paris Air Show in Le Bourget, France in 2005. The UAV is an European Research project led by Dassault Aviation.
An MQ-9 Reaper unmanned aircraft vehicle (UAV) sits in a shelter at Joint Base Balad, Iraq, after a mission on November 10, 2008. According to the U.S. Department of Defense, the Reaper can carry up to 3,750 pounds of laser-guided bombs and missiles.
A British MQ-9 Reaper sits on a runway on March 17. Both British and American Reapers are deployed to Afghanistan.
U.S. Marines perform operational checks on a Marine Squadron Two (VMU-2) UAV before a launch at Speed Bag Airfield, near Niland, California, on October 25, 2011.
An Iranian-made drone is displayed during the Army Day celebrations in Tehran on April 18, 2010.
A model of a surveillance drone built by Dassault Aviation and BAE Systems is displayed at the International Paris Air show in 2011.
An Israeli Hermes 500 UAV flies over the Hatzerim air force base near Beersheva, Israel, during an air show at the graduation ceremony of Israeli pilots on June 30, 2011.
Chinese visitors examine an unmanned helicopter drone at the China Aviation Expo in Beijing on September 21, 2011.
Israeli soldiers prepare to launch a Skylark drone during a drill on January 16, 2012 near Bat Shlomo, Israel. The Skylark can carry a camera payload of up to 1 kilogram, has an operational ceiling of 15,000 feet, and allows users to monitor any designated point within a 15-kilometer radius. The Skylark unit consists of a ground control element and three drones, which provide battalion-level commanders with real-time information.
An Israel Aerospace Industries UAV on display at the Singapore Airshow on February 15.
A model of China's "Dark Sword" UAV. According to Jane's Defense & Security Intelligence & Analysis, the drone remains only a model, but offers an example of where China may go with its drone technology.
Military drones
Military drones
Military drones
Military drones
Military drones
Military drones
Military drones
Military drones
Military drones
Military drones
Military drones
Military drones
STORY HIGHLIGHTS
Drone came dangerously close to Alitalia jet landing in New York
FBI appeals for public's help in finding the drone's owner
Drone was about three-feet wide with four propellers, FBI says
Radio communications indicate pilot spotted drone on Monday afternoon
(CNN) -- An unmanned drone came within 200 feet of a commercial jet over New York, triggering an FBI appeal to the public for any information about the unusual and potentially dangerous incident.
The crew of Alitalia Flight 608 approaching John F. Kennedy airport on Monday reported the sighting.
"We saw a drone, a drone aircraft," the pilot can be heard telling air traffic controllers on radio calls captured by the website LiveATC.net.
The FAA said it was investigating the incident.
The Alitalia aircraft did not take any evasive action and landed safely.
The FBI expanded on the FAA report, saying in a statement that the Alitalia flight from Rome was roughly three miles from runway 31R when the incident occurred at an altitude of approximately 1,750 feet.
The unmanned aircraft, described by the FBI as black and no more than three feet wide with four propellers, came within 200 feet of the Boeing jetliner.
The FBI said it was looking to identify and locate the aircraft and its operator. A source with knowledge of the incident says investigators interviewed the pilot and others on the Alitalia plane.
Dronestagram uses social media to highlight drone strikes
"The FBI is asking anyone with information about the unmanned aircraft or the operator to contact us," said Special Agent in Charge John Giacalone. "Our paramount concern is the safety of aircraft passengers and crew."
Air traffic controllers warned other planes approaching the JFK runway of the drone report, but at least two other pilots radioed they did not see it.
A spokesman for the New York Police Department was not aware of the incident and the Port Authority of New York and New Jersey, which operates the airport, referred CNN to the FAA.
Unmanned aerial systems, sometimes called drones, and other remote-controlled planes could pose a risk to larger passenger aircraft if they collided or were sucked into an engine.
For recreational hobbyists, flying remote-controlled planes is only allowed by the FAA up to 400 feet, and within sight of the operator. If they are going to fly within three miles of an airport, they have to let air traffic controllers know.
Flying unmanned aerial vehicles is illegal for most business purposes; however, governments and public entities such as police departments can apply for permission to operate them.
The FAA has been working to setup new rules and to safely integrate the use of unmanned aircraft into the national air space, and last year opened an "unmanned aircraft systems integration" office.
CNN's Carol Cratty and Rob Frehse contributed to this report.