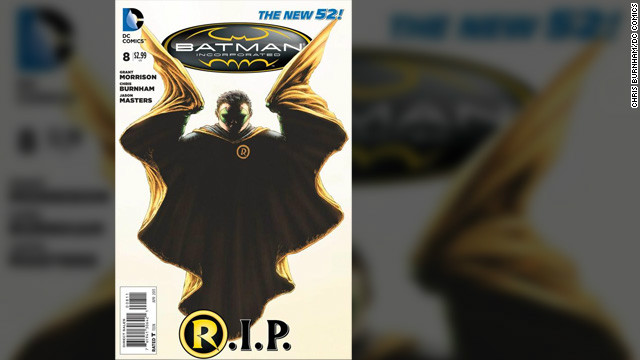 DC Entertainment recently announced that it was killing the character of Robin in the latest issue of
"Batman, Incorporated.
" Damian Wayne, Bruce Wayne's son, has been Robin since 2006. However, it's not the first time a Robin has died in the "Batman" comics; that also happened in 1988 with Jason Todd (who has since been resurrected). Indeed, the late 1980s and early 1990s had their share of major plot twists, but there seem to be a lot more of them lately. Robin's death is just the latest in a number of headline-grabbing developments in superhero comic books of recent years. (DC Entertainment is owned by Time Warner, which owns CNN.)
in 2006.
With same-sex marriage in the news, the most recent issue of "Batwoman" saw the superhero get engaged (with little fanfare from DC Comics surrounding the event, though it received
a lot of attention
just the same).
Batwoman's homosexuality was revealed
The death of Peter Parker
at the hands of his archenemy, Dr. Octopus -- who then assumed the role of Spider-Man -- sent shockwaves throughout comic book fandom in late 2012. (It followed the death of the Marvel Comics "Ultimate" universe's Peter, who was replaced by
young Miles Morales
.) The writer of the now-canceled "Amazing Spider-Man" and the new "Superior Spider-Man," Dan Slott, even received death threats on social media.
renumbered them to #1
in 2012 in order to make the stories easier to follow for new readers. Less of a "reboot" than a "relaunch."
Marvel Comics canceled a number of their long-running books and
left the paper
to become an independent blogger, in something of a reflection of what has been happening in the newspaper industry.
For nearly 75 years, Clark Kent and "The Daily Planet" were synonymous. But in 2012, Superman's alter ego
Professor Xavier died in issue 11 of the much-hyped "Avengers vs. X-Men" miniseries in 2012, an event that sent ripples throughout the X-universe.
Northstar popped the question in "Astonishing X-Men" #50, and he got married the following month.
It's been a topic of fan conversation for decades, but it finally happened in 2012: Superman hooked up with Wonder Woman. The current version of Superman has yet to date Lois Lane. He's trying to make it work with the Amazon princess.
On television and in comics, "Buffy the Vampire Slayer" has pushed boundaries. "Buffy the Vampire Slayer: Season Nine" dealt with abortion, a rarely discussed topic in comics. Two 2012 issues featured a story in which the slayer decided to terminate a pregnancy.
no support whatsoever
from the original's writer, Alan Moore.
For years, it was unthinkable: a prequel to "Watchmen"? Comics' most acclaimed miniseries got just that in 2012 and 2013, with
reintroduced as a gay man
in 2012, though it was in a separate continuity.
In "Earth Two" #2, Alan Scott, the first Green Lantern, was
renumbered to #1
, and many of the iconic characters were completely rebooted, with new costumes, revamped origins and more. "Justice League" #1 launched the "New 52," and it was the year's top-selling comic.
In 2011, DC Comics went forward with one of the most risky moves in comic book history. Every book was
sacrificed his life
. The "FF" or Future Foundation began, and Spider-Man briefly joined the team before Johnny Storm was brought back to life after a year.
In a much-hyped issue of "Fantastic Four," the Human Torch
In 2011, Superman decided he would no longer be a citizen of the United States after his attempts to settle conflicts in the Middle East got him in hot water with the government. It was a big deal for the onetime protector of "truth, justice and the American way."
Wonder Woman got a makeover in 2010, but the reaction wasn't
terribly positive.
With the "New 52" reboot came yet another costume change.
As part of writer Grant Morrison's years-long examination of the Dark Knight, Bruce Wayne went missing for a time in 2008 and was presumed dead. His first Robin, Dick Grayson, took on the role until Bruce returned after something of a vision quest through
time
.
The death of Captain America by an assassin's bullet in 2007 (and his inevitable return in 2008) were seen as a reflection of the times and the United States' place in the world.
Big comic book moments: Robin dies
Batwoman is getting married
'Superior Spider-Man'
'Marvel Now'
Clark Kent quits his job
Professor Xavier dies
Same sex wedding an 'X-Men' first
Superman and Wonder Woman, together
Buffy's choice
'Before Watchmen'
The original Green Lantern is gay
DC's 'New 52'
'Fantastic Four' lose a member
Superman renounces his citizenship
Wonder Woman's new costume
Where is Batman?
Captain America dies