'This is the Charm Blow, we are abandoning ship'
February 26, 2013 -- Updated 0947 GMT (1747 HKT)
STORY HIGHLIGHTS
NEW: Coast Guard will continue search into Tuesday, spokeswoman says
Coast Guard appeals to the public for help in identifying the missing family
A couple, their 4-year-old child and a cousin are missing, the Coast Guard says
The boat was taking on water, the Coast Guard says
(CNN) -- "This is the Charm Blow, we are abandoning ship."
With that message -- delivered at 4:20 p.m. Sunday -- radio communication between the boat and the Coast Guard went dead.
Since then, searchers have been scouring the waters off San Francisco for the reported occupants of a 29-foot sailboat -- a couple, their 4-year-old child and the child's cousin, who the Coast Guard said is younger than 8.
Coast Guard spokeswoman Pamela Boehland said the search will continue through the night.
The man had called the Coast Guard an hour earlier to say that the boat had begun taking on water and its electronics were failing, the Coast Guard said. At that time, the boat was some 65 miles (105 kilometers) off Pillar Point, south of San Francisco.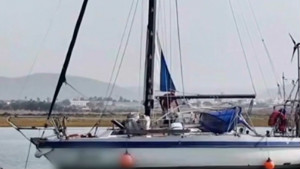 Family: 'We are abandoning ship'
The four might have boarded a life raft, said the Coast Guard, which appealed to the public for help Monday in identifying the missing seafarers.
"We don't have a lot of information to go on," Boehland told CNN. "All we know is that there were those four people on board and the two young children, and we're hoping that there is still time to save them."
The focus of the search was 60 to 65 miles off Monterey Bay, said Lt. Heather Lampert, a Coast Guard spokeswoman.
Several aircraft and vessels have joined the search.
Asked about the possibility that the report could be a hoax, given that no one has come forward to identify a family as missing, the Coast Guard said that it operates under the assumption that such reports are legitimate.
If the boat did not have a life raft, the chances of survival are slim, said Mario Vittone, a recently retired Coast Guard helicopter rescue swimmer and a marine safety specialist. "They're not going to live long, even in life jackets," he said. "That's cold water out there."
According to the National Oceanographic Data Center, the water temperature off San Francisco was 49.3 degrees Fahrenheit (9.6 C).
Marine accidents in waters below 50 degrees F are five times more likely to end in death, Vittone said.
Computer models will factor in currents, weather and wind to create search patterns to focus searchers' efforts, he said.
The search will continue until the four are found or until the limits of survivability have passed, he said.
Three years later, no sign of missing family

Part of complete coverage on

Syrian refugees fleeing into Lebanon tell CNN's Nick Paton Walsh how they stepped over dead bodies in their flight -- and now face the a biting winter.
December 11, 2013 -- Updated 1629 GMT (0029 HKT)

It looked plausible to most, but to deaf people watching the Mandela memorial -- it was all nonsense. The interpreter has been dubbed "a fake."
December 11, 2013 -- Updated 1524 GMT (2324 HKT)

Pope Francis is Time's person of the year. His papacy has drawn adulation from people around the world for his man-of-the-people ways.
December 11, 2013 -- Updated 0541 GMT (1341 HKT)

They hoped for playful weekend outing in the snow. The moments of adventure dissolved into a fight for survival for the family of six.
December 12, 2013 -- Updated 1023 GMT (1823 HKT)

Yahoo's teen star Nick D'Aloisio sells the new digital future -- with vanishing content.
December 11, 2013 -- Updated 1328 GMT (2128 HKT)

Denmark's PM Helle Thorning-Schmidt made headlines when she snapped a selfie with PM David Cameron and President Barack Obama.
December 11, 2013 -- Updated 1311 GMT (2111 HKT)

Mars kits, a triple nipple baby bottle and extinct animal DNA are just some of things you'd find inside the "99¢ Store of the Future."
December 11, 2013 -- Updated 0958 GMT (1758 HKT)

They say necessity is the mother of invention. Here are 11 of the most mind-boggling inventions ever submitted to the U.S. patent office.
December 11, 2013 -- Updated 0242 GMT (1042 HKT)

Uruguay is set to become the first country in the world to have a system regulating legal production, sale and consumption of the drug.
December 9, 2013 -- Updated 2311 GMT (0711 HKT)

Until he returned home this weekend, Merrill Newman -- an American held in North Korea -- had no idea what a story he'd become.
December 11, 2013 -- Updated 1756 GMT (0156 HKT)

Browse through images you don't always see in news reports, taken by CNN teams all around the world.

He was imprisoned for life but that did not quiet him. Nelson Mandela became South Africa's first black president, and an icon and inspiration.

Today's five most popular stories