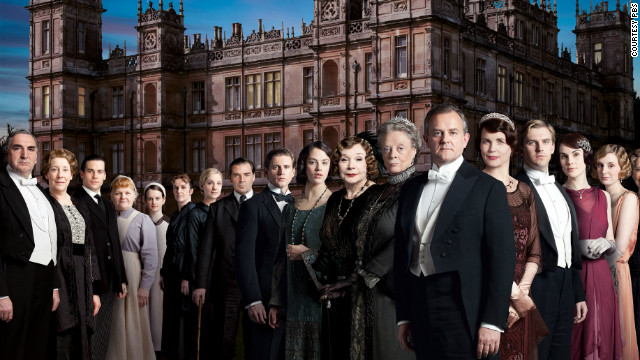 Want a taste of the lifestyle featured in the PBS hit series "Downton Abbey" without spending the money to cross the pond? We have a few U.S. options.
The Biltmore was the primary home of George Vanderbilt, his family and descendants from 1895 to the early 1930s.
A view of the Biltmore estate from the lagoon shows the back of the house.
Four generations of the Rockefeller family lived at Kykuit (which means "lookout" in Dutch), starting with Standard Oil founder John D. Rockefeller.
Maillol's "The Torso" from 1906 is among the sculptures positioned across the lawns at Kykuit.
Designed by architect Albert Kahn for George Gough Booth and Ellen Scripps in the English Arts and Crafts-style, Cranbrook House is the oldest surviving manor home in the metro Detroit area.
Cranbrook Gardens features a range of designs across its 40 acres, including formal, woodland and naturalistic gardens with fountains, streams and many different plantings.
Mr. and Mrs. William Bowers Bourn, residents of San Francisco whose fortune came from gold and water, built Filoli as their country home.
Although the house at Filoli was finished and ready for its owners in 1917, the extensive gardens were designed and built with the help of landscape designer Bruce Porter between 1917 and 1929.
The summer home of Mr. and Mrs. Edward Julius Berwind, the Elms was completed in 1901 as one of the first houses in Newport to be fully electrified with no gas backup. There's even an ice maker in the kitchen.
Designed by Philadelphia architect Horace Trumbauer and modeled after a French chateau, the Elms cost $1.4 million to build and includes this spectacular dining room.
The Douglas family of Cedar Rapids, Iowa, made much of its fortune in agribusiness.
Highclere Castle
, featured in the hit TV series, tickets for summer tours are now available for sale.
If you simply must cross the pond to go to
U.S. estates for the 'Downton' lover
Biltmore House, Asheville, North Carolina
Biltmore House, Asheville, North Carolina
Kykuit, Hudson Valley, New York
Kykuit, Hudson Valley, New York
Cranbrook House, Bloomfield Hills, Michigan
Cranbrook House, Bloomfield Hills, Michigan
Filoli, Woodside, California
Filoli, Woodside, California
The Elms, Newport, Rhode Island
The Elms, Newport, Rhode Island
Brucemore, Cedar Rapids, Iowa
Highclere Castle, Newbury, England