Nadal wins on singles comeback in Chile
February 7, 2013 -- Updated 1228 GMT (2028 HKT)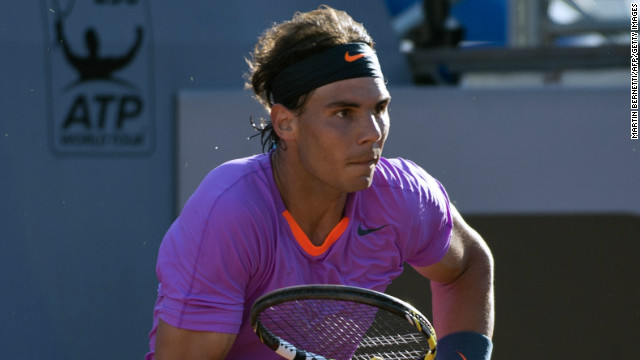 Eleven-time grand slam winner Rafael Nadal made a winning return to singles action on Wednesday, beating Argentine Federico Delbonis.
Nadal made his comeback after seven months away from the ATP World Tour with a doubles win on Tuesday.
Nadal teamed up with his friend Juan Monaco to win their doubles match against Czech Republic's Frantisek Cermank and Lukas Dlouhy in a Chilean claycourt event.
Nadal has had problems with his knees for much of his career. His latest absence was caused by an injury to the left one, which required surgery.
He told reporters before the tournament that he expects it will take him several weeks to regain match fitness.
Nadal arrives at La Moneda presidential palace in Santiago on February 1.
He was received by Chilean president Sebastian Pinera ahead of his debut appearance at the Vina del Mar Open.
Rafael Nadal returns in Chile
Winning return
Second seeds beaten
Knee problems
Low expectations
Important meeting
President Pinera
STORY HIGHLIGHTS
Rafael Nadal wins on his return to singles action
The former world No. 1 beats Argentine Federico Delbonis 6-3 6-2
The 11-time grand slam winner has been out for seven months with a knee injury
The Spaniard made his return in a doubles victory on Tuesday
(CNN) -- Former world No. 1 Rafael Nadal was back in singles action for the first time in seven months Wednesday, making a winning return on the clay courts he has dominated so emphatically in recent years.
Having not played a singles match since his shock defeat to Lukas Rosol in the second round of Wimbledon last year due to a left knee injury, a little rustiness was perhaps to be expected.
But, after losing the first two games of his match with Argentine Federico Delbonis, the 11-time grand slam champion recovered to record a morale-boosting 6-3 6-2 victory in the second round of the Chile Open in Vina del Mar.
"I'm happy to play a singles match after so long," the 26-year-old told the ATP World Tour's website. "I need days and time to get my game back, but so far the feeling on court is great."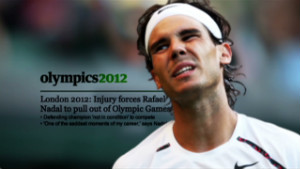 Rafael Nadal's injury heartache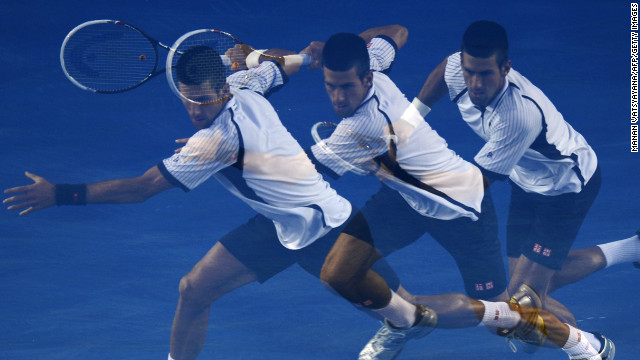 Novak Djokovic has become the world's top tennis player since overhauling his diet in 2010. "I observed him playing in the Australian Open," says the Serbian's former nutritionist Dr. Igor Cetojevic. "The commentator repeatedly referred to 'his asthma' and the problems he had breathing."
However, Cetojevic said the problem was Djokovic's intolerance to gluten -- which is found in grains such as wheat and their byproducts -- so he had to eliminate it from his diet and add more fruit, rice, vegetables and fish protein. The Serbian has now won a record three successive Australian Open titles.
This image, provided by Australian naturopathic physician Hamish Everard, shows what blood looks like before going on a gluten-free diet. The cells are clumped closely together.
This image, taken after the subject went on a gluten-free diet, shows the blood cells are able to flow more freely -- allowing better transportation of oxygen around the body.
"After eliminating grains from the patients' diet, all of their symptoms began to resolve within only a few days," says Everard. "Not only did their gastrointestinal symptoms disappear, but so too did other metabolic symptoms such as chronic and general fatigue, diabetes (high and low blood sugar), high cholesterol, decrease in inflammatory markers, soft tissue injuries, joint pain and stiffness, improved cognition (concentration), less anxiety, decreased depression, increase in bone density in osteoporosis patients, eczema, psoriasis and a decrease in acidity levels."
Experts say many health problems stem from changes in food production. "The hybridization of the native European wheat with a shorter, hardier strain from South America in the 1940s produced the particular gluten protein that triggers the sensitivity in people's digestive system," says Cetojevic. "For thousands of years people ate and digested wheat without adverse effects, but we haven't yet adapted to the new protein in the hybrid variety that is now widely grown and marketed for its convenience and higher yield. People are better off eating the older strains such as spelt and kamut."
Pasta is another staple food for many athletes. "Educating people on long-term dietary habits often depends upon how bad they felt before," says Everard. "The worse you were, the more willing you are to make the change. Athletes are disciplined and often do whatever is required of them to improve physically, mentally and emotionally for their sport. I try to teach the 80/20 principle: 80% good 20% bad. Once the underlying causes of gluten intolerance has been corrected, most patients can consume it again in some form or another."
People who are gluten intolerant suffer damage to their intestinal microvilli. "We have seen a definite link in gluten intolerant patients as far as a decrease in beneficial stomach bacteria, an increase in acidity and a decrease in both gastric digestive enzymes and pancreatic enzymes," says Everard.
Probiotics are used to repair the chronic inflammation caused by leaky gut. "We monitored our patients and found that when they did extensive exercise 82% showed symptoms of gut discomfort, reduced tolerance to the heat or a decrease in immune function," says Everard. "Probiotics (good bacteria) protect the gut and decrease this leaky gut/intestinal permeability, therefore improving athletes' performance, stamina, immunity, electrolyte balance and digestion of proteins (especially gluten and dairy)."
Like his childhood friend Djokovic, U.S. Open champion Andy Murray has also gone gluten-free. This cake he received for his 25th birthday, even if made without wheat, could still be problematic for his diet as an elite performer due to any processed sugars and dairy in the ingredients. "Hamish's protocols basically remove sugar and the gluten from your diet, sometimes the dairy, to help cleanse and restore the hormonal system and the digestive system," says tennis coach Pete McCraw. "It's the gut flora that the sugar plays havoc with, it changes the bacteria levels in the stomach, which for some athletes, means they digest food inefficiently."
Cetojevic believes the trend towards gluten-free diets is growing. "In 2011 I saw that most of the players' lounges on the tennis circuit offered gluten-free options, which was not the case in 2010," he says. "I observed that some of the top players have slimmed down and are faster on the court."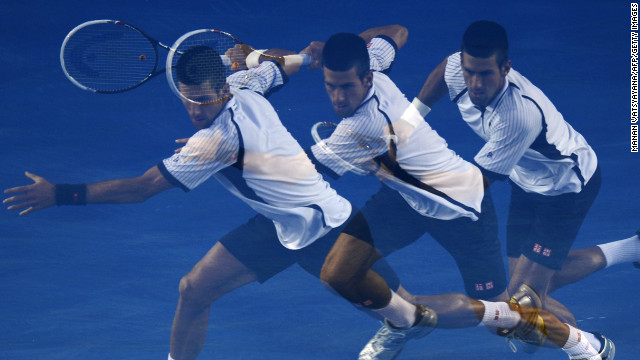 How to supercharge your body
Read: Nadal - "I must be humble in comeback"
The Spaniard, who has dropped to fifth in the world rankings during his long absence, made his much-anticipated return in a doubles match Tuesday.
Nadal partnered up with Argentina's Juan Monaco to beat the Czech pairing of Frantisek Cermak and Lukas Dlouhy.
"For now the most important thing is to spend as much time as possible on court," added Nadal. "This victory allows me to play at least two more matches, singles and doubles.
"To practice is one thing but to play is totally different. In a real match you can't control your body as you do in practice."
Nadal's focus will be firmly on the French Open, the year's second grand slam which begins in May in Paris.
The Mallorca native has ruled the Roland Garros event in recent years, winning seven of the last eight events.
His hopes of marking his comeback by claiming the title in Chile were boosted by the defeat of World No.15 Monaco.
The defending champion and second seed was shocked 7-6 6-4 by the 93rd ranked Guillaume Rufin of France, who recorded just his second career win over a top 20 player.

Today's five most popular stories
September 11, 2014 -- Updated 1248 GMT (2048 HKT)

His distinctive crocodile logo is seen on clothing all over the world, but Rene Lacoste also left a lasting legacy in the development of tennis.
September 9, 2014 -- Updated 0636 GMT (1436 HKT)

Marin Cilic follows in the footsteps of his coach Goran Ivanicevic by claiming a grand slam crown for Croatia, winning the U.S. Open.
September 14, 2014 -- Updated 1334 GMT (2134 HKT)

Serena Williams is without peer in the modern women's game and now she is on a par with two American tennis legends from the past.
September 2, 2014 -- Updated 1321 GMT (2121 HKT)

Over the course of her remarkable life, Althea Gibson was many things to many people -- but it was tennis where she really left her mark.
August 27, 2014 -- Updated 1145 GMT (1945 HKT)

Canada and tennis? Really? Yup. The North American tennis power balance is swinging away from the States.
August 21, 2014 -- Updated 1252 GMT (2052 HKT)

As a player he was as fiery as his hair -- and as Novak Djokovic's coach, Boris Becker says he has to battle to keep his emotions in check.
August 20, 2014 -- Updated 1102 GMT (1902 HKT)

Tennis great Boris Becker says he was stunned by the level of criticism he received after being appointed as Novak Djokovic's coach.
July 25, 2014 -- Updated 1101 GMT (1901 HKT)

"I didn't cry once when I practiced in front of the mirror," says Martin Emmrich. But the nerves kicked in when he got down on one knee on court.
June 30, 2014 -- Updated 1135 GMT (1935 HKT)

When Agnieszka Radwanska refused to look her opponent in the eye after losing at Wimbledon, it raised more than eyebrows.
June 23, 2014 -- Updated 0114 GMT (0914 HKT)

It's 10 years since a teenage Maria Sharapova became the darling of Wimbledon's hallowed Center Court, launching herself as a star.
May 23, 2014 -- Updated 0746 GMT (1546 HKT)

He's regularly voted France's favorite famous person, but many of the nation's youth have "no idea" about his glorious sporting past
April 29, 2014 -- Updated 1555 GMT (2355 HKT)

Five-time grand slam champion Martina Hingis has followed her mom into a coaching role, setting up a new tennis academy in Barcelona, Spain.