Syrian artist's vision of love amid devastation of war goes viral
February 6, 2013 -- Updated 1615 GMT (0015 HKT)
STORY HIGHLIGHTS
An image of Klimt's "The Kiss" superimposed over a destroyed Syrian building has gone viral
The image was created digitally by Syrian artist Tammam Azzam, who now lives in Dubai
He hopes to return to his homeland and create a physical version of the artwork one day
(CNN) -- An image juxtaposing a famous painting of lovers and the ruins of a building in Syria has gone viral, becoming a powerful symbol of the country's devastation from civil war.
"Freedom Graffiti," by Syrian artist-in-exile Tammam Azzam, digitally superimposes Austrian painter Gustav Klimt's masterpiece "The Kiss" -- a gilded image of lovers embracing -- over a bullet-ridden wall in Syria.
Syria's civil war is now approaching its second anniversary. The United Nations estimated last month that the death toll in the conflict had surpassed 60,000.
Azzam's image has gone viral since it was put online last week, attracting more than 35,000 "likes" and 25,000 "shares" on Facebook since Friday.
While the artwork is a purely digital creation, Azzam, who fled to Dubai with his wife and daughter seven months into the conflict, told CNN he hoped to return to his homeland one day to create a physical version of the work.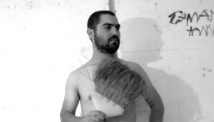 Syrian artist Tammam Azzam
"When I can return to Syria I have vowed to paint 'The Kiss' onto Syria's infrastructure," said the 33-year-old artist. "I cannot say if it will be the same wall though, as who knows if it will still be standing."
Read also: Syrian artists fight Assad regime with satire
Azzam said he began creating digital art as a form of protest shortly after leaving his country -- where his parents remain -- because he did not want to fight in the army.
The work was part of a series, "The Syrian Museum," that was exhibited in a collection at Dubai's Ayyam Gallery, which represents Azzam, last year. The works referenced other European Masters such as Goya, Picasso and Da Vinci, he said, juxtaposing "some of the greatest achievements of humanity with the devastation in my country."

Today's five most popular stories
September 26, 2014 -- Updated 1103 GMT (1903 HKT)

Where better to start a record-breaking solar powered flight than the desert?
September 24, 2014 -- Updated 1427 GMT (2227 HKT)

Ahmed Eldin is the 18-year-old behind the prog-rock band's new album cover. Shine on you crazy diamond.
September 17, 2014 -- Updated 1153 GMT (1953 HKT)

The Humans of New York photo project exposes the hopes and fears of ordinary people in Iraq and Jordan.
September 15, 2014 -- Updated 0247 GMT (1047 HKT)

At first glance, the UAE seems ill-suited to ice hockey: the only snow and ice to be found is usually in fabricated form in a shopping mall.
September 10, 2014 -- Updated 0206 GMT (1006 HKT)

Dubai's appetite for construction continues with multi-billion dollar boost to build the world's largest airport.
September 8, 2014 -- Updated 0440 GMT (1240 HKT)

Does faith have a place on the sports field? One Muslim NFL star believes so.
September 9, 2014 -- Updated 0302 GMT (1102 HKT)

The UAE is becoming a hub for plastic surgery with more Emiratis going under the knife each year.
August 21, 2014 -- Updated 1120 GMT (1920 HKT)

Meet Erdal Inci, a digital artist from Turkey who is transforming the medium.
August 14, 2014 -- Updated 1339 GMT (2139 HKT)

Iran is pumping billions of dollars into a scheme to save a lake. What's so important about it?
August 8, 2014 -- Updated 0218 GMT (1018 HKT)

A volatile Middle East has changed the tenor of Ramadan programming in Egypt. Now, no topic is too taboo.
July 29, 2014 -- Updated 0253 GMT (1053 HKT)

Dubai has got some big animal attractions in its mega malls. But not everyone is wild about the idea.
July 28, 2014 -- Updated 0314 GMT (1114 HKT)

Orhan Pamuk, Turkey's Nobel Prize-winning author, is neither afraid to confront the human condition nor the state his country is in.