Out with the iron, in with the cat: Monopoly has a new token
February 6, 2013 -- Updated 1423 GMT (2223 HKT)
STORY HIGHLIGHTS
NEW: The iron gets voted out in favor of a cat
A robot and diamond ring were among other possibilities for the new token
The new token is expected to debut later this year
(CNN) -- The iron's out and the cat's in Hasbro's latest update to its iconic Monopoly board game, the company announced Wednesday.
The company invited Monopoly fans to vote on which of its icons would be dropped in favor of a new one "that's more representative of today's Monopoly players," Eric Nyman, senior vice president for Hasbro Gaming, said at the start of the campaign last month.
The boot, iron and wheelbarrow drew the least support from fans, while the Scottie dog received the most support.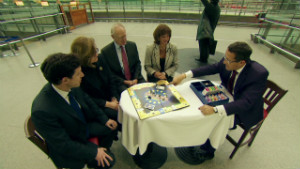 Quest's Eurozone Monopoly challenge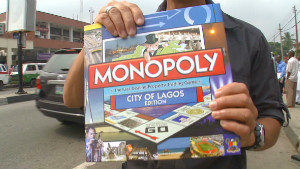 Monopoly adds first African city
The new choice received mixed reviews from fans.
"What? The cat? I demand a recount!!!," Facebook user Dillon Lane posted on the Monopoly page.
But Facebook user Eve Conolly is happy.
"Yay, down with ironing and hooray for kittens!," she posted on the Monopoly page.
More than 10 million people clicked the "like" button on the Facebook voting page for the token change.
The new token is expected to make its debut in mid- to late 2013. Until then, fans can still buy games with the old tokens.
Worried fans
Before the announcement, many were seriously sweating the outcome.
"I will never be able to buy another monopoly game again without the SHOE! I always get the shoe!" said Jennifer Simonson-Wehrle.
"IRON FOR LIFE!!!" said a post from Sarah Jane Stevens.
But Ali Muzaffar Khan had no love for the iron.
"Scrap the IRON," he said, sporting a smiley face.
The wheelbarrow was taking its lumps too.
"The wheelbarrow ALWAYS tips over," said Kristin Kramer. "That one could stand to be replaced."

Today's five most popular stories
Part of complete coverage on

CNN Living reflects your life. From advice for modern parents to the freshest news in food: It's all here.
September 3, 2014 -- Updated 1916 GMT (0316 HKT)

They get no tips and none of the glory, but if they didn't show up, the restaurant would go up in flames.
September 23, 2014 -- Updated 2106 GMT (0506 HKT)

They're not sexually attracted to other people. But why don't people believe or understand them?
September 17, 2014 -- Updated 1737 GMT (0137 HKT)

Fall brings a wave of new young adult novels, including Carl Hiaasen's first teen novel and the latest from "Pretty Little Liars" author Sara Shephard.

Kendall Jenner is trying to find her own footing in the high-fashion world without her polarizing siblings and parents.
September 29, 2014 -- Updated 2140 GMT (0540 HKT)

Colleges promote affirmative consent in sexual conduct by encouraging students to seek an enthusiastic "yes."

At his Miami home: "If it's not shagadelic or groovy, it's not coming into the house."
September 12, 2014 -- Updated 1324 GMT (2124 HKT)

Cara Reedy was born with dwarfism, and that's all that some people can see.