Syrian opposition chief, Russian minister meet, state news agency reports
February 3, 2013 -- Updated 0748 GMT (1548 HKT)
STORY HIGHLIGHTS
The talks take place on the sidelines of a security conference in Germany
Russia is a longtime ally of Syria; It does not recognize the opposition
The opposition leader also meets with U.S. Vice President Joe Biden
(CNN) -- The leader of the Syrian opposition met Saturday with the foreign minister of Russia, a longtime ally of the government that rebels hope to topple.
Ahmed Moaz al-Khatib, head of the Syrian National Coalition, met with Russian Foreign Minister Sergey Lavrov on the sidelines of an international security conference in Munich, Germany, Russia's state-run news agency RIA Novosti reported.
It gave no details and al-Khatib and Lavrov did not immediately respond to requests for comments.
The opposition chief also met in Munich with U.S. Vice President Joe Biden, who had harsh words for the Syrian leadership.
"President (Barack) Obama and I and nearly all of our partners and allies are convinced that President (Bashar al-) Assad, a tyrant hell-bent on clinging to power, is no longer fit to lead the Syrian people and he must go," Biden said, according to a transcript of his speech released by the White House.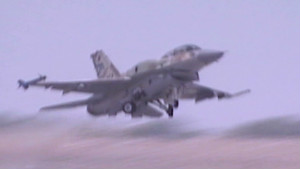 Talk of retaliation after Israeli strike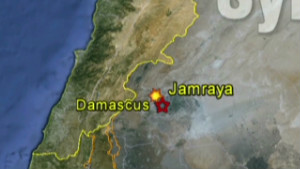 Syria: Israel bombed research facility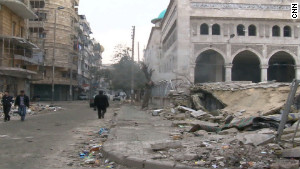 Slain Syrians pulled from river
"The opposition continues to grow stronger. And as the Syrian people have their chance to forge their own future, they will continue to find a partner in the United States of America," he said.
Russia has criticized Western powers, including the United States, that have recognized the opposition as Syria's rightful leadership. Russia and China have blocked U.N. Security Council attempts to take action to end the conflict and force al-Assad to step down, stressing that outside powers shouldn't be picking Syria's leaders.
In December, Russia invited al-Khatib to peace talks in Moscow or another location. The opposition chief said the group was open to talks, but not in Russia.
He said then that Russia had overlooked atrocities in Syria, and must condemn the crimes before his group can engage in talks.
When the Arab Spring revolts erupted across the region in early 2011, Syrians took to the streets to demonstrate against al-Assad's rule. The Syrian leader quickly responded with a crackdown by police and the army that exploded into a civil war.
The United Nations says the conflict has now killed more than 60,000 people. The carnage continued Saturday, as at least 101 people were killed, the opposition said.
CNN's Atika Shubert contributed to this report.

Part of complete coverage on
Syrian crisis
March 4, 2014 -- Updated 1328 GMT (2128 HKT)

Syria has submitted a revised proposal "that aims to complete the removal of all chemicals" from the country before the end of April.
February 18, 2014 -- Updated 1032 GMT (1832 HKT)

CNN's Arwa Damon reports on ISIS defector who says destroying ISIS as critical as defeating regime.
February 18, 2014 -- Updated 0353 GMT (1153 HKT)

The U.S. wants a United Nations resolution that will, among other things, bring humanitarian aid for refugees in Syria.
February 17, 2014 -- Updated 1259 GMT (2059 HKT)

When the radical Islamist militia ISIS arrived in the Syrian town of Addana a year ago, many welcomed them. What followed changed their minds.
February 17, 2014 -- Updated 1449 GMT (2249 HKT)

CNN obtained video clips from Syrian activists documenting the atrocities committed by members of the Islamic State in Iraq and Syria, known as ISIS.
February 18, 2014 -- Updated 2017 GMT (0417 HKT)

On Crossfire, Danielle Pletka discusses what the U.S. needs to do to resolve the Syria crisis.
February 6, 2014 -- Updated 0101 GMT (0901 HKT)

Her almond-shaped brown eyes shine through her sunken face as a doctor lifts her sweater to reveal a tiny rib cage pushing against her skin.
February 4, 2014 -- Updated 1746 GMT (0146 HKT)

The Zaatari refugee camp in Jordan is home to around 100,000 Syrian refugees. CNN spent several days meeting the residents of the camp.
January 22, 2014 -- Updated 1959 GMT (0359 HKT)

Renowned war crimes prosecutors and forensic experts have found "direct evidence" of "torture and killing" by the Assad regime.

Traumatized children who have witnessed the horrors of war are being helped to read -- and rebuild a normal life. CNN's Becky Anderson reports.
January 23, 2014 -- Updated 1207 GMT (2007 HKT)

A battle zone tour organized by the Syrian government for CNN and several other media outlets Wednesday was more than bizarre.
January 22, 2014 -- Updated 1735 GMT (0135 HKT)

CNN's Atika Shubert meets with the family of a little girl who was wounded in Syria, now living in a refugee camp.
January 27, 2014 -- Updated 1456 GMT (2256 HKT)

110 year old, Jabari Alawali walked for over 10 hours to reach Jordan from Syria.
Today's five most popular stories