Tutus, tiaras and tiramisu: World's first Barbie restaurant opens
January 31, 2013 -- Updated 1138 GMT (1938 HKT)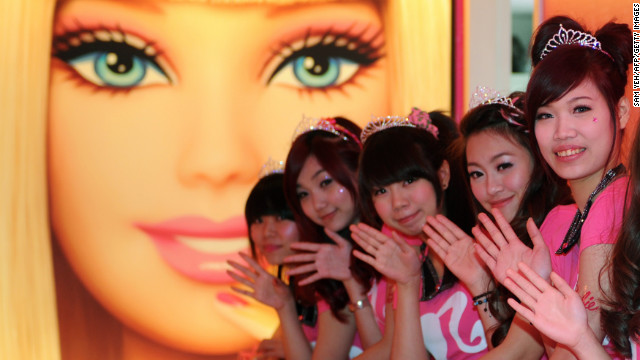 Tiaras and smiles at the opening of Taipei's Barbie Café on Wednesday. This welcome by staff a subtle hint at what lies further ahead.
Female wait staff wear tutus to complement the tiaras.
Some decent imagination is required to get Barbie and Ken from these outfits.
The entrance of Barbie Café, featuring a purse-like sofa. More beauty salon than restaurant.
Barbie and food -- that is one big juxtaposition.
Somewhere hidden in this photo is a serving of macaroons.
These Barbie cakes were only available during the opening. But don't be disappointed, there's more dessert at the dessert bar.
World's first Barbie Café opens in Taipei
World's first Barbie Café opens in Taipei
World's first Barbie Café opens in Taipei
World's first Barbie Café opens in Taipei
World's first Barbie Café opens in Taipei
World's first Barbie Café opens in Taipei
World's first Barbie Café opens in Taipei
STORY HIGHLIGHTS
Barbie-themed restaurant opened Wednesday in Taipei
Lots of pink, waitresses in tutus, waiters trying to look like Ken
Restaurant features a life-sized Barbie box
(CNN) -- Taiwan. Home to the first Hello Kitty-themed café, Hello Kitty-themed airplanes and now -- taking cute perhaps one step too far -- the world's first Barbie-themed restaurant.
Licensed by U.S. toymaker Mattel, Taiwan restaurant company Sinlaku on Wednesday opened the Barbie Café on Zhongxiao road, one of the busiest shopping districts in the capital, Taipei.
The café's decoration, costing TW$50 million (US$1.7 million), is mostly in suitably Barbie-style magenta and pink.
The furniture couldn't be more princess-y -- bar tables look like the heel of a stiletto, chair backs resemble bustiers (some with a tutu) and chandeliers are shaped like elegant teapots and teacups with saucers. Barbie dolls and logos adorn walls and tabletops.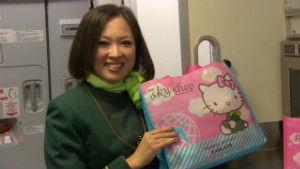 Hello Kitty takes to the skies
The restaurant also has a gigantic Barbie box allowing customers to step in and feel like a packaged up, life-size Barbie.
Waitresses wear tutus and tiaras while their male counterparts try, mostly in vain, to look like Ken, Barbie's on-off squeeze.
Barbie's abnormally, and anatomically-challenging, slim figure may diminish some appetites. With that in mind, the restaurant menu has been designed by professional nutritionists, local media reported (Chinese). There's a calorie chart on the first page of the menu, with calorie data listed alongside each item.
The menu itself is a hodgepodge of offerings, including Chicken toast box, Hazelnut tiramisu, Macaroons in martini glasses, Philadelphia steak salad, Salmon beauty salad and Barbie 128 (a pink drink named after the café's address). You can find photos of some menu items on this Chinese-language blog post.
Sinlaku is planning a second Barbie Café in the central Taiwan city of Taichung and aims to introduce one in Shanghai, Wu ke-jing, the general manager of Sinlaku, said in a local media report on Chinatimes (Trad. Chinese only).
Sinlaku also operates a Hello Kitty-themed café in Taipei, which opened five years ago. The Hello Kitty restaurant is slightly more expensive than Barbie Café with mains from TW$400 (US$14) compared to Barbie Café's mains from TW$250 (US$8). You can read our review of the Hello Kitty restaurant below.
Please, if you have visited the Barbie Café let us know your experience.
Hello Kitty restaurant is terribly cute and its food is just terrible
Barbie Café, 2F, 128, Section 4, Zhongxiao East Road

Today's five most popular stories
Part of complete coverage on
November 16, 2014 -- Updated 2326 GMT (0726 HKT)

Take a trip to the Chinese town that has more relics than people.
November 13, 2014 -- Updated 1742 GMT (0142 HKT)
You know about reggae and Usain Bolt -- but you probably aren't aware of these other Jamaican superlatives.
November 14, 2014 -- Updated 1152 GMT (1952 HKT)

Artist creates brilliant tribute to Dutch impressionist painter -- a cycle route that glows in the dark
November 14, 2014 -- Updated 0633 GMT (1433 HKT)

European airlines beware: These 320kph trains are upping the travel game with roomy seats and onboard wi-fi.
November 13, 2014 -- Updated 1053 GMT (1853 HKT)
For such a relatively small collection of islands, the UK packs in an phenomenal range of beautiful scenery.
November 12, 2014 -- Updated 2237 GMT (0637 HKT)

Rovos Rail's epic trips out of South Africa pamper passengers with fine dining, vintage comfort and even a bathtub.
November 18, 2014 -- Updated 0137 GMT (0937 HKT)

Self-taught Iranian photographer gains rare access to shoot religious buildings as they've never been seen.
November 11, 2014 -- Updated 0345 GMT (1145 HKT)

The subject of erotica has a way of making people uncomfortable.
November 7, 2014 -- Updated 0037 GMT (0837 HKT)

UK's Heathrow Airport pairs destinations with fragrances to evoke long distance travel. We do too.
November 6, 2014 -- Updated 2100 GMT (0500 HKT)

Bumper cars, a freefall simulator and robot bartenders are just a few of the cool features on Royal Caribbean's new Quantum of the Seas.
November 2, 2014 -- Updated 2258 GMT (0658 HKT)

Up in the mountains and across deep chasms, these bridges are both spectacular and terrifying.