Monster ride: Surfer catches 'world's biggest wave'
January 30, 2013 -- Updated 0739 GMT (1539 HKT)
STORY HIGHLIGHTS
Garret McNamara's wave believed to be 100 feet high
Small Portuguese fishing village has some of the world's most dangerous surf
Giant swells generated by unique deep water canyons
(CNN) -- He is but a dot in the ocean, gathering speed and rapidly rising as a mammoth wall of water expands below and behind him.
Simultaneously fearsome and awesome, this may be the moment Hawaiian rider Garret McNamara on Monday broke his own record for the largest wave ever surfed.
Caught off the coast of the small fishing village of Nazaré, Portugal, the monster wave was reported to be more than 100 feet high, or 30.5 meters.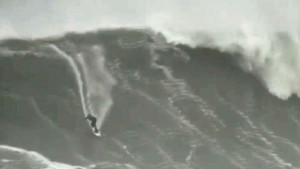 Anderson Cooper interviews McNamara
"It was just this endless drop and my feet were popping out of the straps," McNamara told CNN's Anderson Cooper. "It was like my whole body was shattering. It was really difficult."
If accurate, the wave towers over his 2011 surf of a 78-footer (24 meter) at the same location. Nazaré officials have requested an impartial verification of a possible new world record.
Thanks to one of the only deep water canyons in the world that connects to shore, Praia do Norte -- the north beach of Nazaré -- sees abnormally large waves.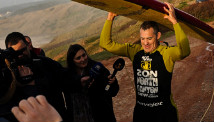 McNamara: "One of the hardest, longest drops."
A group of extreme surfers descended on the Portugal coast this past week, providing some amazing experiences for onshore observers and some very social media-friendly video and photos.
McNamara was first invited by the Nazaré Town Hall in 2010 as part of a three-year project to explore the local coast's unique geomorphic phenomenon and to bring more awareness to the area as a destination for big-wave enthusiasts.
Though onlookers were spellbound by McNamara's ride, the surfer said he didn't get that much of a rush.
"I don't know what's wrong with me. There's definitely something wrong," McNamara said in his interview with Cooper.

Today's five most popular stories
Part of complete coverage on
October 28, 2014 -- Updated 0149 GMT (0949 HKT)

Luxury Action will turn your travel scripts into reality and film them. As long as you're willing to travel to this country ...
October 27, 2014 -- Updated 0913 GMT (1713 HKT)

As entertainment capital of the world, Los Angeles draws some of the best comic talent on the planet. Here's where to see it live.
October 27, 2014 -- Updated 0342 GMT (1142 HKT)

Not many people choose flights based on the quality of an airline's catering -- but those who do should check out Saveur's Culinary Travel Awards.
October 27, 2014 -- Updated 0251 GMT (1051 HKT)

On the island of rice, curry, tropical fruit and fresh seafood, eating is an honor to the taste buds.
October 23, 2014 -- Updated 1558 GMT (2358 HKT)

Sparsely populated (by humans at least), this East Africa country offers so much more than just Mt. Kilimanjaro.
October 24, 2014 -- Updated 1432 GMT (2232 HKT)

It's crowded and outdated, but Berlin's hexagon-shaped Tegel air hub has won a place in the city's heart.
October 23, 2014 -- Updated 0847 GMT (1647 HKT)

Shrine to a dead cat and a homage to fromage among Dutch capital's eccentric exhibitions.
October 22, 2014 -- Updated 0603 GMT (1403 HKT)

Slovenian Kickstarter project encourages travelers to hop on their suitcase and cruise through terminals to connecting gates.
October 20, 2014 -- Updated 1808 GMT (0208 HKT)

The guidebook asked staff, contributors and authors for well-known and lesser-known recommendations.
October 20, 2014 -- Updated 1607 GMT (0007 HKT)

An airport in Asia has stolen the crown from Manila's Ninoy Aquino, voted 'world's worst' three years in a row.