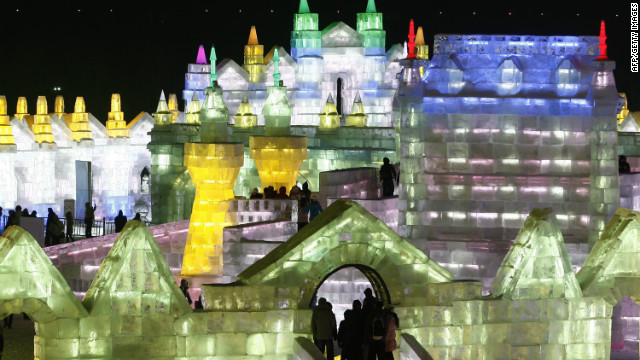 People visited "Ice and Snow World" during the opening ceremony of the 2013 Harbin International Ice and Snow Festival in China in early January. This year's "Ice and Snow World" features ice castles and fairytale sculptures with LED lights.
Artists Dorjsuren Lkhagvadorj and Bazarsad Bayarsaikhan designed the Dragon Residence, one of the artist-designed suites available at Sweden's Icehotel.
The Hannibal Festival in Solden, Austria, is based on Hannibal's invasion of Roman Italy in 200 BC. During the festival, snow machines play the part of Hannibal's elephants.
Exploring the deepest south of South America is made more comfortable by cruise operator Cruceros Australis. Passengers explore the chilly scenery and wildlife in small boats, returning to the main ship at day's end to warm up, eat and relax.
Want to see polar bears in the wild? Fresh Tracks Canada will take you to see them in Churchill, on the Hudson Bay in Manitoba.
The best polar bear watching is in October and November as the Hudson Bay begins to freeze.
Montreal's winter festival, called Montreal en Lumiere, will operate this year from February 21 to March 3.
Montreal's Snow Village officially opens on January 18. An ice hotel, ice bar and ice restaurant are among the frozen offerings open Thursday through Monday this season.
Harbin Ice Festival, China
Icehotel, Sweden
Hannibal Festival, Solden, Austria
The most southern South America
Polar bear watching, Canada
Polar Bear Watching, Canada
Montreal en Lumiere, Quebec
Snow Village, Montreal