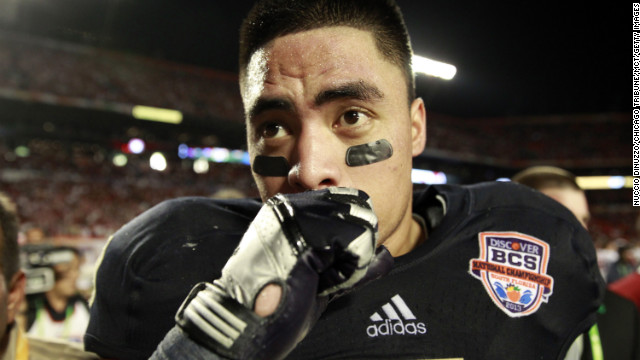 The sports world and the Internet are abuzz as Notre Dame linebacker Manti Te'o says
he was the victim of a "sick joke"
that resulted in the creation of an inspirational story that had him overcoming the death of an online girlfriend at the same time he lost his grandmother. Here, Te'o leaves the field after a 42-14 loss against Alabama in the 2013 Discover BCS National Championship game on Monday, January 7, in Miami Gardens, Florida. See more photos of Te'o:
Te'o makes a play against the Pittsburgh Panthers at Notre Dame Stadium on November 3, 2012.
Te'o reacts after Notre Dame beats Michigan State 20-3 at Spartan Stadium in East Lansing, Michigan, on September 15, 2012.
Te'o, a Heisman Trophy finalist, answers questions from reporters during an informal news gathering at the Marriott Marquis Hotel on December 7, 2012, in New York City a day before the presentation of the winner.
Heisman finalists quarterback Collin Klein, left, of the Kansas State Wildcats, quarterback Johnny Manziel, center, of the Texas A&M University Aggies and linebacker Te'o speak during a news conference before the 78th Heisman Trophy Presentation at the Marriott Marquis on December 8, 2012, in New York City.
Te'o takes the field as part of senior introductions before a game against the Wake Forest Demon Deacons at Notre Dame Stadium on November 17, 2012.
Te'o celebrates his team's 22-13 victory over the University of Southern California Trojans at Los Angeles Memorial Coliseum on November 24, 2012.
Te'o attempts to make a play on the ball against the Alabama Crimson Tide during the 2013 Discover BCS National Championship game on January 7 in Miami Gardens, Florida.
Te'o looks to the scoreboard during a game against the Brigham Young University Cougars at Notre Dame Stadium on October 20, 2012.
Te'o tackles Trey Miller of Navy during their game in Dublin, Ireland, on September 1, 2012.
Te'o is interviewed by ESPN after the game between the Oklahoma Sooners and the Notre Dame Fighting Irish in Norman, Oklahoma, on October 27. The Fighting Irish defeated the Sooners 30-13.
Te'o stretches on November 24, when the Fighting Irish defeated the USC Trojans 22-13 in Los Angeles.
Te'o raises his hand during the third quarter of the Fighting Irish's BCS National Championship game against Alabama on January 7.
Te'o tackles Miami running back Duke Johnson during the Fighting Irish game against the Miami Hurricanes in Chicago on October 6. Notre Dame defeated Miami 41-3.
Notre Dame star Manti Te'o
Notre Dame star Manti Te'o
Notre Dame star Manti Te'o
Notre Dame star Manti Te'o
Notre Dame star Manti Te'o
Notre Dame star Manti Te'o
Notre Dame star Manti Te'o
Notre Dame star Manti Te'o
Notre Dame star Manti Te'o
Photos: Notre Dame star Manti Te'o
Notre Dame star Manti Te'o
Notre Dame star Manti Te'o
Notre Dame star Manti Te'o
Notre Dame star Manti Te'o
STORY HIGHLIGHTS
Manti T'eo spoke publicly of his girlfriend's death during the season
His play after the death of his grandmother and girlfriend inspired many
What are your thoughts? Share with us on iReport.
(CNN) -- As the big game with No. 10 Michigan State approached, Notre Dame linebacker Manti Te'o had a heavy heart after he learned his girlfriend had lost her fight with leukemia.
The college football nation embraced the plucky Fighting Irish star, who also lost a grandmother that same week. His ability to play through emotional pain inspired many.
But now the story is in question after an article on the Deadspin website Wednesday said the girlfriend never existed.
The Te'o family talked about her throughout the season, describing the pain he dealt with after he was told she had died.
Timeline: How the story unfolded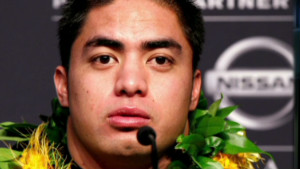 Deadspin shares how it broke Te'o story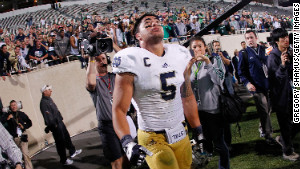 Notre Dame: Manti Te'o victim of hoax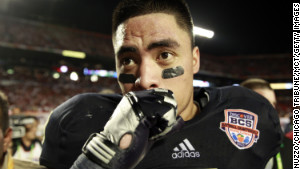 Notre Dame: Te'o caught in 'Catfish' scam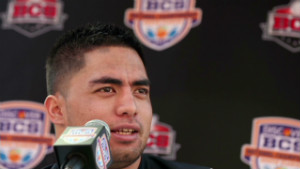 Report: Manti Te'o's girlfriend a hoax
Here are a selection of those quotes:
-- "It was hard. I lost a woman who I truly love, but I have my family around me and my football family. At the end of the day, families are forever and I will see them again someday. It is a great escape. I will be honest, throughout the game you are still thinking about it, but football allows me to be in a little realm, a little world that I know. I can honor them by the way I played. It was for them, for my girl and my grandma, and for all my loved ones who have passed on. They are all watching. It was a happy moment."
Te'o at the news conference after the Michigan State game on September 15.
-- "I really wanted to see her (in the hospital), but I knew that she made me promise, 'If anything happens to me, you'll stay over there and you'll play. You'll honor me through the way you play. I'd rather have you there. All she wanted was some white roses. White was her favorite color, so I sent her roses and sent her two picks (interceptions) along with that."
Te'o in the Irish Illustrated.com on October 3.
-- "That has to be the hardest thing that I've had to do so far; to be able to operate, and to be able to try to continue with my daily routine, but knowing that I just lost two women that I truly loved. That was the hardest thing. And the other hardest thing was my girlfriend's service was the day of the Michigan game. And I remember when I found out I knew when they were going to close the casket and all that stuff, and it was during the walk through. And I remember I asked Coach Diaco, 'Coach, what time is it?' And he said, 'It's 12:01.' And that would be 9, 9:01, California time and 9 is when they closed the casket for my girlfriend, so I had a moment then."
Te'o at a news conference on October 4.
-- "They started out as just friends. Every once in a while, she would travel to Hawaii, and that happened to be the time Manti was home, so he would meet with her there. But within the last year, they became a couple. And we came to the realization that she could be our daughter-in-law. Sadly, it won't happen now."
Brian Te'o told the South Bend Tribune on October 13.
-- "I cried, I yelled. I never felt that way before. This is six hours after I just found out my grandma passed away and you take the love of my life. The last thing she said to me was, 'I love you.' And that was it."
Te'o to ESPN in October.
-- "There's nothing I can say to explain it unless somebody's been there before. Somebody told me once the hardest thing about goodbyes is when you wake up in the morning you have to say it again when you realize that they're not there. So every morning when I wake up and my girlfriend is not on the phone it reminds me that she's gone. That's the hardest part for me. I go through it every day."
Te'o in the Boston Globe on November 10.
-- "It was a roller coaster, a constant struggle just to find balance through the adversity that my family went through. It hit me a number of times. When adversity hits like it did, my life became very plain, very black and white. It was like trying to walk through mud. It was kind of like, 'Man, I know I can do this, but how long do I have to do this for?' And I would think of my grandfather (who died in January 2012). All the chemo he went through, how hard he fought. And he never complained. Never. He was always more worried about everyone else, about getting everyone through his illness. So when I lost my grandmother and Lennay, I thought of him. He was my strength.''
Te'o in the December 30 edition of the New York Post
Social media jump all over Te'o hoax story
Who's who on the Internet? Who knows
TV show 'Catfish' focuses on fake internet relationships