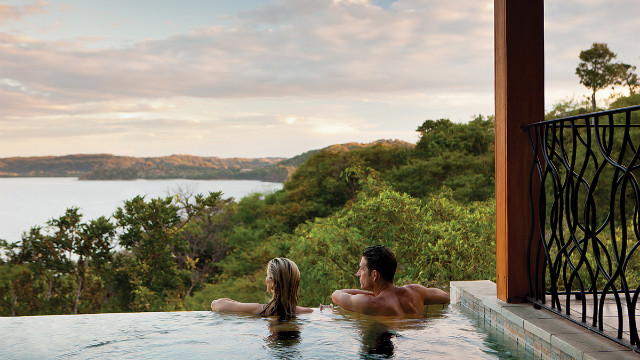 Enjoy the view over the Papagayo Peninsula from your private pool at the Four Seasons.
A romantic dinner on the beach is just one of the perks of staying at the Four Seasons on Costa Rica's Papagayo Peninsula.
At the oceanfront Florblanca Resort, located on the tip of the Nicoya Peninsula near Playa Santa Teresa, horseback riding, surfing and yoga are just some of the activities within easy reach.
Or just lounge by Florblanca's infinity pool.
The all-inclusive Westin Playa Conchal Resort & Spa opened in May 2011 -- a sprawling property that includes a golf course, forests and the beautiful beaches of Costa Rica's North Pacific Riviera.
Arenal Volcano may be slipping into dormancy, but it remains a dramatic sight from the thermal pools at The Springs.
Tabacon resort's scenic hot springs are a strong draw for visitors to Arenal.
Within walking distance of Manuel Antonio National Park, the gorgeously landscaped Arenas Del Mar resort is an attraction in its own right.
Luxury lodging in Costa Rica
Luxury lodging in Costa Rica
Luxury lodging in Costa Rica
Luxury lodging in Costa Rica
Costa Rica's luxury lodging
Luxury lodging in Costa Rica
Luxury lodging in Costa Rica
Luxury lodging in Costa Rica