STORY HIGHLIGHTS
NEW: Media reports say Armstrong admitted to using performance-enhancing drugs
Source tells CNN the former cyclist in talks to repay some sponsorship money
Interview with Winfrey lasted 2 1/2 hours, talk show queen tweets
Armstrong apologizes to cancer foundation workers for their stress
Still own a Livestrong bracelet? Tell us about it.
(CNN) -- Lance Armstrong, who for years vehemently denied cheating while winning a record seven Tours de France, told Oprah Winfrey that he used performance-enhancing drugs to advance his cycling career, according to media reports.
ABC News, the New York Times and USA Today, citing unnamed sources, reported Monday night that the former cyclist finally admitted to using steroids during an interview he and Winfrey taped Monday night in Armstrong's hometown of Austin, Texas.
Armstrong was emotional at times during the session, a source, who was familiar with the interview, told CNN.
The person refused to discuss the specifics of what Armstrong said, including whether he confessed to using performance-enhancing drugs as ABC and USA Today reported.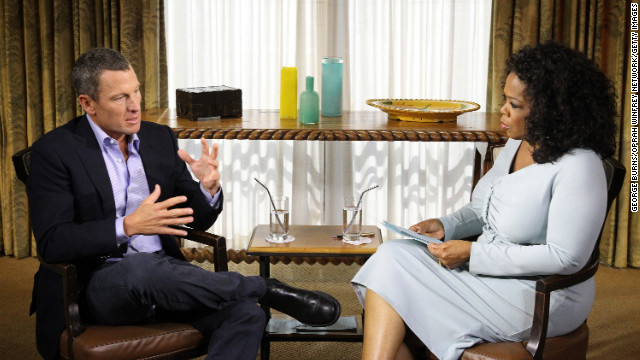 Oprah Winfrey speaks with Lance Armstrong during an interview on the controversy surrounding his cycling career on Monday, January 14, in Austin, Texas. Oprah Winfrey's exclusive no-holds-barred interview with Lance Armstrong, "Oprah and Lance Armstrong: The Worldwide Exclusive," has expanded to air as a two-night event on OWN: Oprah Winfrey Network. The interview airs Thursday, January 17, and Friday, January 18.
Cyclist Lance Armstrong has been stripped of his seven Tour de France wins and banned from the tournament for life, the International Cycling Union announced Monday, October 22. Pictured, Armstrong addresses participants at The Livestrong Challenge Ride on Sunday. He stepped down as chairman of his Livestrong cancer charity on Wednesday, October 17.
Armstrong leads his teammates during the final stage of the 1999 Tour de France.
Armstrong, 17, competes in the Jeep Triathlon Grand Prix in 1988. He became a professional triathlete at age 16 and joined the U.S. National Cycling Team two years later.
In 1995, Armstrong wins the 18th stage of the Tour de France. He finished 36th overall and finished the race for the first time that year.
Armstrong rides for charity in May 1998 at the Ikon Ride for the Roses to benefit the Lance Armstrong Foundation. He established the foundation to benefit cancer research after being diagnosed with testicular cancer in 1996. After treatment, he was declared cancer-free in February 1997.
Armstrong takes his honor lap on the Champs-Élysées in Paris after winning the Tour de France for the first time in 1999.
After winning the 2000 Tour de France, Armstrong holds his son Luke on his shoulders.
Armstrong rides during the 18th stage of the 2001 Tour de France. He won the tour that year for the third consecutive time.
Armstrong celebrates winning the 10th stage of the Tour de France in 2001.
After winning the 2001 Tour de France, Armstrong presents President George W. Bush with a U.S. Postal Service yellow jersey and a replica of the bike he used to win the race.
Armstrong celebrates on the podium after winning the Tour de France by 61 seconds in 2003. It was his fifth consecutive win.
Jay Leno interviews Armstrong on "The Tonight Show" in 2003.
After his six consecutive Tour de France win in 2004, Armstrong attends a celebration in his honor in front of the Texas State Capitol in Austin.
Armstrong arrives at the 2005 American Music Awards in Los Angeles with his then-fiancee Sheryl Crow. The couple never made it down the aisle, splitting up the following year.
Armstrong holds up a paper displaying the number seven at the start of the Tour de France in 2005. He went on to win his seventh consecutive victory.
As a cancer survivor, Armstrong testifies during a Senate hearing in 2008 on Capitol Hill. The hearing focused on finding a cure for cancer in the 21st century.
In 2009, Armstrong suffers a broken collarbone after falling during a race in Spain along with more than a dozen other riders.
Young Armstrong fans write messages on the ground using yellow chalk ahead of the 2009 Tour de France. He came in third place that year.
Armstrong launches the three-day Livestrong Global Cancer Summit in 2009 in Dublin, Ireland. The event was organized by his foundation.
In May 2010, Armstrong crashes during the Amgen Tour of California and is taken to the hospital. That same day, he denied allegations of doping made by former teammate Floyd Landis.
Ahead of what he said would be his last Tour de France, Armstrong gears up for the start of the race in 2010.
Lance Armstrong looks back as he rides in a breakaway during the 2010 Tour de France.
Armstrong finishes 23rd in the 2010 Tour de France. He announced his retirement from the world of professional cycling in February 2011. He said he wants to devote more time to his family and the fight against cancer.
Armstrong's son Luke; twin daughters, Isabelle and Grace; and 1-year-old son, Max, stand outside the Radioshack team bus on a rest day during the 2010 Tour de France.
The frame of Armstrong's bike is engraved with the names of his four children at the time and the Spanish word for five, "cinco." His fifth child, Olivia, was born in October 2010.
In February 2012, Armstrong competes in the 70.3 Ironman Triathlon in Panama City. He went on to claim two Half Ironman triathlon titles by June. He got back into the sport after retiring from professional cycling.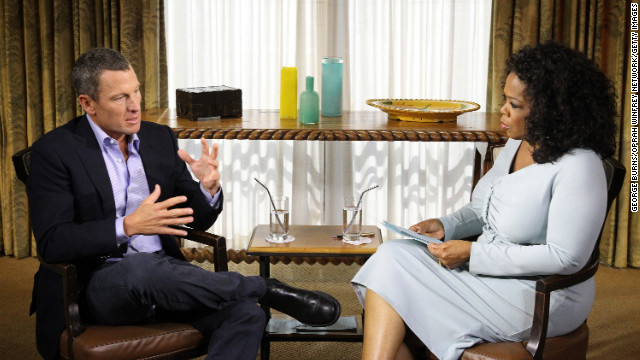 Photos: Lance Armstrong over the years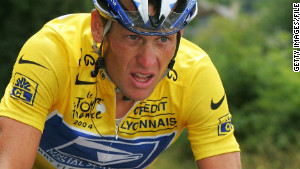 Reports: Armstrong admits steroid use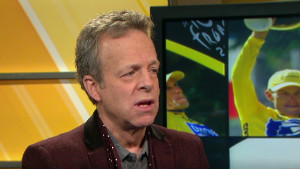 McKinnon: Armstrong doping 'devastating'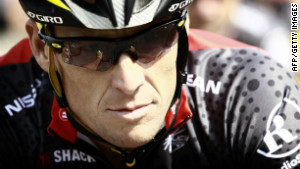 Report: Armstrong says he used drugs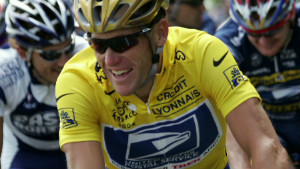 Armstrong could face more legal trouble
Armstrong also might pay back part of the money he received from the U.S. Postal Service, which sponsored the cyclist and his team while he was winning six of his Tours de France, the source said.
The source said Armstrong was in negotiations to repay some of the money.
ESPN reported in 2011 that the agency -- which is not taxpayer funded -- paid more that $31 million to sponsor the team during the final four years of its agreement.
A spokeswoman for the postal service said: "We are not in a position now to discuss any of the legal issues associated with these developments and the prior relationship between the U.S. Postal Service and Mr. Armstrong, but we will do so at an appropriate time."
Armstrong won the Tour de France a record seven straight years, beginning in 1999. The postal service sponsored the team from 1996 to 2004.
Tim Herman, one of Armstrong's lawyers, had no comment about the interview.
Winfrey tweeted after the interview: "Just wrapped with @lancearmstrong More than 2 1/2 hours . He came READY!" The interview will be edited down to 90 minutes, Winfrey has said.
"We are not confirming any specific details regarding the interview at this time," a spokesperson for OWN said Monday night.
The disgraced cycling legend earlier apologized to the staff of the cancer charity he started, a publicist for Livestrong Foundation said.
Armstrong was tearful during the 15-minute meeting and didn't address the issue of steroid use in cycling, Rae Bazzarre, director of communications for the foundation, said.
Bazzarre added that Armstrong offered to the staff a "sincere and heartfelt apology for the stress they've endured because of him."
He urged them to keep working hard to help cancer survivors and their families.
Armstrong's sit-down in his hometown of Austin, Texas, with Winfrey was his first interview since he was stripped of his seven Tour de France titles in October in a blood-doping scandal.
Read more: Oprah interview with Lance Armstrong airs January 17
For more than a decade, Armstrong has denied he used performance-enhancing drugs, but he was linked to a doping scandal by nearly a dozen other former cyclists who have admitted to doping.
What Armstrong said or did not say to Winfrey could have ramifications.
Some media outlets have reported that Armstrong has been strongly considering the possibility of a confession, possibly as a way to stem the tide of fleeing sponsors and as part of a long-term redemptive comeback plan.
But such a confession might lend weight to the lawsuits that could await him.
The interview will air at 9 p.m. ET Thursday on the Oprah Winfrey Network. Winfrey has promised a "no-holds-barred" interview, with no conditions and no payment made to Armstrong.
But the speculations swirled Monday.
"I don't think we're going to get an out-and-out confession," says CNN sports anchor Patrick Snell. "I think we're going to get something like, 'This is what went on during this era of trying to compete at the highest level.'"
Livestrong bracelet: To wear or not to wear?
Armstrong, 41, has repeatedly and vehemently denied that he used banned performance-enhancing drugs as well as illegal blood transfusions during his cycling career.
Winfrey will ask Armstrong to address the U.S. Anti-Doping Agency's October report, which said there was overwhelming evidence he was directly involved in a sophisticated doping program, a statement from her network said last week.
The International Cycling Union, which chose not to appeal the USADA's lifetime ban, stripped Armstrong of his record seven Tour victories.
The World Anti-Doping Agency also agreed with the sanctions, which means Armstrong may not compete in sports governed by that agency's code.
Before the ban, he was competing in Ironman triathlons and had won two of the five events he had entered.
Since the ban he has entered two non-sanctioned events.
Report: Armstrong offered to donate $250,000 to anti-doping agency
Why now?
So, why would Armstrong choose to make a confession now?
"I would suspect that he sees this as certainly his best way forward," Snell says. "He would have taken strong legal advice, of course. When you look at the kind of stuff that Oprah's done over the years, it's a chance to get ... heartfelt emotions across."
The New York Times has reported that Armstrong was contemplating publicly admitting he used illegal performance-enhancing drugs. Such an admission might lead toward Armstrong regaining his eligibility.
One of his attorneys denied Armstrong was in discussion with the two anti-doping agencies.
Herman, in a recent e-mail to CNN Sports, did not address whether Armstrong told associates -- as reported by the newspaper -- that he was considering an admission.
But such an admission could open him up to lawsuits, something Armstrong is likely well aware of.
"He is surrounded by the best legal advice, the best legal team," Snell says. "It's very hard for anyone to imagine him going into this without having been fully briefed, made aware of absolutely every scenario."
Drug tests
In the past, Armstrong has argued that he took more than 500 drug tests and never failed.
In its 202-page report that detailed Armstrong's alleged use of performance-enhancing drugs and blood transfusions, the USADA said it had tested Armstrong less than 60 times and the International Cycling Union conducted about 215 tests.
The agency did not say that Armstrong ever failed a test, but his former teammates testified as to how they beat tests or avoided the tests altogether.
The New York Times, citing unnamed associates and anti-doping officials, said Armstrong has been in discussions with USADA officials and hopes to meet with David Howman, chief of the World Anti-Doping Agency. The newspaper said none of the people with knowledge of Armstrong's situation wanted to be identified because it would jeopardize their access to information on the matter.
Awaiting Armstrong's 'last word'
Armstrong: The legend and the fall
Armstrong has been an icon for his cycling feats and celebrity, bringing more status to a sport wildly popular in some nations but lacking big-name recognition, big money and mass appeal in the United States.
He fought back from testicular cancer to win the Tour from 1999 to 2005. He raised millions via his Lance Armstrong Foundation to help cancer victims and survivors, an effort illustrated by trendy yellow "LiveSTRONG" wristbands that helped bring in the money.
But Armstrong has long been dogged by doping allegations, with compatriot Floyd Landis -- who was stripped of his 2006 Tour de France title after failing a drug test -- making a series of claims in 2011.
Armstrong sued the USADA last year to stop its investigation of him, arguing it did not have the right to prosecute him. But after a federal judge dismissed the case, Armstrong said he would no longer participate in the investigation.
In October 2012, Armstrong was stripped of his titles and banned from cycling. Weeks later, he stepped down from the board of his foundation, Livestrong.
Kurtz: Can even Oprah save Lance Armstrong?
CNN's Ed Lavandera, Kevin Bohn, Joe Sutton, Ed Payne, Jillian Martin and Chelsea J. Carter contributed to this report.