STORY HIGHLIGHTS
Lindsey Vonn retains downhill lead despite finishing equal sixth in World Cup comeback
Fellow American Alice McKennis wins the first World Cup race of her career in Austria
Slovakia's Tina Maze extends her overall World Cup lead with fourth place at St. Anton
American Ted Ligety leads giant slalom standings after winning in Switzerland on Saturday
(CNN) -- Lindsey Vonn made her comeback to the World Cup skiing circuit on Saturday, but was upstaged by fellow American Alice McKennis in her favored downhill event at St. Anton in Austria.
Olympic champion Vonn had missed almost four weeks of action, deciding to take a break due to an intestinal illness which has ruined her chances of retaining her overall World Cup crown.
The 28-year-old returned to the piste just days after her divorce from fellow skiing star Thomas Vonn was finalized, having been separated for more than a year, but had to take a back seat as McKennis claimed her maiden World Cup race victory.
The 23-year-old headed off Italy's second-placed Daniela Merighetti and Austria's Anna Fenninger, who was third.
"It's totally shocking for me. I had hoped to be top 10," McKennis told the U.S. Ski Team website.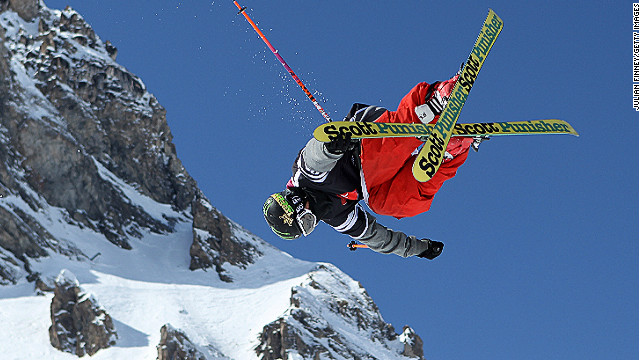 Two new freestyle skiing events will be introduced at the 2014 Winter Olympics in Sochi -- slopestyle and ski halfpipe -- meaning freestylers will have as many medals to aim at as their alpine cousins.
Slopestyle skiers perform a series of tricks on a course laden with jump-off opportunities while the ski halfpipe discipline is similar, though the track is a semi-circular ditch carved out of the snow.
More and more people are making the crossover from alpine to the "dark side" of skiing -- freestyle. Canadian Kelsey Serwa made the switch in 2009 and has since become an X Games gold medalist and world champion in ski cross.
Ski cross is a four-way fight to the finish line across a specially constructed course complete with jumps, waves and steep turns. It enraptured audiences on its Olympics debut in Vancouver in 2010.
Part of its appeal is its fast and furious nature, which often leads to crashes.
Some believe the drama of freestyle is taking viewers away from traditional downhill alpine skiing. John Fry, International Skiing History Association president, thinks alpine is missing chances to boost its popularity. He says a refusal to sanction a race-off between Maria Riesch and Lindsey Vonn when they were practically tied for the Alpine World Cup title in 2011 was a mistake.
Rather than television, most amateur freestyle skiers find their fame on the internet. Finnish urban skiing company Real Skifi comprises Ilkka and Verneri Hannula and Juho Kilkki. Their short films, shot by Janne Korpela, often attract half a million hits.
As well as ski halfpipe, ski slopestyle and snowboard slopestyle, other new events for Sochi 2014 include snowboard parallel special slalom, women's ski jumping, biathlon mixed relay, team figure skating and luge team relay.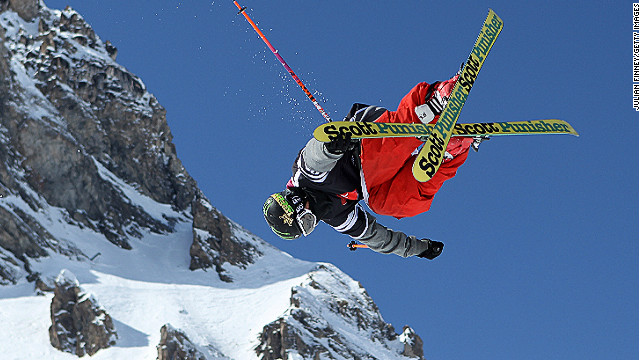 Winter Olympics embraces skiing's ''dark arts'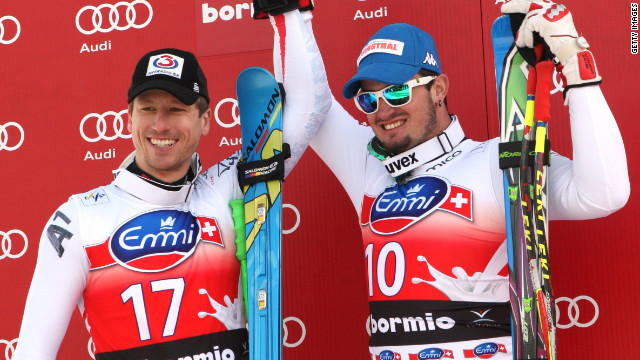 Dominik Paris, right, and Hannes Reichelt shared victory after finishing in a dead heat in the World Cup downhill at Bormio, Italy.
Paris, 23, delighted the home fans as he claimed the first World Cup win of his career.
Austria's Reichelt also clocked 1:58.62 as the 32-year-old claimed his fifth career victory -- his first this season.
Aksel Lund Svindal extended his lead in both the downhill and overall standings as he finished third -- just 0.01 seconds behind leading duo.
The Norwegian was just 0.01 seconds ahead of fourth-placed Austrian Klaus Kroll, who won the downhill title last season.
Slovakia's Veronika Velez Zuzulova claimed her first World Cup win with victory in the women's slalom at Semmering in Austria, where Slovenia's Tina Maze extended her overall lead with third place.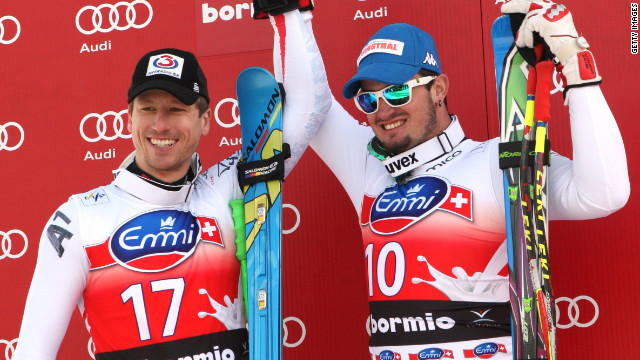 'Crazy' dead heat in World Cup ski race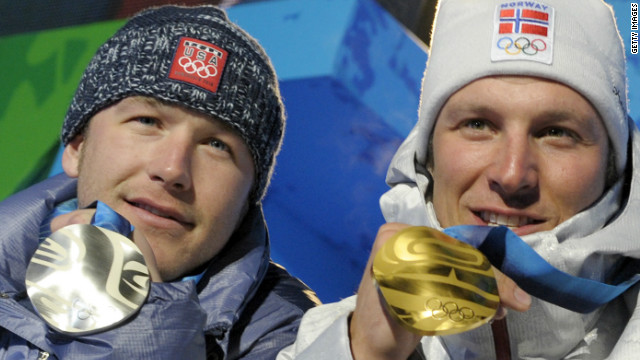 Aksel Lund Svindal, right, secured his first Olympic gold medal in the men's super-G at the 2010 Vancouver Games, while American star Bode Miller claimed silver.
Svindal celebrates his silver medal in the men's downhill in Vancouver. He also won bronze in the giant slalom to complete a full set of medals in one Games.
Svindal powers his way to victory in the men's World Cup super-G race at Val Gardena as he continued his dominant start to the 2012-13 season with his third win.
Svindal and fellow skiers Ted Ligety and James Heim go back to the 1980s for a photoshoot with sponsor Head.
Svindal finds time to relax away from the rigors of training and competition.
Norwegian ski coach Haavard Lie battles the elements during national team training in Solden.
Svindal shows his attitude as he embraces the "Movember" charity movement.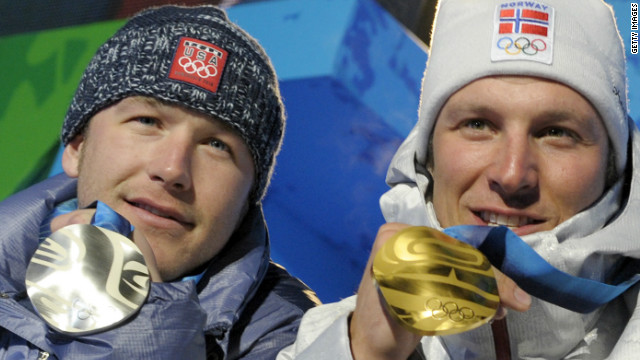 Svindal sets the Alpine speed standard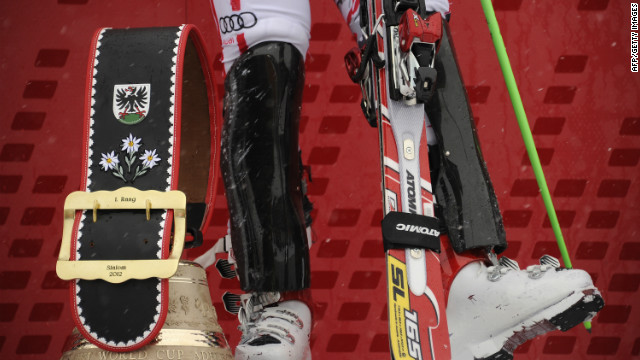 Watch any ski race on TV and you will hear the same dull, persistent background clanging of cowbells ringing. Marcel Hirscher's feet are pictured here next to a cowbell during the podium ceremony of the men's slalom race at the FIS Alpine Skiing World Cup in January 2012.
Over the last two decades cowbells, already steeped in Alpine history, have become a global success and Winter Olympic icon.
Bells have been used, especially in downhill skiing, for a long time. It started in Switzerland, where in summer the cows all walk around the mountains with bells on.
"If the Swiss are coming to an event they'll bring really big bells, a foot high or more," said California-based cowbell importer Elisabeth Halvorson.
Cycling and triathlon are increasingly the domain of the cowbell. Tennis racket manufacturers gave away branded versions at the U.S. Open. Here a fan of the Tampa Bay Rays is pictured holds up a cow bell during game one of the 2008 MLB World Series against the Philadelphia Phillies.
Go to most major sporting events in 2013 and the ambience will be provided by vast, booming speaker systems. The sound of the vuvezela at the World Cup in 2010 offered a very different soundscape.
Back in 1949, football fans in England came to matches armed with very different instruments of noise -- wooden rattles.
When a Winter Olympics is within sight, cowbells become Norwegian cowbell manufacturer Moen's hottest commodity. The company produces approximately 30,000 bells each year, but in an Olympic Year over twice as many cowbells would be churned out.
The ting-a-ling sensation of a cowbell feels warm and traditional -- part of the very fabric of sport.
"For us, it started before the Winter Olympics in Lillehammer in 1994," said Moen Grude, chief executive of the Norwegian company. "The fans saw it as the only souvenir that let them take the spirit of the Olympics back home."
Cowbells have many different uses and are not just for skiing fans. Here American sprinter Carl Lewis of the USA is presented in 1997 with a huge cow-bell by promoter Andreas Brugger at the IAAF Weltklasse Grand Prix at the Letzigrund Stadium in Zurich, Switzerland.
An Alpiner with three large cow bells, which produce that sombre rhythmic sound, at a traditional bell-swinging festival in 1955.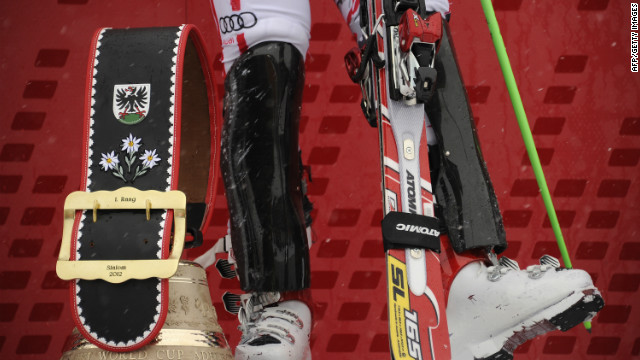 Noise and sport: how the cowbell came of age
"I had one of the best runs I've ever had. I've never been here before but I knew what I had to do. It's a really tough course. I had to be really aggressive the whole way and never back off. If you do, it will take control of you.
"I'm a little overwhelmed but extremely happy. It's a dream come true -- something you think about as a little kid growing up."
Read: Vonn vows to fight on in bid to race men
Slovenia's Tina Maze was fourth ahead of another American, Laurenne Ross, to extend her overall World Cup lead to 490 points.
Vonn was sixth equal with Switzerland's Dominique Gisin, but stayed at the top of the downhill standings -- leading compatriot Stacey Cook by 45 points after four of eight races.
"It makes me proud to be a part of a great bunch of girls. For me, I'm just happy to be back," said Vonn, who missed six events -- three slaloms, two giant slaloms and a parallel slalom -- but will be back in action for Sunday's Super G race.
"It was definitely tough conditions. The course workers did a great job -- I almost didn't think it was possible to run today," she said after the course was shortened due to heavy overnight snow.
"I made some mistakes but I felt good and I felt my skiing was where it should be."
It was a good day for American skiers, with Ted Ligety triumphing in the men's giant slalom in Adelboden, Switzerland.
It left him top of the giant slalom standings ahead of overall World Cup leader Marcel Hirscher.
The Austrian led the first run and most of the second before hitting a gate and finishing 16th, ending his run of podium placings.
"Marcel Hirscher won this race here today, he was ahead big time but I guess I'll take it as it is," Ligety said after his first win at a venue where Hirscher won both slaloms in 2012.
" But I have given away some of these gift victories in the past, so somehow things always even out in the end. I am very happy to win here today, it has been a hill that I have struggled with my whole career and today finally I can go home with a win."
It left Ligety in third place overall, 103 points behind Hirscher and 77 behind Norway's Aksel Lund Svindal.
Felix Neureuther is fourth after finishing third at Adelboden behind fellow German Fritz Dopfer.