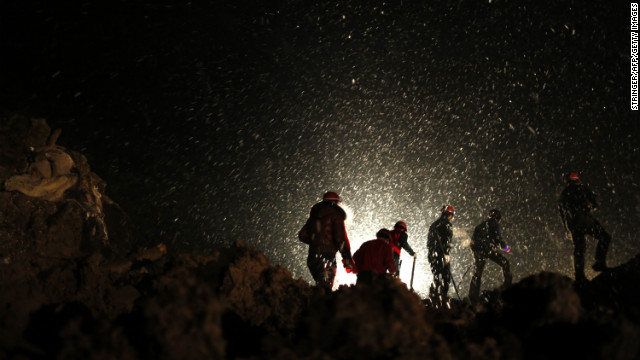 Rescuers on Friday, January 11, begin searching for missing residents in disaster-hit Gaopo village in southwest China. A landslide struck Friday morning, triggered by rain and snow that had saturated the largely rocky area for 10 days, Li Lianju, deputy director of the Yunnan Land and Resources Department, told state media.
Tractors dig while rescue workers search for buried residents on Friday.
Residents assist a crying woman at the scene.
Rescuers carry a dead body from the area. The disaster prompted a massive search and rescue effort that included more than 20 excavators and front-end loaders.
Another victim is carried away from the scene. The landslide has killed at least 46 people in the southwest China village, according to the state-run Xinhua news agency.
Displaced residents gather near temporary tents on Saturday, January 12, after the rescue mission is finished.
Locals gather to mourn on Saturday.
Killer landslide hits southwest China village
Killer landslide hits southwest China village
Killer landslide hits southwest China village
Killer landslide hits southwest China village
Killer landslide hits southwest China village
Killer landslide hits southwest China village
Killer landslide hits southwest China village