Emotional Muamba 'gets closure' with return to scene of heart seizure
November 8, 2012 -- Updated 2307 GMT (0707 HKT)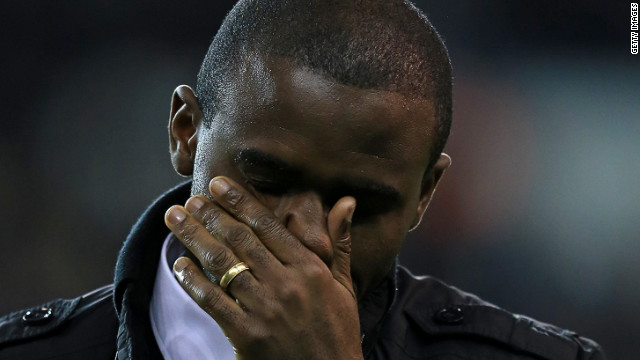 Fabrice Muamba wept as he addressed the crowd at White Hart Lane -- the English soccer ground where he collapsed due to cardiac arrest during a match in March 2012.
His collapse while playing for Bolton in an FA Cup match against Tottenham was seen by a worldwide television audience -- and the cameras were there again on his first return to the London stadium in November the same year.
Before attending the Europa League match, Muamba had been at London's O2 Arena to watch tennis star Roger Federer at the ATP World Tour Finals.
Muamba announced his retirement from football in August 2012, but the following month he attended a match played by his former club Bolton, which has dropped into the second division.
Muamba took part in the Olympic torch relay for the London 2012 Games. Here he lights the cauldron on day 64 of the flame's 8,000-mile journey around the UK.
In May 2012, he and his now wife Shauna were guests at the FA Cup final, which was won by Chelsea.
His life was saved by cardiologist Andrew Deaner, a Tottenham fan who came out of the crowd to help with his resuscitation.
Muamba collapsed before halftime and the match was abandoned as he was taken to hospital after receiving several defibrillator shocks to restart his heart, which stopped for 78 minutes. He was discharged only a month later after making a remarkably quick recovery.
Closure for Muamba
Eyes of the world
Capital action
Old friends
Flame still burns
Wembley guest
Life saver
Heart stops
STORY HIGHLIGHTS
Fabrice Muamba receives standing ovation as he returns to White Hart Lane for first time
Muamba collapsed at the London soccer stadium during a match in March
His heart stopped for 78 minutes, but he was saved by a cardiologist from the crowd
Muamba is raising awareness for heart problems since being forced to retire
(CNN) -- Soccer player Fabrice Muamba has made an emotional first return to the ground where he suffered a career-ending heart seizure in March.
The 24-year-old wiped away tears after being allowed to address the fans at Tottenham's White Hart Lane during the English team's European match on Thursday.
At halftime, Muamba came onto the same pitch where he collapsed while playing for his former club Bolton eight months ago -- his heart stopped for 78 minutes but he was resuscitated and later made a remarkable recovery in hospital.
However, the Zaire-born England under-21 international was unable to resume his playing career and he officially quit the game in August.
"I can't express... All I can say is thanks to the Tottenham fans for the way they reacted," said Muamba, who had earlier been at London's O2 Arena to watch tennis star Roger Federer in action.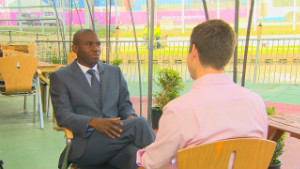 Muamba: I've played football again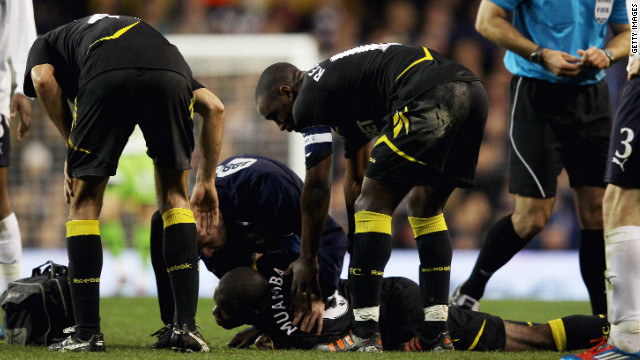 Bolton player Fabrice Muamba lies prone on the pitch after collapsing before halftime during the English FA Cup quarterfinal away to Tottenham Hotspur on Saturday.
Players from both teams, as well as Bolton manager Owen Coyle, far right, watch as the England under-21 international is treated by medics.
Tottenham's Rafael Van der Vaart was one of many players who offered their support for Muamba via micro-blogging website Twitter.
The 23-year-old was carried off the pitch at White Hart Lane and taken to a hospital in London. The game was abandoned.
Muamba has been at the Premier League club since 2008, when he signed in an $8 million transfer from English rivals Birmingham.
Muamba made his name at Birmingham City, where he made a permanent move in 2007 after impressing while on loan from English Premier League club Arsenal.
Muamba came to England in 1999 after his family left his homeland, the Democratic Republic of Congo. He represented his adopted country at under-21 level at the 2009 European Championship.
Muamba had limited first-team opportunities at Arsenal, but appeared in a League Cup match against Reading in November 2005.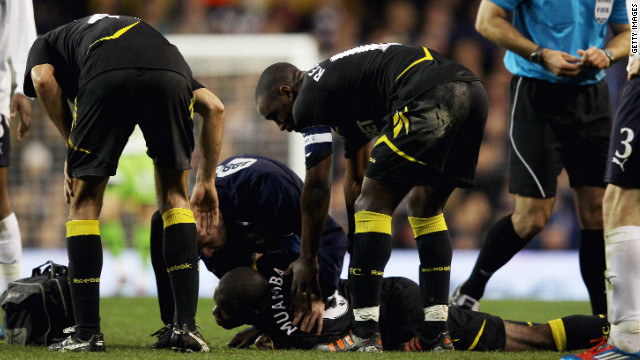 Fabrice Muamba collapses during match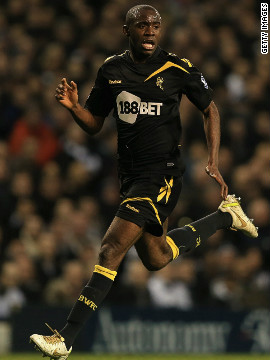 Doctors have described Fabrice Muamba's progress since his cardiac arrest during a match on Saturday as "miraculous." The Bolton star's heart stopped beating for 78 minutes after his collapse but now he is talking and joking with visitors.
Barcelona's Lionel Messi wore a t-shirt with a message of support for Muamba before Wednesday's game with Granada, in which the Argentina striker scored a hat-trick and became the club's leading goalscorer of all time.
Bolton announced Thursday they will fulfill their Premier League fixture with local rivals Blackburn on Saturday after postponing the midweek clash with Aston Villa. Before Blackburn's win over Sunderland on Wednesday their players offered messages of support for Muamba.
Bolton Wanderers fans have left flowers and scarves outside the English club's Reebok Stadium in support of Muamba, while most of the playing squad have been to visit him in the London Chest Hospital.
Muamba's former teammate Gary Cahill, who left Bolton to join Chelsea in January, revealed a t-shirt honoring his ex-colleague after scoring against Leicester City on Sunday.
Tributes were paid to Muamba from across the footballing world. Real Madrid's players took to the pitch before last Sunday's Spanish league match with Malaga wearing shirts displaying a message of support for the midfielder.
Fans at Liverpool's FA Cup quarterfinal against Stoke City send their best wishes to Muamba. Supporters also chanted his name at various points during Sunday's Anfield match.
Bolton manager Owen Coyle (left) and chairman Phil Gartside outside the London Chest Hospital where Muamba is being treated.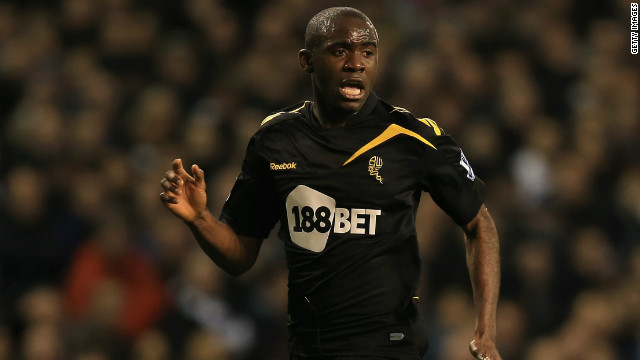 Tributes to Fabrice Muamba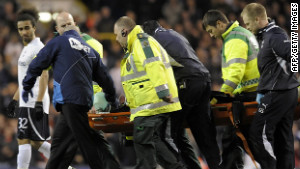 Muamba 'In effect dead for 78 minutes'
"There are people out there who prayed for me. I want to thank the chairman, and to all the Spurs fans. I am grateful to them. They are awesome fans.
"Today I wanted to visit that place one more time for closure."
Before Thursday's Europa League match against Maribor, Tottenham's website hailed Muamba as an "inspiration" and referred to his work with the "Hearts & Goals" campaign -- which aims to give communities across the UK access to 500 new defibrillators, as well as training.
"Amazing day at WHL tonight. Thank you guys for everythings spurs fans tonight were awesome. Thank you," Muamba wrote on Twitter -- the web platform where his then fiancee and now wife Shauna kept fans around the world updated about his recovery.
"So proud of my husband @fmuamba for his fighting spirit and courage. Also proud of the humanity in the UK the support has been amazing," she wrote on Thursday after the match.
He earlier revealed: "Off to white hart lane, for the first time the incident happen. I am so nervous is unreal. Hope spurs win tonight."
Muamba got his wish, as Tottenham beat Slovenian side Maribor 3-1 to bounce back from two Premier League defeats and boost the club's hopes of progressing in the second-tier European competition.
Muamba's longtime friend, England international striker Jermain Defoe, scored all three goals for Tottenham to put the club second in Group J behind Italian side Lazio -- which also won, 3-0 against Greece's Panathinaikos.
Tottenham manager Andre Villas-Boas was not in charge when Muamba collapsed, but he welcomed the former Birmingham and Arsenal player in his prematch program notes.
"What happened to Fabrice at this stadium eight months ago has obviously changed his life forever," Villas-Boas wrote.
"Everyone in the game and the wider footballing world was delighted to see him make a full recovery. We are thrilled to have him here tonight and I would like to wish him the very best for the future."

Today's five most popular stories
Part of complete coverage on
April 16, 2012 -- Updated 1721 GMT (0121 HKT)

Fabrice Muamba, the Bolton Wanderers midfielder who suffered a near-fatal cardiac arrest on the pitch last month, has left hospital.
March 30, 2012 -- Updated 2026 GMT (0426 HKT)

Bolton midfielder Fabrice Muamba has been pictured for the first time since collapsing on the pitch with a cardiac arrrest.
March 22, 2012 -- Updated 2207 GMT (0607 HKT)

Bolton midfielder Fabrice Muamba did not respond to 15 defibrillator shocks and was in effect dead for 78 minutes before his heart started beating again, doctors say.
March 20, 2012 -- Updated 0948 GMT (1748 HKT)

Professor WIlliam McKenna and former professional player Mitchel Cole talk about heart conditions and Fabrice Muamba's collapsing mid-game.
March 19, 2012 -- Updated 1727 GMT (0127 HKT)

The collapse of an English Premier League player raises questions about how such highly-trained athletes can be struck down in such a manner.
March 20, 2012 -- Updated 0958 GMT (1758 HKT)

Fabrice Muamba's cardiac arrest during a soccer match on Saturday convinced former pro Mitchell Cole he was right to quit the game for fear of suffering a heart attack on the pitch.
March 19, 2012 -- Updated 1807 GMT (0207 HKT)

A 23-year-old English Premier League soccer player was in intensive care after suffering cardiac arrest during a game, his club said.
March 19, 2012 -- Updated 1113 GMT (1913 HKT)

Fabrice Muamba, who collapsed during a game Saturday, may never return to professional football, according to a London heart specialist.
March 19, 2012 -- Updated 0906 GMT (1706 HKT)

Cardiologist Dr. Chandan Devireddy explains the precautions teams can take when screening their players.
March 18, 2012 -- Updated 1036 GMT (1836 HKT)

World Sport reporter Zayn Nabbi describes the scene inside the stadium as paramedics tried to revive Fabrice Muamba.
March 18, 2012 -- Updated 0023 GMT (0823 HKT)

Fabrice Muamba's fellow footballers rallied around the Bolton player after he was admitted to hospital following a possible heart attack during a match on Saturday.