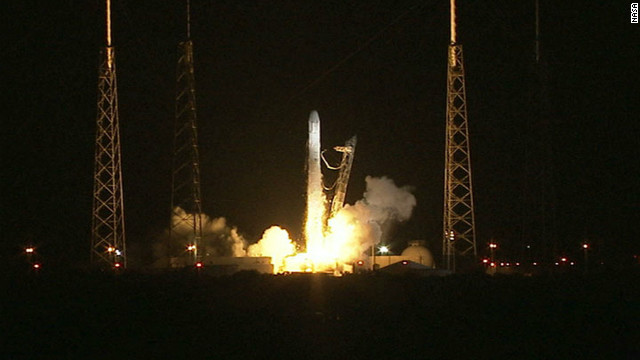 The SpaceX rocket lifts off Sunday, October 7, marking the first commercial flight to the International Space Station. It was the first of a dozen NASA-contracted flights to resupply the station.
People watch as the SpaceX Falcon 9 rocket and its unmanned Dragon capsule are readied for launch Sunday in Cape Canaveral, Florida.
On May 22, SpaceX launched a successful test flight that attached a spacecraft to the International Space Station. It was the first company to do so.
Dragon's recovery team poses in front of the first commercial capsule to reach orbit and return safely to Earth.
The Falcon 9 rocket launches on May 22 in Cape Canaveral.
This image shows how Dragon returns to Earth, under parachutes, to splashdown in the ocean, much like the spacecraft of Mercury, Gemini and Apollo.
The Falcon 9 rocket awaits May's launch date.
The first Dragon capsule to make it into orbit and return to Earth was launched in December 2010. Here, crews haul the charred capsule out of the ocean.
SpaceX's Falcon 9, carrying a Dragon space capsule, launches from Cape Canaveral in December 2010.
This rendering of the Dragon capsule shows the craft's solar panels fully extended. The capsule launched in May extended its panels in orbit.
SpaceX launches new era for exploration
SpaceX launches new era for exploration
SpaceX launches new era for exploration
SpaceX launches new era for exploration
SpaceX launches new era for exploration
SpaceX launches new era for exploration
SpaceX launches new era for exploration
SpaceX launches new era for exploration
SpaceX launches new era for exploration
SpaceX launches new era for exploration