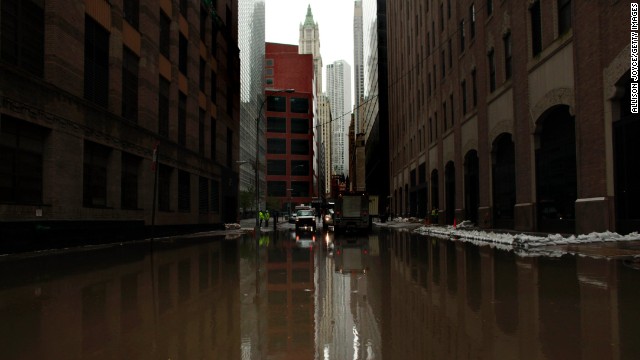 Historically, the worst part of the Atlantic hurricane season stretches from the last part of August through September and October, according to the National Weather Service. In late October 2012, Superstorm Sandy crashed into the northeastern United States, creating extensive damage to parts of New York, New Jersey, Connecticut, Rhode Island and Massachusetts. Click through the gallery to see more photos of disasterous U.S. hurricanes, and
facts from the National Hurricane Center
.
On September 13, 2008, Ike hit Galveston Island, Texas, as a Category 2 hurricane with maximum sustained winds of 110 mph. Little was left standing where this photo was taken in Gilchrist, Texas. Ike was blamed for scores of deaths in the Caribbean and in the United States. Property damage was estimated at $19.3 billion.
Unforgettable Hurricane Katrina devastated the Gulf Coast in 2005, making landfall near Buras, Louisiana, on August 29 as a Category 3 storm with maximum winds estimated at 125 mph. Katrina was blamed for more than 1,200 reported deaths in Louisiana, Mississippi and Florida. Estimated property damage: $75 billion, the costliest U.S. hurricane on record.
Just weeks after the horror of Katrina, Hurricane Rita collided with the Louisiana coast on September 24, 2005, as a Category 3 storm with maximum sustained winds of 115 mph. Rita's massive damage included this washed out road in Cocodrie, Louisiana.
August 13, 2004, Hurricane Charley pushed ashore near Captiva Island, Florida, as a Category 4 storm with maximum winds near 150 mph. It devastated Port Charlotte and Punta Gorda, where a recreational vehicle was found resting against a tree. Charley then moved into the Carolinas to do more damage there. Overall, at least 15 people were killed. Estimated damage: $15 billion.
On September 6, 2004, Frances made landfall in the Florida Big Bend region as a tropical storm, after peaking in the Caribbean as a Category 4 hurricane with 145 mph winds. The storm spawned more than 100 tornadoes throughout the southeastern and mid-Atlantic states. Frances was blamed for eight deaths -- seven in the United States and one in the Bahamas. U.S. damage was estimated around $8.9 billion.
Just three weeks after Frances, on September 26, 2004, Hurricane Jeanne's 60-mile-wide eye crossed the Florida coast near Stuart, at virtually the same place Frances made landfall. Maximum winds were estimated at 120 mph. The storm tore apart this auto shop in Sebastian, Florida. Jeanne was blamed for three deaths in Florida, and one each in Puerto Rico, South Carolina and Virginia.
On September 16, 2004, Hurricane Ivan's maximum sustained winds of 120 mph crashed into Alabama, just west of Gulf Shores, with damage spreading across the region to Milton, Florida, seen here. When it was all said and done, Ivan was blamed for 92 deaths across the United States, Grenada, Jamaica, Dominican Republic, Venezuela, Cayman Islands, Tobago and Barbados. U.S. damage was estimated at $14.2 billion, the third largest total on record.
Hurricane Andrew blasted its way across south Florida on August 24, 1992, as a Category 4 with peak gusts measured at 164 mph. After raking entire neighborhoods in and around Homestead, Florida, Andrew moved across the Gulf to hit Louisiana as a Category 3 hurricane. Andrew is responsible for 23 deaths in the United States and three in the Bahamas. Estimated U.S. damage: $26.5 billion.
On August 17, 1969, Camille -- a Category 5 hurricane -- rushed ashore along the Mississippi coast. The storm made trouble even for large ships in Gulfport. Camille's winds, surges and rainfalls caused 256 deaths, including 143 on the Gulf Coast and 113 in related Virginia floods. Three deaths were reported in Cuba. Estimated damage: $1.421 billion.
Donna is the only hurricane of record to produce hurricane-force winds in Florida, the Mid-Atlantic states and New England. It crossed Florida on September 11, 1960, as seen in this photo taken in Islamorada Key. Then the hurricane blew into eastern North Carolina as a Category 3 on the 12th, and New England as a Category 3. Donna is blamed for 50 deaths in the United States and hundreds more in the Caribbean. Estimated damage: $387 million in the United States and $13 million elsewhere.
"The Great Miami Hurricane" of 1926 was a Category 4 when it raced across Miami Beach and downtown Miami during the morning hours of September 18. Although its death toll is uncertain, more than 800 people were reported missing, and a Red Cross report lists 373 deaths. If the disaster had occurred in modern times, its estimated cost would be $90 billion.
The nation's deadliest hurricane was a September storm. On September 8 the Galveston Hurricane of 1900 slammed into Texas. Storm tides of 8-15 feet are largely blamed for the hurricane's estimated 6,000 to 12,000 deaths. Property damage has been estimated at $30 million.
Killer hurricanes 1900-2012
Ike
Katrina
Rita
Charley
Frances
Jeanne
Ivan
Andrew
Camille
Donna
The Great Miami Hurricane
Galveston, 1900
STORY HIGHLIGHTS
Know what to do as a storm approaches
Have a supply of items you may need in case of a hurricane
Three days of water and food are recommended, along with a grab bag of other items
(CNN) -- In areas where hurricanes can strike, it's a good idea to have a closet or an area set aside for storm preparedness storage. There, you can keep items you'll need in case disaster strikes suddenly or you need to evacuate.
It's also important to know the difference between a watch and a warning, and when they are issued for tropical storms and hurricanes.
A hurricane warning means hurricane conditions -- sustained winds above 73 mph -- are expected somewhere within the warning area, and it is time to finish preparation to protect people and property. "Because hurricane preparedness activities become difficult once winds reach tropical storm force, the hurricane warning is issued 36 hours in advance of the anticipated onset of tropical-storm-force winds" -- 39 to 73 mph, the National Hurricane Center says.
Hurricane safety: When the lights go out
A hurricane watch means hurricane conditions are possible in the watch area, and are issued 48 hours before the anticipated onset of tropical-storm-force winds.
A tropical storm warning means tropical-storm-force winds are expected somewhere in the designated area within 36 hours. A tropical storm watch means such conditions are possible within 48 hours.
Here are recommendations on what to do before a storm approaches:
-- Download an application to your smartphone that can notify people where you are, and if you need help or are safe. The Red Cross has a Hurricane App available in the Apple App Store and the Google Play Store. A First Aid app is also available.
-- Use hurricane shutters or board up windows and doors with 5/8 inch plywood.
-- Bring outside items in if they could be picked up by the wind.
-- Clear gutters of debris.
-- Reinforce the garage door.
-- Turn the refrigerator to its coldest setting in case power goes off. Use a cooler to keep from opening the doors on the freezer or refrigerator.
-- Fill a bathtub with water.
-- Get full tank of gas in one car.
-- Go over the evacuation plan with the family, and learn alternate routes to safety.
-- Learn the location of the nearest shelter or nearest pet-friendly shelter.
-- Put an ax in your attic in case of severe flooding.
-- Evacuate if ordered and stick to marked evacuation routes, if possible.
-- Store important documents -- passports, Social Security cards, birth certificates, deeds -- in a watertight container.
-- Have a current inventory of household property.
-- Leave a note to say where you are going.
-- Unplug small appliances and electronics before you leave.
-- If possible, turn off the electricity, gas and water for residence.
Here is a list of supplies:
-- A three-day supply of water, one gallon per person per day.
-- Three days of food, with suggested items including: canned meats, canned or dried fruits, canned vegetables, canned juice, peanut butter, jelly, salt-free crackers, energy/protein bars, trail mix/nuts, dry cereal, cookies or other comfort food.
-- A can opener.
-- Flashlight(s).
-- A battery-powered radio, preferably a weather radio.
-- Extra batteries.
-- A first aid kit, including latex gloves; sterile dressings; soap/cleaning agent; antibiotic ointment; burn ointment; adhesive bandages in small, medium and large sizes; eye wash; a thermometer; aspirin/pain reliever; anti-diarrhea tablets; antacids; laxatives; small scissors; tweezers; petroleum jelly.
-- A small fire extinguisher.
-- Whistles for each person.
-- A seven-day supply of medications.
-- Vitamins.
-- A multipurpose tool, with pliers and a screwdriver.
-- Cell phones and chargers.
-- Contact information for the family.
-- A sleeping bag for each person.
-- Extra cash.
-- A silver foil emergency blanket.
-- A map of the area.
-- Baby supplies.
-- Pet supplies.
-- Wet wipes.
-- A camera (to document storm damage).
-- Insect repellent.
-- Rain gear.
-- Tools and supplies for securing your home.
-- Plastic sheeting.
-- Duct tape.
-- Dust masks.
-- An extra set of house keys.
-- An extra set of car keys.
-- An emergency ladder to evacuate the second floor.
-- Household bleach.
-- Paper cups, plates and paper towels.
-- Activities for children.
-- Charcoal and matches, if you have a portable grill. But only use it outside.
American Red Cross tips on what to do after the storm arrives:
-- Continue listening to a NOAA Weather Radio or the local news for the latest updates.
-- Stay alert for extended rainfall and subsequent flooding even after the hurricane or tropical storm has ended.
-- If you evacuated, return home only when officials say it is safe.
-- Drive only if necessary and avoid flooded roads and washed out bridges.
-- Keep away from loose or dangling power lines and report them immediately to the power company.
-- Stay out of any building that has water around it.
-- Inspect your home for damage. Take pictures of damage, both of the building and its contents, for insurance purposes.
-- Use flashlights in the dark. Do NOT use candles.
-- Avoid drinking or preparing food with tap water until you are sure it's not contaminated.
-- Check refrigerated food for spoilage. If in doubt, throw it out.
-- Wear protective clothing and be cautious when cleaning up to avoid injury.
-- Watch animals closely and keep them under your direct control.
-- Use the telephone only for emergency calls.
Sources: American Red Cross, Federal Emergency Management Agency, National Hurricane Center
Do you have a suggestion for this list? Post a comment below.