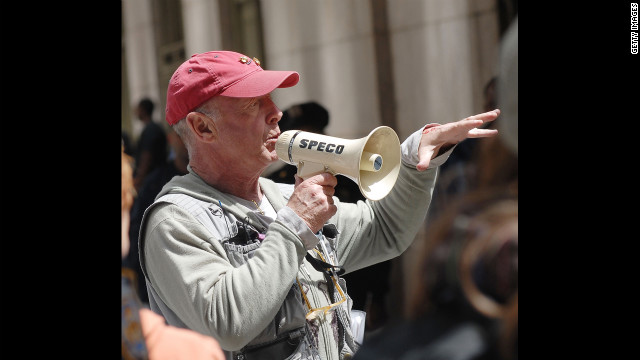 Director Tony Scott on location for "The Taking of Pelham 1-2-3" on the streets of Manhattan on May 11, 2008, in New York. Scott died Sunday, August 19, at age 68 in an apparent suicide.
Scott, best known for directing the movie "Top Gun," started working in films as a teenager. He was born in North Shields, England.
Both Scott and his older brother Ridley Scott, right, produced and directed films, enjoying careers that spanned decades.
British-born director Scott on the set of his film "Man on Fire" in Mexico City in 2003.
From left, New Line's Toby Emmerich, Bob Shaye, actress Keira Knightley, director Scott and producer Samuel Hadida arrive at the premiere of "Domino" in Hollywood in 2005.
The Hollywood director arrives at the premiere of Twentieth Century Fox's "Unstoppable" in 2010, in Westwood, California. Scott was often seen in a faded red cap.
Scott directed several action movies, including "Crimson Tide" and "The Taking of Pelham 1-2-3," which starred Denzel Washington.
Scott and his family celebrate the premiere of the movie "Unstoppable" in October 2010.
Scott was a producer on the film "Prometheus" as well as the hit TV show "The Good Wife."
Scott was best known for his 1986 film "Top Gun," starring Tom Cruise and Kelly McGillis.
Actor Eddie Murphy in 1987 film "Beverly Hills Cop II." The action movie, Scott's first to follow box office hit "Top Gun," helped make him a household name.
Actress Nicole Kidman in 1990 film "Days of Thunder." She met Tom Cruise on the set of the movie. They married that year, divorcing in 2001.
Scott made a name for directing big-budget action films, including 1998's "Enemy of the State," featuring Will Smith and Gene Hackman.
The 2010 film "Unstoppable," featuring Chris Pine and Denzel Washington, was Scott's last.
Director Tony Scott dead at 68
Director Tony Scott dead at 68
Director Tony Scott dead at 68
Director Tony Scott dead at 68
Director Tony Scott dead at 68
Director Tony Scott dead at 68
Director Tony Scott dead at 68
Director Tony Scott dead at 68
Director Tony Scott dead at 68
Director Tony Scott dead at 68
Director Tony Scott dead at 68
Director Tony Scott dead at 68
Director Tony Scott dead at 68
Director Tony Scott dead at 68