STORY HIGHLIGHTS
Doping allegations faced by gold medalist Ye Shiwen decried by China as Western pettiness
Chinese say that if Ye were American, she would not have faced questions
Experts in Sino-U.S. relations say controversy reflective of U.S. discomfort with China's rise
Hong Kong (CNN) -- The controversy over the dual Olympic gold performances by Chinese swimming sensation Ye Shiwen has been decried by China as a case of Western pettiness.
"Negative comments about her and Chinese athletes come from deep bias and reluctance from the Western press to see Chinese people making breakthroughs," said an editorial in China's Global Times newspaper on Wednesday, which accused the West of being "petty."
"If Ye were an American, the tone would be different in Western media," it said. The author went on to point out that Michael Phelps was never questioned over his eight gold-medal win in the 2008 Olympics, "most probably because he is American."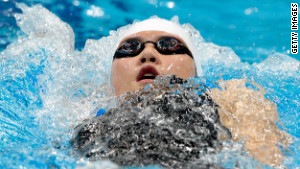 Olympic swimmer: l'll never use drugs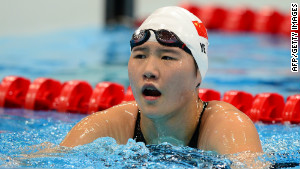 Ye Shiwen strikes gold again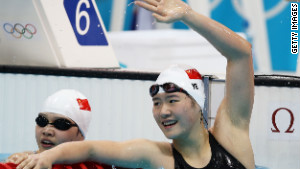 IOC spokesman: Ye allegations 'sad'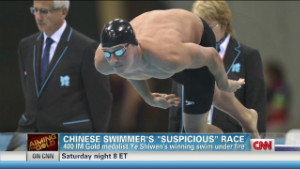 Chinese swimmer's 'suspicious' race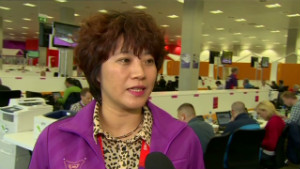 Chinese media weigh in on doping
Ye, 16, won gold in both her Olympic events, setting an Olympic record for the 200-meter individual medley Tuesday and a world record for the same event over 400 meters on Saturday. During the last 50 meters of the 400 meters, Ye stunned onlookers by swimming faster than the men's 400-meter champion, Ryan Lochte.
Ye Shiwen's 'unbelievable' swims are the talk of Olympics
Accusations of doping immediately broke out after her first win, starting with BBC anchor Clare Balding, who wondered, "How many questions will there be... about somebody who can suddenly swim so much faster than she has ever swum before?"
One of the most outspoken critics was John Leonard, executive director of the World Swimming Coaches Association, who told The Guardian that he found Ye's 400-meter performance "disturbing" and "suspicious."
Lord Colin Moynihan of the British Olympic Association said on Tuesday that Ye tested clean in drug tests.
Xu Guoqi, a history professor at the University of Hong Kong who specializes in Sino-U.S. relations and the Olympics, described the accusations against Ye as "anti-Olympian."
"As we all know, the Olympic goals are 'faster, higher, stronger.' We are expected to be shocked and awed by breathtaking performances from world athletes in Olympic Games."
"The normal expectations of 'faster, higher, and stronger' seem to have disappeared in Western responses to Ye, since from the accusers' hidden perspective and mindset, she is supposed not be that fast as a Chinese," said Xu.
The Chinese themselves have rallied around Ye, describing her as a prodigy and dismissing the allegations as jealousy from the West.
On China's popular Sina Weibo microblogging platform, user @xll posted, "Why are Western media and Western coaches suspicious of Ye Shiwen? Because foreigners are self confident, so much that they are conceited. They don't believe that anyone else can beat them by that much, they are used to being at the top. When Phelps won eight gold medals in Beijing, we were all in awe and worshipped him..."
Ye's father also came to her defense, telling Chinese news portal Tencent that the Chinese swimming team had undergone stringent anti-doping measures. Ye Qingsong attributed his daughter's strong performances to rigorous training.
"It's normal for people to be suspicious," he said, adding that "Western media has always been arrogant and suspicious of Chinese people."
China's 'incredible' Ye denies doping allegations
Ye's teammate, Sun Yang, who won the 400-meter men's freestyle said, "If the American team can win so many medals, why can't China? If we questioned the American team after they won medals, how would they feel?"
Ye has maintained her innocence throughout the controversy. At a press conference after her second win, she called the doping allegations "unfair" and said the results of swimmers from other countries who won several gold medals have never been questioned.
Xu said, "This case demonstrates that the West, especially the United States, is not ready to accept the fast rise of China and their narrow-minded and double-standard responses."
Since the 1990s, China has emerged as a serious contender in the Olympics.
The U.S. has maintained its lead over the country in the overall medal count, but China has been steadily closing the gap each year, placing within the top five in the summer Olympics since 1992.
At the Beijing 2008 Olympics, China surpassed the U.S. in gold medals, winning 51 to the U.S.'s 36, and ranking second overall in the medal count, short 10 medals to the U.S.
The U.S. and China are currently tied in first place at the London Olympics with 23 medals each, although China has won four more gold medals than the U.S. so far.
While it has not had the same rapid success in the winter Olympics, China broke the top ten for the first time in the 2010 Vancouver Olympics.
"I think the Ye Shiwen controversy reflects U.S.-China rivalry in recent years," said Guo Xiangang, a researcher at the China Institute of International Studies. "As China has had significant economic growth over the past few years, China's total GDP will likely exceed that of U.S. in the future," he said.
In the meantime, Guo said the U.S. is "still not very comfortable with China's emergence" and therefore, "when a Chinese makes great achievement, some Americans will feel jealous and begin to doubt the result."
But he said that the controversy, rather than diminishing cooperation between the two countries, is a sign that the U.S. and China should strengthen ties and increase cultural exchanges.
Ye stuns with Lochte-beating split
CNN's Zhang Dayu contributed to this report.