STORY HIGHLIGHTS
NEW: The heavy rainfall continues Monday
At least 88 people were reportedly killed by the rainstorms
Almost 63,000 people have been left homeless
State media: About 4,800 hectares of cropland has been washed away
Hong Kong (CNN) -- Heavy rain across large swathes of North Korea has caused widespread flooding and killed dozens of people, state media reported, with warnings of more damage still to come.
The downpours have been rolling over the impoverished country for more than a week, sweeping away crops and destroying buildings, the state-run Korean Central News Agency (KCNA) said in reports over the weekend.
As of Saturday, 88 people had died and 134 had been injured, KCNA said. It reported that more than 5,000 houses had been destroyed or damaged and 12,030 homes inundated, leaving almost 63,000 people homeless.
Floods force evacuations in Costa Rica
And the torrential rain persisted into Monday, causing further chaos.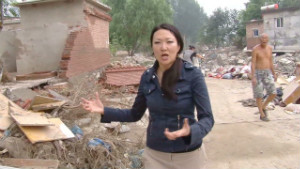 Fury in Fangshan over flood damage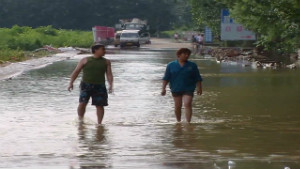 Why did water flood Beijing?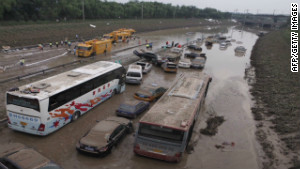 Could Beijing flood death toll rise?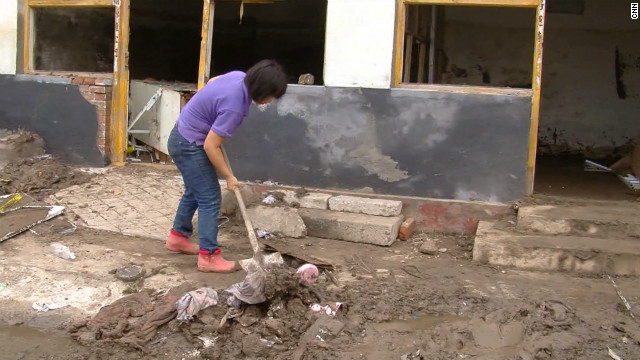 A woman cleans mud from her home in the Fangshan district of Beijing, China, July 25, 2012. Fangshan suffered some of the worst damage after the heaviest rain in 60 years.
A man slogs through mud past damaged vehicles after flooding Tuesday, July 24, in Laishui, China, north of Beijing. The heaviest rain in 60 years submerged large parts of the Chinese capital.
A woman cleans mud from her home in the Fangshan district of Beijing, China, July 25, 2012
Weekend flooding leaves vehicles tossed about on roads in Laishui, a town in northern China's Hebei province.
Water pours over a collapsed bridge leading to Laishui on Tuesday. The heavy rains have affected more than 6 million people in China.
A farmer stands in his flooded field on the outskirts of Chongqing in southwest China on Sunday, July 22.
The downpour causes chaos on a flooded Beijing street on Saturday, July 21. About 6.7 inches of rain fell in some parts of the Chinese capital and as much as 18 inches in the suburban Fangshan district.
A cyclist rides through a flooded street in Beijing during heavy rainfall Saturday. More rain is forecast as Beijing cleans up after the weekend downpour.
Municipal workers try to clear water on a section of the Beijing-Hong Kong-Macau expressway, where more than 80 cars were submerged on Monday, July 23, in Beijing.
Soldiers try to clear water on a section of the Beijing-Hong Kong-Macao expressway on July 23, 2012 in Beijing, China.
Rescuers evacuate an elderly woman from her flooded home in Chongqing, southwest China, July 23, 2012.
As the floodwater cleared, the damage became clearer. These cars are wedged in a hole in Beijing, July 23, 2012.
A farmer piles up chickens that drowned at a flooded farm in the outskirts of Chongqing, China, July 22.
Two men watch as emergency services personnel try to retrieve a damaged bus which was submerged in a flooded carpark after a storm hit Beijing, July 22, 2012.
Emergency services personnel try to retrieve damaged vehicles submerged in a flooded carpark after a storm hit Beijing, July 22.
A Beijing resident carrying buckets of water as she makes her way home through a storm on Saturday, July 21.
Commuters make their way home through roadside debris as a storm hits Beijing, July 21.
A resident checks his damaged home after a storm hit the city, July 22.
A flood-swept car is lodged against a building at a railway crossing in Beijing on Saturday, July 21.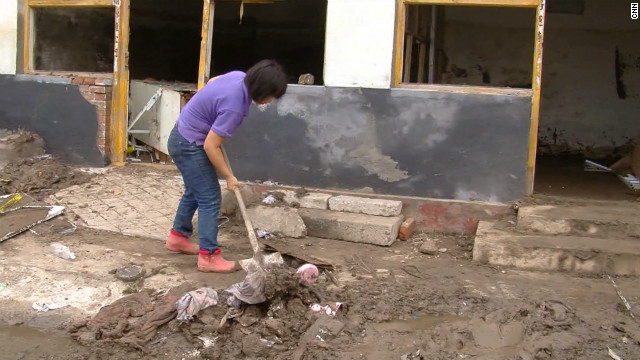 Flooding in Beijing
"Most areas of the DPRK are expected to suffer big damage from continuous downpour accompanied by thunder and storm," KCNA reported Monday, using the abbreviation of the country's official name, the Democratic People's Republic of Korea.
But the agency hasn't provided an update of damage and deaths resulting from it since Saturday.
The destruction of farmland is of particular concern in a country that struggles to feed itself.
About 4,800 hectares (11,900 acres) of cropland had been washed away by Saturday, KCNA said, and more than 25,700 hectares submerged.
Employees from humanitarian groups that operate inside North Korea describe severe malnourishment on a large scale. A deal earlier this year for the United States to ship food aid to the country fell apart after the regime went ahead with a controversial rocket launch.
The highest numbers of deaths so far from the flooding were reported in areas of South Phyongan province, northeast of the capital, Pyongyang.
The heavy rains Sunday hit Pyongyang, as well as North and South Phyongan provinces. The capital is the richest and most developed part of the country, used as a showcase by the secretive, nuclear-armed regime. The provinces tend to be poorer and have weaker infrastructure.
By Saturday, a total of 91,809 square meters (nearly a million square feet) of road surface had been destroyed by the rain, KCNA reported.
Other areas of East Asia have been hit by severe weather in recent weeks.
A violent rainstorm in Beijing more than a week ago caused the worst flooding in the Chinese capital in decades, killing at least 77 people and provoking criticism from residents about the city's infrastructure and response to the disaster.
China doubles Beijing flood death toll
Heavy rain elsewhere in China has left dozens more people dead, filled rivers and lakes to dangerous levels and forced the authorities to step up emergency preparations.
Early last week, a powerful storm that hit the southern Chinese coast prompted Hong Kong to raise its strongest typhoon warning for the first time in 13 years, shuttering much of the city.
Beijing flood victims fume at official response
More rain forecast as Beijing mops up flood and comments
Fury after 37 killed in Beijing floods