STORY HIGHLIGHTS
James E. Holmes has a limited Internet profile
In the summer of 2008, Holmes worked as a counselor at a summer camp in L.A.
The profile on Adult Friend Finder includes a picture of a man with fiery, red hair
The profile has since been taken down
(CNN) -- James E. Holmes is described by those who know him as a doctoral student who is clean-cut, quiet and responsible, an image difficult to reconcile with the same man who police allege opened fire in a crowded movie theater.
Days after the 24-year-old was arrested on suspicion of a mass shooting at the Century 16 multiplex in Aurora, Colorado, the portrait of Holmes that is emerging is as limited as it is confusing.
Pictures obtained of Holmes show a bright-eyed young man, who is tall with dark hair, which contrasts the description of the man by a law enforcement official who said he dyed his hair red and identified himself as "the Joker" to authorities after he was arrested early Friday morning for allegedly shooting people during a screening of the new Batman movie.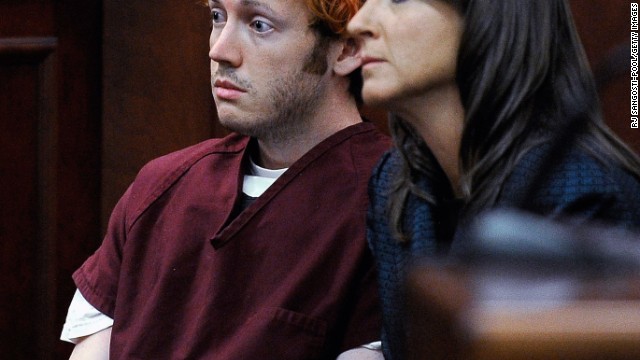 The public gets its first glimpse of James Holmes, 24, the suspect in the Colorado theater shooting during his initial court appearance Monday, July 23. With his hair dyed reddish-orange, Holmes, here with public defender Tamara Brady, showed little emotion. He is accused of opening fire in a movie theater Friday, July 20, in Aurora, Colorado, killing 12 people and wounding 58 others. More photos: Mourning the victims of the Colorado theater massacre
Police release the official photo from Holmes' booking after the shooting.
Holmes often had a blank stare during his court appearance Monday, appearing to be in a daze.
Victims and their relatives and journalists watch the proceedings Monday.
Flags fly at half-staff Monday at the Arapahoe County Courthouse in Centennial, Colorado, where the movie theater shooting suspect had his first court appearance. The prosecutor held a press conference outside the courthouse.
Arapahoe County District Attorney Carol Chambers talks to reporters Monday before heading into the courthouse. Chambers said the decision on whether to pursue the death penalty is a long process that involves input from victims and their families.
Family members of the victims arrive at the courthouse Monday for the suspect's first court appearance.
The Century Aurora 16 multiplex in Aurora becomes a place of horror after a gunman opened fire Friday in a crowded theater. At least 17 people remained hospitalized late Sunday, July 22, in the shooting rampage that shocked the nation.
Holmes is accused of opening fire during a midnight screening of the new Batman movie, "The Dark Knight Rises." Holmes purchased four weapons and more than 6,000 rounds of ammunition in recent months, police say.
Police investigate outside the Century 16 multiplex Saturday, July 21, a day after the mass shooting. Authorities have been tight-lipped about a possible motive in the case.
Agents search the suspect's car outside the theater.
Aurora police escort a sand-filled dump truck containing improvised explosive devices removed from Holmes' booby-trapped apartment Saturday. Authorities have said they believe the suspect rigged his place before leaving for the movie theater.
Police break a window at the suspect's apartment Friday in Aurora.
Law enforcement officers speak with Colorado Gov. John Hickenlooper, center, outside the suspect's apartment Saturday.
Law enforcement officers prepare to disarm the booby-trapped apartment Saturday.
Officials tow cars outside Holmes' apartment Saturday. Police disassembled devices and trip wires set up in the apartment.
Officers prepare to place an explosive device inside the apartment.
Debris flies out a window, right, after law enforcement officers detonate an explosive device inside the apartment Saturday.
People mourn the victims during a vigil behind the theater where a gunman opened fire on moviegoers in Aurora.
A woman grieves during a vigil for victims behind the theater.
A distraught woman receives counseling from Pastor Quincy Shannon, left, in front of Gateway High School in Aurora, where the families of the missing met following the shooting.
Lin Gan of Aurora holds back tears as she speaks to reporters about her experience in the Century 16 theater Friday.
People embrace before a vigil for victims behind the theater where a gunman opened fire on moviegoers.
Investigators work on evidence near the apartment of James Holmes on Friday.
Members of the Aurora Police Department SWAT unit walk near the apartment of James Holmes. Police have Holmes, 24, of North Aurora, in custody.
Television news crews gather in front of the home of Robert and Arlene Holmes, parents of 24-year-old mass shooting suspect James Holmes, in San Diego, California, on Friday.
A popcorn box lies on the ground outside the Century 16 movie theatre.
An NYPD officer keeps watch inside an AMC move theater where the film "The Dark Knight Rises" is playing in Times Square on Friday. NYPD is maintaining security around city movie theaters following the deadly rampage in Aurora, Colorado.
Adariah Legarreta, 4, is comforted by her grandmother Rita Abeyta near the Century 16 Theater in Aurora.
A cyclist and pedestrians pass a theater showing the latest Batman movie in Hollywood, California, on Friday. Warner Brothers said it was "deeply saddened" by Friday's massacre at a Colorado screening of "The Dark Knight Rises."
Obama supporters observe a moment of silence for the victims at a campaign event at Harborside Event Center in Fort Myers, Florida, on Friday.
Jessica Ghawi, an aspiring sportscaster, was one of the victims.
A woman waits for news outside Gateway High School, a few blocks from the scene of the shooting at the Century Aurora 16.
Aurora police chief Daniel J. Oates speaks at a press conference near the Century 16 Theater on Friday.
Agents search the trash container outside the suspect's apartment in Aurora.
A Federal ATF officer carries protective gear onsite at the home of alleged shooting suspect James Holmes.
Obama speaks on the shootings at the event in Fort Myers.
Moviegoers are interviewed at the Century Aurora 16.
Officers gathered at the theater Friday.
Investigators were a common sight at the theater Friday.
Authorities gather at the shooting suspect's apartment building in Aurora. Police broke a second-floor window to look for explosives that the suspect claimed were in the apartment.
Screaming, panicked moviegoers scrambled to escape from the black-clad gunman, who wore a gas mask and randomly shot as he walked up the theater's steps, witnesses said.
University of Colorado Hospital spokeswoman Jacque Montgomery said that all of the wounded had injuries from gunshot wounds, ranging from minor to critical.
Onlookers gather outside the Century Aurora 16 theater.
A woman sits on top of her car near the crime scene.
Police block access to the Town Center mall after the shooting.
Cell phone video taken by someone at the theater showed scores of people screaming and fleeing the building. Some, like this man, had blood on their clothes.
Witnesses told KUSA that the gunman kicked in an emergency exit door and threw a smoke bomb into the darkened theater before opening fire.
What is believed to be the suspect's car is examined after the shooting.
Police Chief Dan Oates said there was no evidence of a second gunman, and FBI spokesman Jason Pack said it did not appear the incident was related to terrorism.
Republican presidential candidate and former Massachusetts Gov. Mitt Romney delivers remarks regarding the shooting in an Aurora, Colorado, movie theater on Friday at a campaign event in Bow, New Hampshire.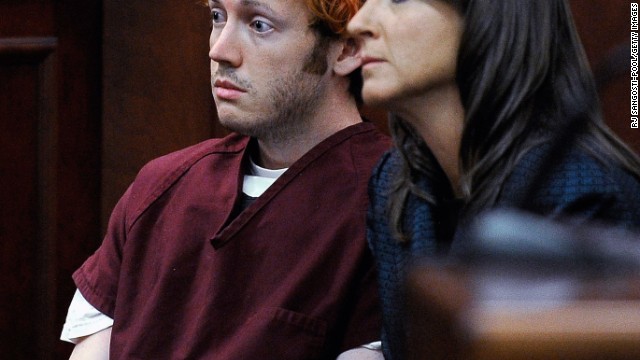 Colorado movie theater massacre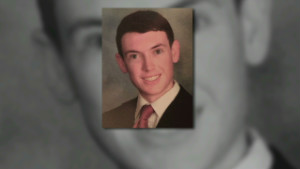 Chancellor: Holmes was an honor student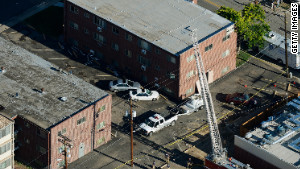 Neighbor: Shooting suspect a 'normal kid'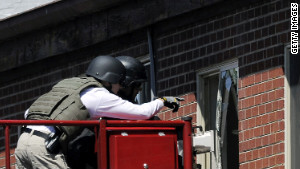 Traps in suspect's home designed to kill
By all accounts, Holmes is a bright student. He entered the University of California, Riverside, in 2006 as a scholarship student and graduated with highest honors with a bachelor's degree in neuroscience in 2010.
"Academically, he was at the top of the top," Chancellor Timothy P. White said.
UC Riverside police have no record of any contact with Holmes, the university said.
Neither did police at the University of Colorado School of Medicine, where Holmes enrolled in 2011 as a doctoral candidate in its neuroscience program at the Anschutz Medical Campus in Aurora, university officials said in a statement released Sunday.
In fact, the sole contact authorities in Colorado appeared to have had with Holmes was a speeding summons in 2011, according to Aurora police.
A syllabus that lists Holmes as a student at the medical school shows that he may have taken a class in which he studied topics as diverse as substance abuse, schizophrenia, depression and other disorders.
According to the document, he was to have delivered a presentation in May about microRNA biomarkers.
Though there are indications that something may have been amiss in Holmes' life in recent months.
He withdrew from the program in June 2012, though "he gave no reason for his withdrawal from the graduate school," said Jacque Montgomery, spokeswoman for the University of Colorado.
It is not immediately clear if Holmes, who also worked in a paid position in the university's neuroscience research program, was still employed there after withdrawing from the program.
Holmes received a large volume of deliveries over the past four months to both his home and work addresses, which police believe begins to explain how he got his hands on some of the materials used in the rampage and the subsequent discovery of his booby-trapped apartment, Aurora Police Chief Paul Oates.
The police chief has declined to release details about a possible motive or Holmes' appearance at the time of his arrest, citing an ongoing investigation. But he did say Holmes purchased four weapons and more than 6,000 rounds of ammunition in recent months.
Police: Evidence of 'calculation and deliberation' in Colorado theater shooting
Police allege Holmes was dressed in black, wearing a ballistic helmet, a tactical ballistic vest, protective leggings, a throat and groin protector and a gas mask during the attack. Witnesses to the shooting say because the gunman wore a gas mask, they did not see his face.
Unlike most people his age, Holmes does not appear to have a social media footprint -- no Facebook, no Twitter and no Tumblr account, though authorities are investigating whether he posted a profile on sex website Adult Friend Finder.
The profile contains a picture of a man with fiery red hair, a law enforcement source said. Police believe it may be a picture of Holmes, said the source, who was not authorized to speak to the media. The profile said it was created by a 24-year-old man from Aurora and has since been taken down.
Theater shooting unfolds in real time on social media
It's a profile that contrasts with news that Holmes worked as a counselor at a summer camp for needy children in 2008.
Camp Max Straus caters to needy children ages 7-14, and is run by Jewish Big Brothers Big Sisters of Los Angeles, which confirmed his employment but would not offer further details or comment.
The man who grew up in the upscale northwest San Diego neighborhood of Rancho Peñasquitos was renting an apartment on in Aurora, according to police and realty records.
Tom Mai, a neighbor of the Holmes family in San Diego, described Holmes as "clean-cut, quiet, responsible."
At the time of his arrest, Holmes was living in a small, three story brick building on Paris Street in Aurora, in Apartment 10, within walking distance to the university.
"Neighbors report he lived alone and he kept to himself," Oates said.
A neighbor who lives one floor below Holmes' third-floor apartment, Tori Lynn Everhart, described the apartments this way: "It's not like true ghetto. It's not the safest neighborhood, but it's definitely improving."
Apparently, Holmes told police during his arrest he had booby-trapped the third-floor apartment.
Kaitlyn Fonzi, a 20-year-old grad student and neighbor, said she heard techno music blasting from his apartment around the time of the shooting, and had nearly opened Holmes' unlocked apartment door to complain, unaware that the unit was booby trapped with explosives.
Massacre suspect's neighbor: 'I'm counting my lucky stars'
A timer had turned the music on so that it would blare in his apartment after he left for the Aurora multiplex, according to a law enforcement source, who also spoke on condition of anonymity.
Bomb technicians worked Saturday to clear "all hazards" from the apartment, and began allowing some evacuated residents to return.
Jackie Mitchell, who lives close to Holmes, had a beer with him on Tuesday.
Mitchell was stunned at news of Holmes' alleged involvement in the attack.
"You would never guess he was a violent guy," Mitchell said, describing Holmes as "nerdish" and "a book-smart type guy."
In San Diego, the suspect's family issued a statement saying they were still trying to process the news.
"Our hearts go out to those who were involved in this tragedy and to the families and friends of those involved," the Holmes family said, without giving any information about him.
Gun-control, gun-rights groups prepare for renewed debate
CNN's Tom Watkins, Susan Candiotti, Ross Levitt, Paul Vercammen, Casey Wian and Jim Spellman contributed to this report.