STORY HIGHLIGHTS
People are quick to judge parents when their children get hurt
Up until they're 3-months-old, babies aren't expected to sleep through the night
Parents tend to become nocturnal creatures to match their babies' schedules
(CNN) -- A movie? A meal out? A haircut?
Were those events even possible right after my daughter was born?
The news of a 3-month-old among the injured at a late-night showing of "The Dark Knight Rises" has already led to online criticism of parents who would bring a baby to such a movie.
Some of the comments at CNN.com included: "What kind of parent takes a three-month old child to a midnight screening of a movie?" "Bad parenting!!!"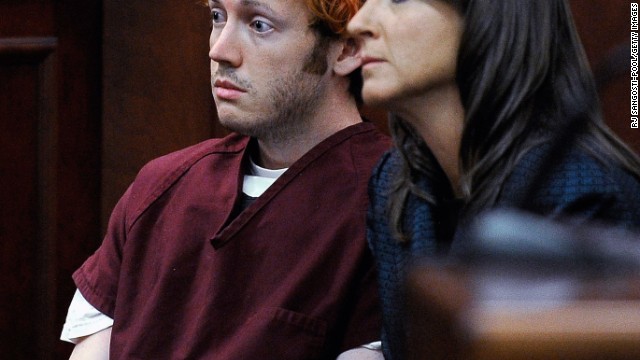 The public gets its first glimpse of James Holmes, 24, the suspect in the Colorado theater shooting during his initial court appearance Monday, July 23. With his hair dyed reddish-orange, Holmes, here with public defender Tamara Brady, showed little emotion. He is accused of opening fire in a movie theater Friday, July 20, in Aurora, Colorado, killing 12 people and wounding 58 others. More photos: Mourning the victims of the Colorado theater massacre
Police release the official photo from Holmes' booking after the shooting.
Holmes often had a blank stare during his court appearance Monday, appearing to be in a daze.
Victims and their relatives and journalists watch the proceedings Monday.
Flags fly at half-staff Monday at the Arapahoe County Courthouse in Centennial, Colorado, where the movie theater shooting suspect had his first court appearance. The prosecutor held a press conference outside the courthouse.
Arapahoe County District Attorney Carol Chambers talks to reporters Monday before heading into the courthouse. Chambers said the decision on whether to pursue the death penalty is a long process that involves input from victims and their families.
Family members of the victims arrive at the courthouse Monday for the suspect's first court appearance.
The Century Aurora 16 multiplex in Aurora becomes a place of horror after a gunman opened fire Friday in a crowded theater. At least 17 people remained hospitalized late Sunday, July 22, in the shooting rampage that shocked the nation.
Holmes is accused of opening fire during a midnight screening of the new Batman movie, "The Dark Knight Rises." Holmes purchased four weapons and more than 6,000 rounds of ammunition in recent months, police say.
Police investigate outside the Century 16 multiplex Saturday, July 21, a day after the mass shooting. Authorities have been tight-lipped about a possible motive in the case.
Agents search the suspect's car outside the theater.
Aurora police escort a sand-filled dump truck containing improvised explosive devices removed from Holmes' booby-trapped apartment Saturday. Authorities have said they believe the suspect rigged his place before leaving for the movie theater.
Police break a window at the suspect's apartment Friday in Aurora.
Law enforcement officers speak with Colorado Gov. John Hickenlooper, center, outside the suspect's apartment Saturday.
Law enforcement officers prepare to disarm the booby-trapped apartment Saturday.
Officials tow cars outside Holmes' apartment Saturday. Police disassembled devices and trip wires set up in the apartment.
Officers prepare to place an explosive device inside the apartment.
Debris flies out a window, right, after law enforcement officers detonate an explosive device inside the apartment Saturday.
People mourn the victims during a vigil behind the theater where a gunman opened fire on moviegoers in Aurora.
A woman grieves during a vigil for victims behind the theater.
A distraught woman receives counseling from Pastor Quincy Shannon, left, in front of Gateway High School in Aurora, where the families of the missing met following the shooting.
Lin Gan of Aurora holds back tears as she speaks to reporters about her experience in the Century 16 theater Friday.
People embrace before a vigil for victims behind the theater where a gunman opened fire on moviegoers.
Investigators work on evidence near the apartment of James Holmes on Friday.
Members of the Aurora Police Department SWAT unit walk near the apartment of James Holmes. Police have Holmes, 24, of North Aurora, in custody.
Television news crews gather in front of the home of Robert and Arlene Holmes, parents of 24-year-old mass shooting suspect James Holmes, in San Diego, California, on Friday.
A popcorn box lies on the ground outside the Century 16 movie theatre.
An NYPD officer keeps watch inside an AMC move theater where the film "The Dark Knight Rises" is playing in Times Square on Friday. NYPD is maintaining security around city movie theaters following the deadly rampage in Aurora, Colorado.
Adariah Legarreta, 4, is comforted by her grandmother Rita Abeyta near the Century 16 Theater in Aurora.
A cyclist and pedestrians pass a theater showing the latest Batman movie in Hollywood, California, on Friday. Warner Brothers said it was "deeply saddened" by Friday's massacre at a Colorado screening of "The Dark Knight Rises."
Obama supporters observe a moment of silence for the victims at a campaign event at Harborside Event Center in Fort Myers, Florida, on Friday.
Jessica Ghawi, an aspiring sportscaster, was one of the victims.
A woman waits for news outside Gateway High School, a few blocks from the scene of the shooting at the Century Aurora 16.
Aurora police chief Daniel J. Oates speaks at a press conference near the Century 16 Theater on Friday.
Agents search the trash container outside the suspect's apartment in Aurora.
A Federal ATF officer carries protective gear onsite at the home of alleged shooting suspect James Holmes.
Obama speaks on the shootings at the event in Fort Myers.
Moviegoers are interviewed at the Century Aurora 16.
Officers gathered at the theater Friday.
Investigators were a common sight at the theater Friday.
Authorities gather at the shooting suspect's apartment building in Aurora. Police broke a second-floor window to look for explosives that the suspect claimed were in the apartment.
Screaming, panicked moviegoers scrambled to escape from the black-clad gunman, who wore a gas mask and randomly shot as he walked up the theater's steps, witnesses said.
University of Colorado Hospital spokeswoman Jacque Montgomery said that all of the wounded had injuries from gunshot wounds, ranging from minor to critical.
Onlookers gather outside the Century Aurora 16 theater.
A woman sits on top of her car near the crime scene.
Police block access to the Town Center mall after the shooting.
Cell phone video taken by someone at the theater showed scores of people screaming and fleeing the building. Some, like this man, had blood on their clothes.
Witnesses told KUSA that the gunman kicked in an emergency exit door and threw a smoke bomb into the darkened theater before opening fire.
What is believed to be the suspect's car is examined after the shooting.
Police Chief Dan Oates said there was no evidence of a second gunman, and FBI spokesman Jason Pack said it did not appear the incident was related to terrorism.
Republican presidential candidate and former Massachusetts Gov. Mitt Romney delivers remarks regarding the shooting in an Aurora, Colorado, movie theater on Friday at a campaign event in Bow, New Hampshire.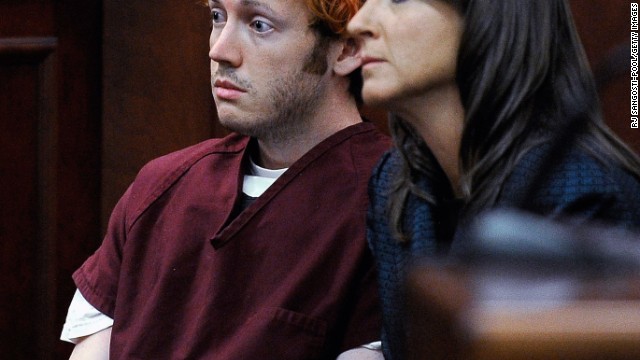 Colorado movie theater massacre
To which I say: Back off on the judgment. Do you think anyone -- a parent or not -- would go to a movie if they could predict there would be a mass shooting?
"Judging parents at a time like this is unbelievable to me," says parenting expert Laura Markham, a psychologist and founding editor of AhaParenting.com. "We are always so quick to judge other parents when their child gets hurt, because if we can make ourselves different -- if we would never have done that -- then our child is safe.
Theater offers 'perfect killing' zone, expert says
"If the baby drops off to sleep while you're walking him outside, but you know he will be up in two hours, and he can still sleep through anything, I can certainly understand why a parent might decide to catch a movie."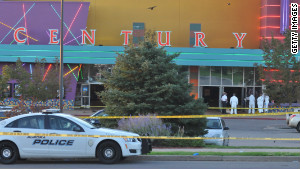 Police: 71 people shot in movie theater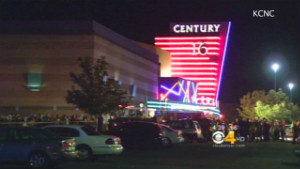 Listen to theater shooting 911 calls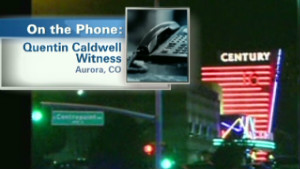 Witness sees shots through theater wall
The comfort of other moviegoers is a whole other consideration (and conversation), but when it comes to bringing a baby to a movie, it's not necessarily harmful to the kid. Plus, it can be a vital pick-me-up for an exhausted and culture-deprived new parent.
In Aurora, the agonized seek answers through faith
All sense of day or night seems to disappear with the arrival of that wiggly munchkin. During those first few months after the birth of a child, parents sleep whenever we can, wear whatever is clean (and maybe not so clean) and (for the mamas who breast-feed) eat with one hand while holding the baby to breast-feed at the same time.
That's because babies emerge from the womb having slept mostly during the day and staying awake during the night. It takes at least four weeks for their melatonin production to kick in and for babies gradually to switch to nighttime sleeping, says Dr. Ari Brown, author of "Baby 411" and a pediatrician in Austin, Texas. A 3-month-old might be feeding at midnight, but the baby would not be expected to sleep through the night.
"From zero to three months, when it comes to sleep, you do what you gotta do," Brown says. "The concept of having a schedule or real sleep pattern is an oxymoron. It's just not there."
Shootings cast pall over 'Dark Knight Rises' blockbuster weekend
That's why parents tend to become nocturnal creatures, feeding, changing diapers and doing laundry whenever we can. Everything else takes a back seat to meeting the basic needs of a human tadpole. Scheduling a daytime haircut requires precision military planning, lest parents are away when the little angel is hungry and lets loose with his or her piercing cries. I would have tried to go to a late-night movie if I wasn't trying to sleep.
When Atlanta mother Leah Case's daughter was 3 months old, Case and her husband would join friends for dinner, bringing along their soundly sleeping baby in a car seat. "I am an extremely regimented, scheduled parent, but if I thought my child would sleep through a movie at that age, I absolutely would have taken them," said Case, whose daughter is now 10 months. "She honestly slept like a rock anywhere we went until she was about 5 months."
Aspiring sports reporter killed in shooting
It's true that several movie theater chains have capitalized on the cries for help from movie-deprived new parents. California-based Krikorian Premiere Theatres offers "Mommy Movie Mondays" with amenities such as stroller check-in and changing tables. The "Crybaby Matinee" at Hawaii's Consolidated Theaters lowers the volume to protect babies' sensitive ears and brightens the lights so parents can easily come and go for feedings or tantrums.
With her 8-week-old son sleeping no more than three hours at a time, new parent Katie Feeney said she couldn't imagine having enough energy to make it to an early or late movie with or without her son.
Feeney, a stay-at-home mother in Brighton, Massachusetts, tends to stay awake during the day so she's exhausted by day's end. When her son wakes up for nighttime feedings, a duty she shares with her husband, she simply watches whatever she's recorded on her DVR to get her through the night.
Theater shooting unfolds in real time on social media
Do you think it's a dreadful idea to bring a baby to a movie? Or do you sympathize with parents just looking to get out of the house for some entertainment? Share your opinion in the comments section below.
CNN's Kat Kinsman, Sarah LeTrent and Maria LaMagna contributed to this report.