STORY HIGHLIGHTS
Support remains for late football coach Joe Paterno
Alum: It's hard for people to see Paterno's name in a bad light
Abuse group calls for a change in Penn State culture
Student says actions of a few cannot define entire university
(CNN) -- Penn State fans and students knew the Freeh report was going to be harsh, but even so, it exceeded their expectations.
Yet, for a significant number of them, their respect for the late Joe Paterno is unchanged.
The lengthy report was released Thursday morning, castigating four former university officials -- President Graham Spanier, Vice President Gary Schultz, athletic director Tim Curley and Paterno -- for their roles in dealing with former coach Jerry Sandusky, who now sits in prison for abusing boys, some on the Penn State campus.
"I think JoePa's career here at Penn State has been unique because he was able to build an athletic program that helped improve academics, which is rare for a university," Dan Florencio, a Penn State graduate, told CNN's Jason Carroll. "So it's hard for a lot of people who have been ingrained over those decades to hear his name not used in the best of light."
Read Freeh's prepared statement (PDF)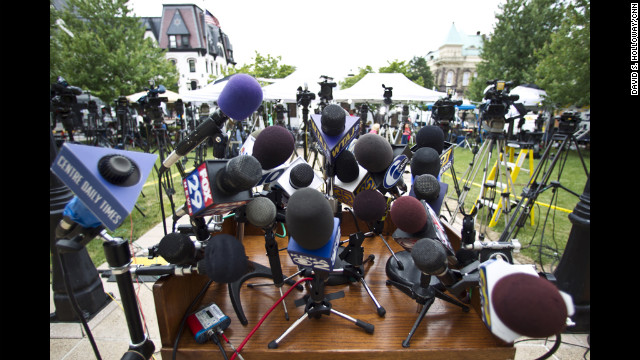 The podium stand outside of Jerry Sandusky's trial on its first day is covered in mics, hinting at the massive media coverage of the event.
Several news vans pile up outside of the Sandusky trial. The network satellite vans are all parked in front of the Centre County Courthouse and the vans parked in back are live trucks from the regional news outlets.
Every day Sandusky arrived in the passenger seat of his attorney Joe Amendola's black BMW SUV.
This sign posted on a road near the town of Bellefonte, Pennsylvania, shows support for former Penn State head football coach Joe Paterno.
Mic cords abound as the media took over the courthouse lawn to cover the Jerry Sandusky trial.
The grave of Joe Paterno is at Spring Creek Presbyterian Cemetery in State College, Pennsylvania.
Reporters wait with microphones outside of the Sandusky trial.
Several photographers and videographers staked out spots behind the police's green barriers in the back of the courthouse where Sandusky's trial was taking place.
Live vans from regional news outlets fill the lot behind the Centre County Courthouse where the Sandusky trial is taking place.
Judge John M. Cleland is presiding over Sandusky's trial at the Centre County Courthouse in Bellefonte, Pennsylvania
A business advertises Joe Paterno items within view of the courthouse where assistant coach Sandusky is on trial.
The gate to the practice football field is locked at the Mildred and Louis Lasch Football Building at Penn State University in State College, Pennsylvania
Mics and cameras surround the podium ouside the courthouse where Jerry Sandusky is on trial.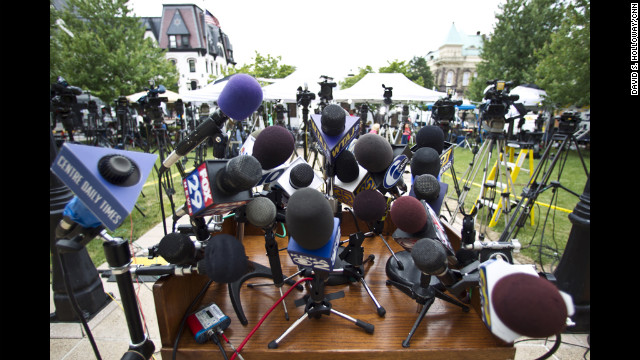 Photos: Sandusky trial coverage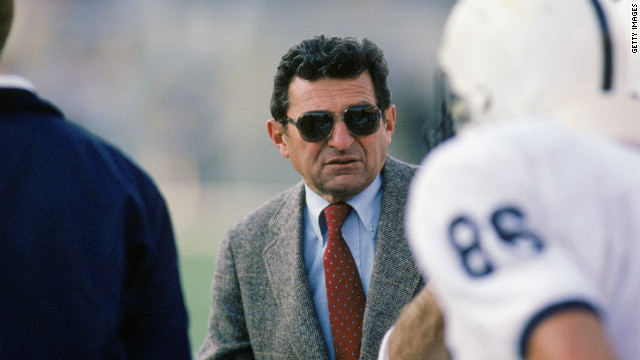 Former Penn State football coach Joe Paterno died on January 22. He was 85. The legendary coach, seen here in 1988, was fired in November 2011 during his 46th season at the helm of the Nittany Lions program.
The statue of Paterno outside Beaver Stadium is among many vestiges of Paterno's years as head coach.
Paterno sprints off the field with his team at halftime in a 1996 game.
Paterno celebrates after winning the Fiesta Bowl against Texas in 1997. Paterno was diagnosed with a treatable form of lung cancer, his son announced in November.
In October 2001, Paterno is honored before a game for having won the most games in Division 1-A. He continued to vie with Florida State's Bobby Bowden for the most all-time major college wins until Bowden retired in 2009.
Paterno and his Nittany Lions look on before facing Iowa at Beaver Stadium in State College, Pennsylvania, in October 2004.
Paterno shakes hands with Lloyd Carr of Michigan before their game in 2005 in Ann Arbor, Michigan.
Paterno celebrates a triple-overtime Orange Bowl win over Florida State in Miami on January 3, 2006. Paterno has guided his teams to more bowl victories than any other college coach.
Paterno speaks at a post-game press conference after winning the Outback Bowl on January 1, 2007, in Tampa, Florida.
Paterno walks the field as his players warm up before their game against the Syracuse Orangemen at Beaver Stadium in September 2009 in Pennsylvania. The coach was fired in November amid the outcry over the handling of accusations against former defensive coordinator Jerry Sandusky.
Paterno gives direction to his players before playing the Crimson Tide in Alabama in 2010.
Paterno walks the sidelines in October 2009 in Evanston, Illinois. In December 2011, he was admitted to a hospital after fracturing his pelvis when he slipped and fell at his home in State College.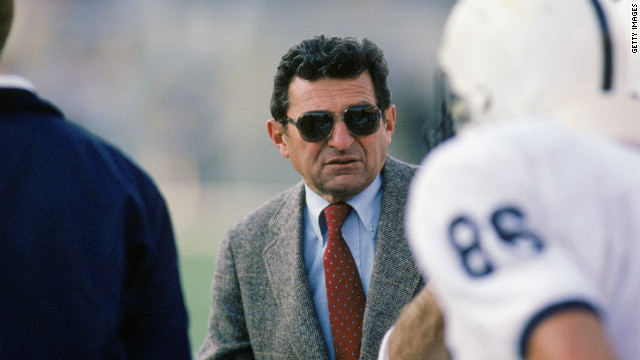 Photos: Paterno as Penn State coach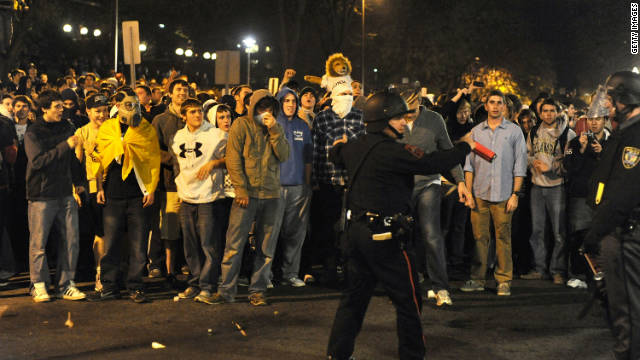 Following the firing of Penn State's legendary football coach Joe Paterno and the school's president, hundreds of students take to the streets in State College, Pennsylvania, early Thursday, November 10.
Police try to control students in the street after what started as an apparent celebration of Paterno turned raucous.
The crowd tipped over a news van and decried the media.
Pennsylvania State Police disperse students along East College Avenue in the early morning hours Thursday.
Paterno was ousted over a child sex abuse scandal at the university.
Students visit the Joe Paterno statue adjacent to Beaver Stadium to quietly honor the legendary coach following the announcement that he was fired.
Students pass the mural at the College Bookstore where the portrait of Jerry Sandusky, the former coach accused in the scandal, has been removed and replaced with a blue ribbon.
"What can I say, I'm no longer the coach," Paterno told about 15 students gathered outside his house late Wednesday night. "It's going to take some time to get used to. It's been 61 years."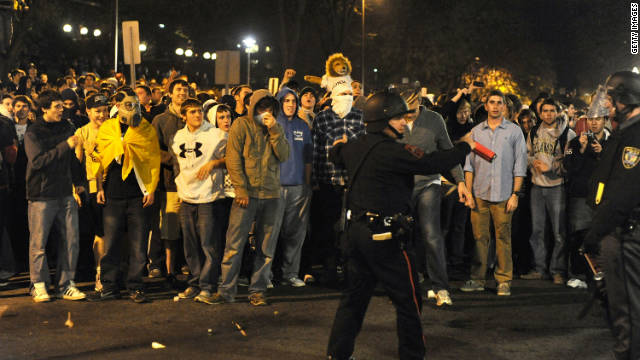 Penn State students take to the streets
Student John Zang was glad the truth had "finally come out."
He said it was sobering to read how officials appeared to be more interested in preventing bad publicity.
"It really seems like everybody was just focused on something else, not the victims," he said. "It's just sad because the kids, they were lost in all this. And I think it's really important that we move forward and make sure that this stuff does not happen again."
Penn State leaders disregarded victims, 'empowered' Sandusky, review finds
His sentiment was echoed by the Survivors Network of those Abused by Priests, a group that also has members who were molested at camps and in athletic programs.
The group released a statement that said the report was a good step, but change was more important.
"Often, we assume that when a scandal is exposed, reform will result, but that's not necessarily true. Information sometimes leads to action, but sometimes not," the statement read. "Penn State students, staff and alumni must continue to push hard for practical changes to the unhealthy, self-protective institutional culture at the school that endangers kids.
At a glance: Key players in Penn State report
"For starters, top school officials need to be prosecuted as vigorously as possible and punished as severely as possible. That is perhaps the best way to deter future cover-ups."
Pennsylvania Attorney General Linda Kelly said: "Today's release of the Freeh Report will not hinder the continuing work of our statewide investigating grand jury, nor will it impact ongoing criminal prosecutions."
According to a statement from her office, Louis Freeh has promised to turn over any material related to criminal conduct to her investigators.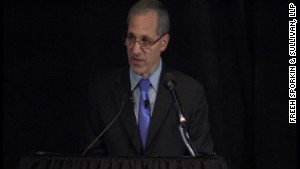 Freeh: 'Total disregard' for children
Former student John Tecce said he will maintain his deep pride in his university.
Paterno defended Penn State in letter he wrote before his death
"I received my diploma in May and it says 'The Pennsylvania State University' not 'Joe Paterno University,' " he said. "The university is not defined by one name or the actions of a few."
There are so many other things to be proud of, Tecce said: the $10.6 million the university raised to help fight pediatric cancer, the $500,000 it raised for the Rape, Abuse and Incest National Network.
"We can either put our heads down in shame and say, 'How are we ever going to recover from this?' or we can raise our heads and say, 'OK, how are we going to come out of this?' and start recovering," he said.
"It certainly hurts. You can't not be hurt by this, but at the same time I think what's important now is just moving forward," he said.
There is a healing power in a community where there is a common goal, a common passion, he said, and he senses that among the Penn State community.
Zang said there was an opportunity for students to "really make up for what these administrators have done and have failed to do."
A few dozen students and fans wanted to watch news of the release of the report on Wednesday morning at a Penn State student center, but according to the Philadelphia Inquirer, just before a CNN anchor started talking about it, the channel changed to a public access show. A student worker at the help desk said a university employee was in charge of what channel was on. That person was in a meeting, the report said.
On social media, supporters duked it out with critics and commentators weighed in on what they thought the future will or should hold for Penn State. While some called for Penn State dropping football, a reporter who covers the NBA's Miami Heat, said, "Forget the "Death Penalty" for Penn State ... let them play and make millions ... and make them donate EVERY DAMN $ to stopping child abuse."
CNN's Jason Carroll contributed to this report.