Extradition deadline passes for WikiLeaks' Assange
July 7, 2012 -- Updated 2316 GMT (0716 HKT)
STORY HIGHLIGHTS
Swedish authorities are seeking to question Julian Assange over sex crime allegations
Assange lost his appeal against extradition to Sweden
He denies wrongdoing and says he fears extradition from Sweden to the United States
Assange founded WikiLeaks, a website that facilitates the leaking of secret documents
London (CNN) -- A deadline for WikiLeaks founder Julian Assange to be extradited to Sweden for questioning in sexual assault allegations came and went Saturday with no apparent movement.
Assange is believed to still be inside the Ecuadorian Embassy in London, where he has been holed up since applying for political asylum on June 19.
The South American country has said it is considering his application.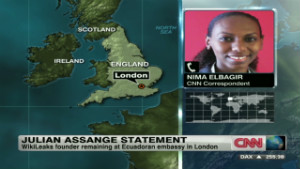 Assange resisting extradition
The UK Supreme Court dismissed his bid to reopen his appeal against extradition to Sweden on June 14.
"The court has ordered that the required period for extradition shall not commence until the 14th day after today," the Swedish Prosecution Authority said at the time.
"In accordance with the framework on European arrest warrants, the court's decision means that Mr. Assange will be surrendered to Sweden within 10 days after the 14th day."
Karin Rosander, a spokeswoman for Sweden's Prosecution Authority, confirmed earlier that Saturday was the expected deadline for Assange's surrender.
UK police say Assange is in violation of his bail by staying at the embassy, and that ignoring the notice to turn himself in is a further violation. However, they are unable to enter the embassy under diplomatic protocol.
London's Metropolitan Police had declined to comment on whether any action would be taken Saturday.
Assange is seeking to avoid being sent to Sweden over claims of rape and sexual molestation. He has been arrested in absentia, Swedish prosecutors have said.
He was arrested in Britain in 2010 because Swedish authorities wanted to question him about the allegations, which he denies. His bail conditions included staying every night at the home of a supporter outside of London.
Two women have accused Assange of sexually assaulting them in August 2010, when he was visiting Sweden in connection with a WikiLeaks release of internal U.S. military documents. He was arrested in Britain that December and has been fighting extradition ever since, saying the allegations are retribution for his organization's disclosure of American secrets.
Susan Benn, of the Julian Assange defense fund, said on June 29 that Assange would not honor a notice served to him by British police a day earlier requiring him to turn himself in to authorities.
Benn said the United States had empaneled a grand jury in its goal to press charges against Assange. Turning himself in would have started a process that would end with Assange being extradited to the United States, she said.
WikiLeaks, which facilitates the anonymous leaking of secret information, has published about 250,000 confidential U.S. diplomatic cables, causing embarrassment to the government and others. It also has published hundreds of thousands of classified U.S. documents relating to the conflicts in Iraq and Afghanistan.
Assange sought refuge at the embassy five days after the Supreme Court of the United Kingdom dismissed a bid to reopen his appeal of the decision to send him to Sweden -- his last option in British courts.
It is unclear when Ecuador will make a decision on Assange's asylum request.

Part of complete coverage on
WikiLeaks
November 10, 2011 -- Updated 1738 GMT (0138 HKT)

From "Climategate" to leaked diplomatic cables, CNN takes an inside look at the WikiLeaks organization.
July 31, 2013 -- Updated 0600 GMT (1400 HKT)

A military judge acquitted Army Pfc. Bradley Manning of aiding the enemy, but convicted him of violations of the Espionage Act for turning over a trove of classified data to the website WikiLeaks.
July 31, 2013 -- Updated 0050 GMT (0850 HKT)

Bradley Manning is naturally adept at computers, smart and opinionated, even brash, according to those who say they know him.
June 23, 2013 -- Updated 1634 GMT (0034 HKT)

WikiLeaks founder Julian Assange urged the world to "stand with" Edward Snowden, the man who admitted leaking top-secret details about U.S. surveillance programs.
June 11, 2013 -- Updated 1146 GMT (1946 HKT)

Julian Assange, the founder of WikiLeaks, knows something about secrets and what happens when they're exposed.
June 3, 2013 -- Updated 2311 GMT (0711 HKT)

Prosecutors say a 25-year-old Army private accused of aiding the nation's enemies through the largest leak of classified information in U.S. history "craved" notoriety.
August 16, 2012 -- Updated 1407 GMT (2207 HKT)

From the issuing of an arrest warrant, to a decision on Assange's asylum, see how the story has developed.
June 30, 2012 -- Updated 1949 GMT (0349 HKT)

Julian Assange is waiting to hear if Ecuador will grant him asylum. He's dangling from a cliff, for sure. Hanging by a pinky next to him -- WikiLeaks.
October 29, 2012 -- Updated 1625 GMT (0025 HKT)

Holed up in Ecuador's Embassy in London, Julian Assange talks at length about his life and motivations.
August 20, 2012 -- Updated 0020 GMT (0820 HKT)

Assange's move is dramatic, but he's not the first person to seek an escape route through a diplomatic mission. Here are some key precedents.
May 30, 2012 -- Updated 0931 GMT (1731 HKT)

Assange is a self-appointed champion of free speech and the founder of a web operation that has greatly antagonized the U.S. government.
July 6, 2012 -- Updated 0102 GMT (0902 HKT)

WikiLeaks said it has begun publishing some 2.4 million e-mails from Syrian politicians, government ministries and companies dating back to 2006.
Today's five most popular stories