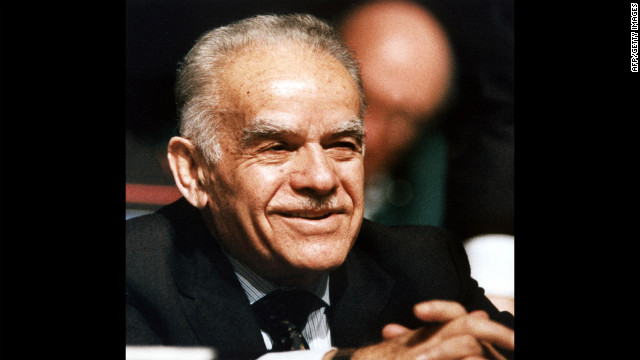 Israeli Prime Minister Yitzak Shamir listens to introductions before he addresses a convention of U.S. Jewish leaders on November 21, 1991, in Baltimore. The former soldier, spy and statesman has died at the age of 96, Israeli officials said on June 30, 2012.
Former Soviet President Mikhail Gorbachev and Shamir shake hands in New York before a dinner sponsored by Israel Bonds in October 1998. Gorbachev was honored for allowing mass emigration of Jews to Israel starting in 1988. Shamir, who led the right-wing Likud bloc, served as prime minister from 1983 to 1984 and from 1986 to 1992.
Shamir, left, waves to supporters July 5, 1989, in Tel Aviv as he and his two rivals, Ariel Sharon. center, and David Levy, right, walk in to address the Likud Central Committee. Shamir was military leader of the extremist Stern Gang between 1944 and 1946, and was behind a series of anti-British attacks, before Israel declared its independence in 1948. Shamir had withdrawn from public life over the past decade, silenced by Alzheimer's disease.
Shamir, left, meets with General Antoine Lahad, commander of the South Lebanese Army, during their tour of Israel's self-declared security zone January 26, 1989, in southern Lebanon.
Shamir and Labor Party leader Yitzhak Rabin shake hands in Qatzerin on the Golan Heights on June 10, 1992. The two candidates for prime minister were at an event commemorating the 25th anniversary of the capture of the Golan Heights from Syria.
Shamir, left, speaks with adviser Benjamin Netanyahu, right, at the Madrid Middle East Peace conference in Madrid on October 30, 1991. Netanyahu is now in his second tenure as Israel's prime minister.
French foreign trade official Dominique Strauss-Kahn, center left, shakes hands with Shamir on May 27, 1992, in Jerusalem during an official visit.
U.S. President Ronald Reagan and Shamir meet in the White House on February 18, 1987.
Shamir attends a street-naming ceremony on April 15, 1992, commemorating deceased members of the Lehi, the underground militants who fought the British in Petah Tikva.
Shamir wipes his eye during a commemorative ceremony on May 5, 1992, in Jerusalem for soldiers who died in Israel's wars.
A photo of Shamir from June 1977, during his tenure as speaker of the Knesset, Israel's parliament.
Yitzhak Shamir through the years
Yitzhak Shamir through the years
Yitzhak Shamir through the years
Yitzhak Shamir through the years
Yitzhak Shamir through the years
Yitzhak Shamir through the years
Yitzhak Shamir through the years
Yitzhak Shamir through the years
Yitzhak Shamir through the years
Yitzhak Shamir through the years
Yitzhak Shamir through the years