Hospital: Incoming Greek finance minister admitted for tests
June 22, 2012 -- Updated 1539 GMT (2339 HKT)
STORY HIGHLIGHTS
NEW: The swearing-in of Rapanos has been delayed, the prime minister's office says
Vassilis Rapanos has been admitted for tests, the Ygeia private hospital says
Greek media reported that Rapanos had collapsed
PM Antonis Samaras is undergoing minor eye surgery Friday, his office says
Athens, Greece (CNN) -- Greece's incoming finance minister, Vassilis Rapanos, was admitted to a hospital Friday for tests, a day after he was appointed to the key government role, hospital officials confirmed.
The management of the Ygeia private hospital in Athens said it would issue a full medical report on Rapanos later.
His hospital admission followed reports on Greek media that he had collapsed.
Rapanos, who is chairman of the National Bank of Greece, was named Thursday as the debt-stricken nation's new finance minister, a role that will carry considerable pressure.
The prime minister's office said he was to have been sworn in at 7 p.m. Friday (noon ET) but the swearing-in has been postponed until he has left hospital.
Greece's new prime minister, Antonis Samaras, is also undergoing a medical procedure Friday, in his case, minor retina surgery, his office said.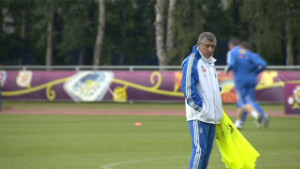 Greece vs. Germany: More than a game
As a result he won't be able to attend a Euro 2012 soccer match between Greece and Germany in Poland Friday evening.
German Chancellor Angela Merkel is expected to attend the quarter-final match, which has taken on additional significance because of the political tension between the two nations. Germany is blamed by many in Greece for the tough austerity measures imposed as a condition of Greece's international bailout.
The swearing-in of Greece's new Cabinet Thursday brought an end to months of uncertainty during which Greece was governed by a series of unelected governments.
The governing coalition is made up of the center-right New Democracy, headed by Samaras, along with the Socialist Pasok party and the Party of the Democratic Left.
The new government, which has pledged to push for a renegotiation of some of the painful austerity measures under the bailout, will face significant challenges.
The country is struggling to get out of the political and financial mire that threatens to drag down Europe's common currency and spark a new global financial crisis.
Greece will go to a summit of European leaders in Brussels, Belgium, next week, determined to push them to renegotiate the terms of Greece's unpopular international bailout, most likely by extending the timetable for certain elements.

Today's five most popular stories
Part of complete coverage on
Greece Election
June 19, 2012 -- Updated 0901 GMT (1701 HKT)

Questions are being raised in Greece around which party -- or parties -- will emerge as the country's dominant center-left force.
June 21, 2012 -- Updated 1018 GMT (1818 HKT)

Since Germany's emergence as an industrial economy, it has been too big to be one of many and too small to dominate, says Thomas Kleine-Brockhoff.

Now that the Greek people have voted and a government formed, we need to think about where this crisis will go, says CNN's Richard Quest.
June 16, 2012 -- Updated 1542 GMT (2342 HKT)

Greece is holding its second election in six weeks. Will this weekend's vote bring an end to the country's troubles?
June 17, 2012 -- Updated 1511 GMT (2311 HKT)

As Greek voters head to the polls, CNN talks to Athens cafe-goers about their voting intentions.
May 25, 2012 -- Updated 1149 GMT (1949 HKT)

Greece's membership of the eurozone is untenable under the current conditions and everyone knows it.

Greece is facing severe austerity measures; Greek citizens describe the effect the cuts are having on them.
June 16, 2012 -- Updated 2156 GMT (0556 HKT)

CNN's John Defterios visits Athens to take a look at the changes brought on by austerity.
June 16, 2012 -- Updated 1544 GMT (2344 HKT)

Imagine abandoning your own children because you can't afford to feed and clothe them. It's a nightmare becoming reality in Greece.
June 13, 2012 -- Updated 1913 GMT (0313 HKT)

The family of a woman killed in protests describe how her death sums up the country's plight as it prepared for the first election since the crisis.
April 6, 2012 -- Updated 1400 GMT (2200 HKT)

The suicide rate in Greece jumped 40% year-on-year in the first five months of 2011, as the Greek people face unprecedented hardship.
April 5, 2012 -- Updated 0948 GMT (1748 HKT)

Greece has introduced harsh austerity measures to access funding from its international creditors. But can it save the country from bankruptcy?
June 13, 2012 -- Updated 1907 GMT (0307 HKT)

Just one decade after the European single currency was launched amid fanfare and fireworks, its future is very much in doubt.