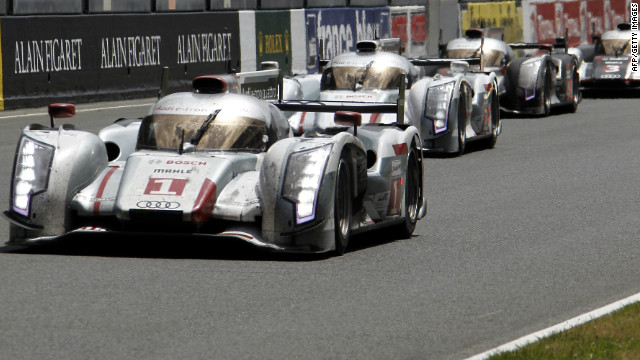 Audi made history at the Le Mans 24 hour race, with the R18 car becoming the first hybrid vehicle to win the endurance event.
Defending champion Andre Lotterer guided the car over the finish line, as Audi completed a clean sweep of the podium places.
Audi motorsport director Dr. Wolfgang Ullrich, left, celebrates on the podium with his drivers after the team's victory in the 80th edition of the race.
The Audi R18 Etron Quattro speeds around the Circuit de la Sarthe in north-west France as the sun goes down on Saturday.
The Audi R18 Etron Quattro of Allan McNish, Rinaldo Cappello and Tom Kristensen in action as the race moved into the night.
Lotterer looks on during one of his breaks from driving in the race, which would end with Audi's 11th win in 13 years.
Toyota driver Anthony Davidson, seen here signing autographs pre-race, was involved in a horrific crash during the race. The Briton broke his back, and admitted he felt lucky to be alive after the incident.
Davidson's Toyota team perform a pit stop. He was one of several ex-Formula One drivers who took part in the race.
Frenchman Romain Dumas, the race winner in 2010, managed to guide his Audi back to the pitlane after surviving a crash. His team finished fifth overall.
Britain's Martin Brundle, who spent 12 years competing in F1, drove the Greaves Motorsports Zytek Nissan as he competed alongside his son Alex on Father's Day.
Awesome Audi
Three and easy
Doctor's dominance
Driving through dusk
McNish's mean machine
Pit stop
Disaster for Davidson
Pit crew prepare
Relief for Romain
Family affair