Technology is disrupting financial services at a quickening pace
July 30, 2012 -- Updated 1635 GMT (0035 HKT)
STORY HIGHLIGHTS
The impact of tech on the financial services is rapid, dramatic and advantageous
New payment technologies are reducing costs for merchants and aiding customers
Low cost, easy-to-use tech is opening new doors for payment processing industry
Editor's note: Renaud Laplanche is CEO of Lending Club, the world's largest platform for connecting borrowers and investors to create consumer credit. He is a speaker at LeWeb12 on the topic of "Disruption in Finance" in a discussion moderated by CNN's Nina Dos Santos, scheduled for 1645 GMT on Tuesday.
(CNN) -- The pace of new developments in technology is unrelenting, and perhaps no industry is experiencing a more dramatic reinvention than financial services. Every corner of this vast industry is undergoing radical change as technology enables new opportunities for those who are nimble, and presents a substantial threat to those who are slow to embrace change.
Whether it's spending, saving, borrowing, or investing your money, the recent impact of technology is dramatic.
Start with the most basic functions of banking -- deposits and withdrawals. Just as the automated teller machine revolutionized the bank branch by introducing the ability to conduct banking transactions at any time, mobile banking technology now provides access to banking services virtually anywhere. Depositing a check no longer even requires a trip to the bank; simply take a picture with your phone via a banking app. Need access to your funds? NFC payment systems turn your phone into a wallet that can pay for your transaction with just a touch.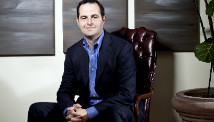 Renaud Laplanche
New payment technologies from companies like Square are reducing costs for merchants and enabling anyone from established retailers to the lemonade stand to accept multiple forms of payment. Now even the smallest business has more tools to grow, regardless of their transaction volume and without the need for costly equipment. Despite the tremendous penetration of credit and debit cards, the creation of low cost, easy-to-use technology is opening up new markets to the 50-year-old payment processing industry.
Technology is helping to democratize the world of investments, enhancing access to markets that have been closed to those without substantial wealth or connections and providing increased liquidity for thinly traded assets. Companies like SecondMarket and Sharespost are creating efficient markets for otherwise illiquid assets such as private company stock, bankruptcy claims and esoteric securities. Meanwhile, BATS bet that superior technology would enable it to compete effectively with the more established NYSE and NASDAQ; that bet is paying off as 11% of all U.S. equity trading on a daily basis now passes through BATS Exchanges.
Lending Club is using technology to disrupt consumer lending, a core function of banks that is little changed over the past several decades. Our platform uses technology to connect borrowers with investors to originate loans, reducing costs for borrowers and boosting returns for investors by disintermediating banks. Smart use of technology and re-engineering of many banking processes also enables Lending Club to operate with dramatically lower costs than banks: our platform has already facilitated nearly 20,000 consumer loans so far this year, with a staff of fewer than 100 employees.
Technology drives an unrelenting pace of change. Smart financial services firms are taking advantage of it to revolutionize entire markets, putting those companies that are slow to adopt at risk of being left far behind.
The opinions expressed in this commentary are solely those of Renaud Laplanche.

Today's five most popular stories
Part of complete coverage on
LeWeb'12 London
June 22, 2012 -- Updated 1720 GMT (0120 HKT)

LeWeb is an event that champions the next stage in our online evolution and yet there seems to be very little African presence.
June 19, 2012 -- Updated 1039 GMT (1839 HKT)

As tech meet LeWeb'12 opens in London, Andrew Keen warns how shifts in the digital world will impact our lives.
June 20, 2012 -- Updated 0932 GMT (1732 HKT)

CNN is with the web's top tech gurus and innovators at this week's LeWeb'12 gathering in London.
June 20, 2012 -- Updated 1637 GMT (0037 HKT)

Alec Ross, senior advisor for innovation to Secretary of State Hillary Clinton, breaks down the implications of connective technologies.
June 19, 2012 -- Updated 1000 GMT (1800 HKT)

Paul Davison, founder of Highlight, says we need to adapt to society-changing tech, despite our fears, and learn to embrace the future.
June 19, 2012 -- Updated 1500 GMT (2300 HKT)

Social networks continue to creep into workplaces, says Sandy Carter, but this new shift is also causing ripples in the business world.
June 20, 2012 -- Updated 1058 GMT (1858 HKT)

CEO Kevin Systrom explains what the mobile photo-sharing app has planned for the future.
June 20, 2012 -- Updated 0841 GMT (1641 HKT)

Relive all the action from day of the LeWeb conference in London looking at potential of future tech like predictive products.
July 30, 2012 -- Updated 1635 GMT (0035 HKT)

Renaud Laplanche, CEO of Lending Club, explains why new money models are shaping up business.

See what speakers and attendees at Europe's biggest tech conference are saying about how innovation will change your world.
June 18, 2012 -- Updated 1646 GMT (0046 HKT)

Jason Falls says that the rise of "faster than real time" tech may make government intervention inevitable -- and that's never a good idea.