Commission to review Secretariat's 1973 Preakness time
June 14, 2012 -- Updated 0839 GMT (1639 HKT)
STORY HIGHLIGHTS
Secretariat won the Triple Crown in 1973
The race horse set records in two of the three races
A review of his time in the Preakness could give him a record there, too
(CNN) -- Among race horses, Secretariat is revered as one of the best of all time. His legacy was captured in the 2010 movie "Secretariat," which tells the story of the thoroughbred's Triple Crown victory.
In 1973, Secretariat won the Kentucky Derby, Preakness Stakes, and Belmont Stakes, and set records that still stand today at the Derby and Belmont. But modern technology might make it possible for Secretariat's Preakness time to be reviewed, and could possibly settle a controversy in racing history and give the horse a record time.
Union Rags rallies to win 144th running of Belmont Stakes
The Maryland Racing Commission will hold a hearing to consider evidence that Secretariat is indeed a Preakness record-holder.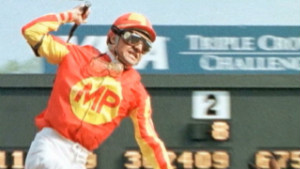 Looking back at 'Derby Day'
The coulda, woulda, shoulda Triple Crown winners
Penny Chenery, who owned Secretariat, and Thomas Chuckas, the president of the Maryland Jockey Club, made the request.
The controversy over Secretariat's time goes back to the 1973 race day.
The electronic timer at the Preakness recorded a winning time of 1:55. However, two independent clockers from the Daily Racing Form individually timed the race at 1:53 2/5.
Officials at the Pimlico Race Course, where the race is held, admitted that there were "extenuating circumstances" with the electronic timer's recording, and changed Secretariat's official time to 1:54 2/5.
Animal welfare activists: Horse racing industry needs reform
If Secretariat had indeed ran the race in 1:53 2/5, as the Daily Racing Form timed it, it would have meant a record at the time, and one that has been matched, but not beaten since.
"For me, revisiting this dispute on a new day is matter of resolution -- for historians, for sportswriters and for racing fans," Chenery said. "Their voices are supported by sound evidence, and they deserve to be heard."
Modern video technology can be used to settle the controversy, Chuckas said.
"During the last 40 years, video technology has been accepted in other professional sports as a supportive mechanism for officials to ensure fairness and accuracy in their decisions," he said. "It is important for horse racing and the record books to confirm the correct time in this historical race. It is the appropriate thing to do."
The commission will consider the request at a June 19 meeting.
Overheard on CNN.com: If wishes were horses, 'Another' Secretariat would rise

April 4, 2014 -- Updated 1035 GMT (1835 HKT)

Amateur jockey Sam Waley-Cohen is perhaps best known for helping to resurrect Prince William's relationship with Kate Middleton.
March 28, 2014 -- Updated 1215 GMT (2015 HKT)

The $10 million Dubai World Cup takes place at the Meydan Racecourse, which is a suitable setting for the world's richest horse racing day.
March 28, 2014 -- Updated 1650 GMT (0050 HKT)

He's created some of the world's biggest shows, so it's only fitting Andrew Lloyd Webber will be in the limelight on Dubai's big-money day.
March 26, 2014 -- Updated 1011 GMT (1811 HKT)

The world's richest horse race is the highlight of Dubai's social calendar, attracting 60,000 fans from around the globe.
March 20, 2014 -- Updated 1203 GMT (2003 HKT)

Former champion jockey Richard Dunwoody has gone from riding winners to traveling the world in his second career as a photographer.
March 6, 2014 -- Updated 1356 GMT (2156 HKT)

Wonder horse Frankel has retired but his $200,000 offspring are already been tipped as future racing stars -- to the delight of his jockey.
March 4, 2014 -- Updated 1313 GMT (2113 HKT)

How do you replace the adrenaline rush of scoring one of the greatest goals in World Cup history when your football career ends?
February 27, 2014 -- Updated 1345 GMT (2145 HKT)

A Scottish artist has captured the pomp and pageantry of Royal Ascot in a collage that represents "what I love about being British."
February 26, 2014 -- Updated 1618 GMT (0018 HKT)

CNN's Francesca Cumani meets Faleh Bogunaim -- a Qatari rider who is making a name for himself.
February 25, 2014 -- Updated 1508 GMT (2308 HKT)

CNN's Francesca Cumani explores how Qatar's royal family has impacted the global horse racing scene.
February 13, 2014 -- Updated 1436 GMT (2236 HKT)

It's been a long time coming. A very long time. But S'manga Khumalo is proving that black jockeys can hold the whip hand in South Africa.
February 7, 2014 -- Updated 1603 GMT (0003 HKT)

It needed permission from the British monarch and may anger traditionalists, but one of racing's most regal occasions has crossed the rubicon.

Today's five most popular stories