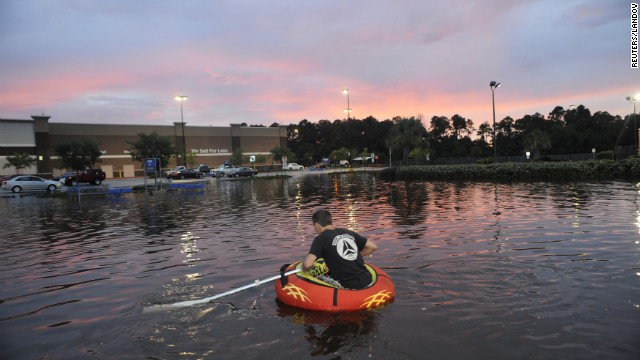 Robby Mandel, 16, navigates a flooded parking lot in Pensacola, Florida, on Saturday, June 9, as torrential rains inundate the Florida Panhandle and coastal Alabama.
CNN iReporter Randy Hamilton found cars nearly covered by floodwaters Saturday in Pensacola. Some places in Alabama and Florida received up to nearly 2 feet of rain, including 21.7 inches in West Pensacola.
In west Mobile, Alabama, heavy rain washed out an earthen dam in a subdivision Saturday, flooding Mitch Smith's property and damaging his driveway.
Cars struggled with flooded roads Saturday in Pensacola. "These are areas I have never seen flood like this, and we have endured some pretty big hurricanes through here before," iReporter Randy Hamilton says.
The downpour leaves a Pensacola road washed out as Will Tollis, left, and his son Micah, 9, check out the damage Sunday, June 10. Authorities also warned of rip currents that could endanger anyone entering the surf along the Alabama and Florida coasts through Monday afternoon, June 11.
Lillian Murphy and co-worker Joseph Stanley wade through floodwaters Sunday at her Pensacola apartment complex.
Josh Spinner checks his home surrounded by floodwaters Sunday in Perdido, Florida.
Scoobi Griffin splashes through the parking lot of her flooded Pensacola complex Sunday.
Rains flood Gulf Coast
Rains flood Gulf Coast
Rains flood Gulf Coast
Rains flood Gulf Coast
Rains flood Gulf Coast
Rains flood Gulf Coast
Rains flood Gulf Coast
Rains flood Gulf Coast
STORY HIGHLIGHTS
NEW: Flood warning remains in effect in parts of Alabama through Tuesday
NEW: Parts of West Pensacola, Florida, got 23.6 inches due to the storms
NEW: 3 shelters close in Escambia County, Florida, though one remains open
Officials in Escambia County expect damage there to total more than $20 million
(CNN) -- More rain could fall in drenched areas of the Florida Panhandle and coastal Alabama, where residents are assessing the damage from torrential rains that caused widespread flooding and millions of dollars in damage.
While not likely as devastating as the storms in recent days, more showers are likely and thunderstorms are possible through Tuesday in places like Pensacola, Florida, according to the National Weather Service. In fact, the government of Escambia County, Florida, is warning residents to expect rainy weather to continue through Friday.
Meanwhile, problems from the torrential rains that have already fallen persist in the region.
A flood warning is in effect through Tuesday morning around sections of the Bayou Sara waterway in Alabama's Mobile County. Authorities also are warning of a "high rip current risk" through Tuesday evening off beaches in that part of the Gulf of Mexico coast.
The area was deluged over the weekend by water that caused significant damage. Early Monday, a fresh thunderstorm dumped up to 2 inches of rain in Mobile and Baldwin counties in southwest Alabama, according to the weather service.
Rainfall totals from the spurt of storms varied considerably around the region through Monday morning, though no community escaped. West Pensacola received 23.6 inches, while Mobile, Alabama, saw between 7 and 14 inches, the weather agency reported.
Photos: More than a foot of water surges Pensacola
Officials in Escambia County, where Pensacola is located, expect damage to total more than $20 million.
Floodwaters up to 8 feet deep inundated the Forest Creek Apartments in the city.
"I walked out chin-deep in water," Lillian Murphy told CNN affiliate WEAR TV. The floodwater submerged her car and almost reached the roof of her apartment. "I don't know who to call or who to contact."
Escambia County remains in a state of emergency. But one sign of progress Monday came when three shelters set up at area schools were closed, according to an update on the county's website. A single shelter at a Pensacola church had seven people as of late Monday afternoon.
Lightning struck a boy in Gulf Shores, Alabama, on Sunday, leaving him hospitalized in critical condition.
"As soon as the lightning bolt hit, everyone hit the ground and took off running," lifeguard Justin Pearce told CNN affiliate WPMI TV. "Then we saw a person laying by the edge of the water."
The family identified the victim as Landon Broussard of Delcambre, Louisiana.
Additionally, several roads and bridges, as well as a number of homes and businesses, were damaged.
One of the structures affected was the Escambia County Jail in Pensacola. Its central booking facility, where inmates are brought in, was under about 6 feet of water at one point over the weekend, according to Escambia County Sheriff's Office spokesman Mike Ward.
The main part of the jail, which houses 697 inmates, lost power in the storm, Ward said. But temporary power was brought in, and efforts continued to get the air conditioning back on. The spokesman said security at the jail was never compromised.
Flash flooding made parts of some roadways impassable, with some reporting waters rising more than 6 feet in spots.
Leroy Bonifay, 90, told CNN affiliate WALA that he and his grandson got stuck along Airport Boulevard in Pensacola when water "washed up over my hood and drowned my engine." It climbed even higher, up to the windows, before two bystanders came to their rescue.
"I have never seen it get this high in this area before," Bonifay said. "It's tough, but we'll make it out all right."
CNN's Ed Payne, Michael Pearson and Kara Devlin contributed to this report.