Solo adventurer says she's relieved to be back on land
June 12, 2012 -- Updated 1104 GMT (1904 HKT)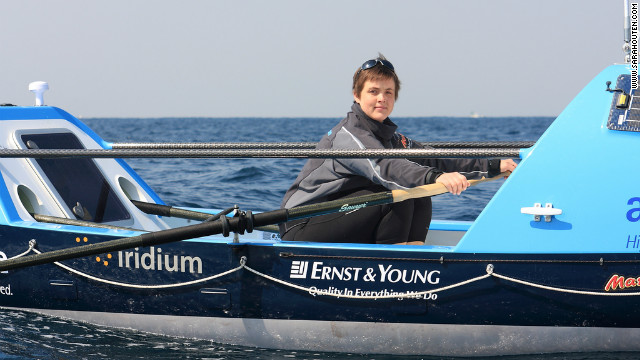 British adventurer Sarah Outen is seeking to become the first woman to row solo across the North Pacific.
Outen will cross the Pacific on a custom-made seven meter boat named Gulliver.
The Pacific crossing is part of a larger voyage that will see Outen circumnavigate the globe without the use of any mechanical engines.
She has travelled 11,000 miles so far, traversing Europe and Asia by bike and canoe.
If all goes to plan, the Pacific crossing will take roughly six months to complete.
Outen has prepared extensively for the physical and psychological challenges that face her, including boat capsizes and extreme weather.
Pacific rower
Traveling companion
London to London
On the road
Life at sea
Best preparations
STORY HIGHLIGHTS
Sarah Outen tweets a picture of herself from a Japanese hospital
Outen was attempting a round-the-world solo journey when her boat was damaged
She was rescued by the Japan Coast Guard, though her boat is still at sea
Another solo British rower is also rescued
(CNN) -- A British adventurer rescued after a failed attempt to sail solo around the globe says she is relieved to be back on land.
Sara Outen tweeted a photo of herself late Saturday from a Japanese hospital where she is undergoing evaluation after the nation's coast guard rescued her when her boat became disabled.
"Relieved to be back on land and with friends," Outen tweeted.
Outen began her solo circumnavigation April 1, 2011, in London with plans to cycle, row and kayak more than 20,000 miles. She hoped to finish in London in autumn 2013.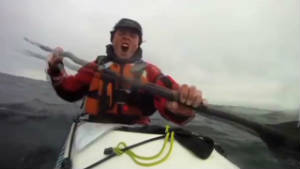 2011: British adventurer on 20,000-mile trek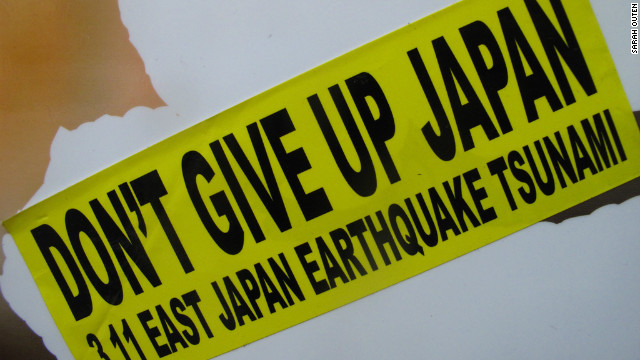 A poster encouraging people not to give up nearly one year after Japan was shattered by an earthquake and tsunami
One of the first tasks British adventurer Sarah Outen did was to help plant a memorial garden on the plot where a house once stood.
In Japan, people use this kind of breeze block altar with offerings to the dead
Two volunteers preparing to go in and bleach and scrub the wooden frames of a house.
Sarah Outen says that the tsunami has reduced part of the once crowded island to gaping holes.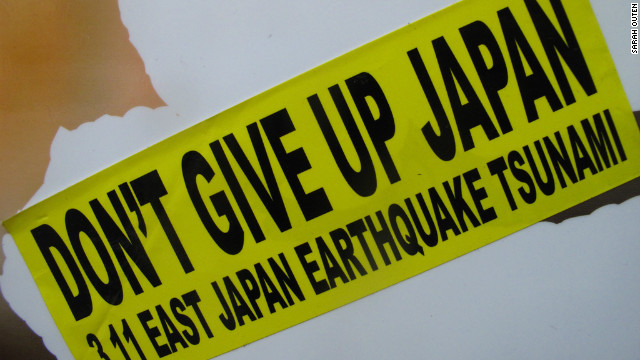 Volunteering in Ishinomaki, Tokyo
She was traveling alone when her boat was damaged during a tropical storm, rolling several times. A nearby merchant vessel and a coast guard plane kept watch on her until the rescue ship arrived.
Outen kept followers apprised of her ordeal in real time, tweeting from sea: "Focusing on calm trying2 block out wind and waves. Visualizing family and friends pulling us in."
More from Mainsail: The sailing world's hardest race
She was rescued Friday, though rough waters made it impossible for the Japan coast guard to tow her boat Gulliver back to port.
"As expected, due to adverse sea conditions, it was not possible to tow Gulliver back to land.," Outen's support team, London2London, said in a blog post Saturday. The team was "looking at options regarding Gulliver."
Outen was halfway to her goal when her boat was damaged. Her team says she has cycled and kayaked more than 11,000 miles, going through countries including Germany, Poland, Ukraine, Kazakhstan and China.
Meanwhile, a second solo British rower who was stranded about 280 miles northeast of where Outen was found has been rescued, according to his website.
Charlie Martell was attempting to row 6,000 miles across the Pacific when his boat was disabled by the same tropical storm that damaged Outen's Gulliver.
He was rescued late Friday by a Russian crew, his website said.
"Charlie spoke briefly to his support team to confirm that he is in good shape and uninjured, following a 36-hour wait since issuing the mayday signal," according to a posting on his website.
CNN's Kyung Lah in Tokyo contributed to this report.

Today's five most popular stories
Part of complete coverage on
MainSail
August 19, 2014 -- Updated 1136 GMT (1936 HKT)

Over 300 miles from the nearest ocean, competitors in one of the world's fastest sailing races prepare for battle.
August 11, 2014 -- Updated 1544 GMT (2344 HKT)

London's new superyacht hotel is so enormous, authorities had to lower the water level by five meters just to fit it under a bridge.
August 21, 2014 -- Updated 1155 GMT (1955 HKT)

His mast-walking stunts have attracted over 3.5 million hits on YouTube, but Alex Thomson just wants to get back to doing what he does best.
July 28, 2014 -- Updated 1432 GMT (2232 HKT)

Elizabeth Meyer talks to CNN's Mainsail about the "Armageddon battle" to restore the pioneering J-class boat Endeavour.
August 21, 2014 -- Updated 1150 GMT (1950 HKT)

Ship captains of the future won't be salty sea dogs with their hand at the helm, and the ocean at their feet.
July 10, 2014 -- Updated 1348 GMT (2148 HKT)

Like "Downton Abbey," Henley's Royal Regatta reminds its visitors of an England of old. But for how much longer?
August 21, 2014 -- Updated 1156 GMT (1956 HKT)

Nine months at sea, one change of clothes, freeze-dried food and a strange language. Could you cope?
June 11, 2014 -- Updated 1317 GMT (2117 HKT)

Can a $134 million budget and the royal seal of approval bring the coveted America's Cup back to British shores for the first time in sailing history?
June 3, 2014 -- Updated 1554 GMT (2354 HKT)

Bored of lounging on your superyacht in the Mediterranean? An increasing number of millionaires are now sailing their luxury vessels to the ends of the Earth, to get their kicks.
May 22, 2014 -- Updated 1613 GMT (0013 HKT)

He's one of the great landscape artists, but JMW Turner also had a watery passion -- and his maritime travels are being retraced.
May 20, 2014 -- Updated 1022 GMT (1822 HKT)

How do you get a foot on the property ladder, when you live in one of the most expensive cities in the world? The answer may lie in the water...
May 6, 2014 -- Updated 1142 GMT (1942 HKT)

Quadriplegic yachtswoman Hilary Lister was saved from suicide through the sport of sailing. Now she is plotting a voyage across the Atlantic.