Chinese official backs Proview in Apple dispute
April 25, 2012 -- Updated 0857 GMT (1657 HKT)
STORY HIGHLIGHTS
Proview Technology Shenzhen claims it trademarked the IPAD name in China in 2000
Apple says it bought the name from the firm in 10 different countries in 2009
A Chinese judge in February advised both parties to settle the dispute out of court
Apple announced it had doubled its profits in the last quarter, thanks mainly to China sales
Hong Kong (CNN) -- A senior Chinese official has sided with a company battling with Apple over the right to use the iPad name in China's lucrative market.
Proview Technology Shenzhen claims it trademarked the name in China in 2000 -- 10 years before Apple's iPad hit global stores. But the U.S. technology giant says it bought the name from the struggling Asian electronics firm in 10 different countries in 2009.
Proview insists it did not sell the rights to the name in China.
After seeing its claim against the Taiwanese-owned company falter in a Chinese court last year, Apple faced a lawsuit filed by Proview at the Higher People's Court in Guangzhou in February. The court did not issue a ruling but asked both parties to consider settling out of court.
Will Apple's 'iPad' go bad in China?
If no agreement can be reached, a ruling is likely to be handed down by the end of May, the court told state-run China Daily.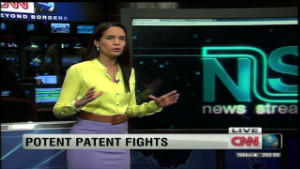 Smartphone patent wars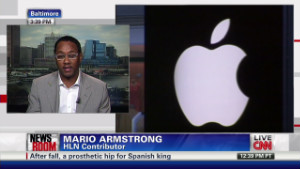 Apple denies price fixing allegations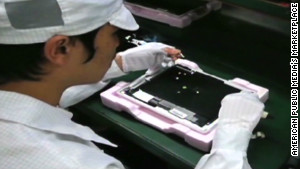 Rare look inside Foxconn factory campus
But on Tuesday, a senior official with China's State Administration for Industry and Commerce (SAIC) -- the body that handles intellectual property infringements -- said Proview is the lawful owner of the trademark and any transfer of ownership would have to be approved by the relevant authorities.
iPhone, IPad drives Apple profit surge
"According to the above-mentioned stipulations, Proview (Shenzhen) is still the legal registrant of the iPad trademark," said Fu Shuangjian, deputy director general of the SAIC, in quotes carried by Xinhua.
This is the first time Chinese officials have commented on the case, and analysts suggest this may have a bearing on the final court ruling.
Stores in Huizhou and Shijiazhuang were ordered to stop sales of iPads by local authorities earlier this year after a lower court in Shenzhen ruled against Apple. Proview has also filed lawsuits in Shanghai, Hong Kong and in California to block Apple from using the iPad name -- a potentially disastrous scenario for the U.S. company.
On Wednesday, Apple announced it had doubled its profits in the last quarter, thanks to burgeoning sales of its iPhone and IPad in China. Net profit came in at $11.6 billion for the first three months of 2012, up from $6 billion in the same period last year. Both products are made in China.
In contrast, Proview, which makes computer monitors and other electronic products, is financially stricken and fighting liquidation requests from creditors.

Today's five most popular stories
Part of complete coverage on
December 15, 2014 -- Updated 1144 GMT (1944 HKT)

A Chinese couple allegedly threw hot water on a flight attendant and threatened to blow up the plane, forcing the Nanjing-bound plane to turn back to Bangkok.
December 15, 2014 -- Updated 0503 GMT (1303 HKT)

China's 1.3 billion citizens may soon find it much harder to belt out their national anthem at will.
December 10, 2014 -- Updated 0021 GMT (0821 HKT)

Like Beijing today, Los Angeles in the last century went through its own smog crisis. The city's mayor says LA's experience delivers valuable lessons.
December 6, 2014 -- Updated 0542 GMT (1342 HKT)

At the height of his power, Zhou Yongkang controlled China's police, spy agencies and courts. Now, he's under arrest.
December 5, 2014 -- Updated 0826 GMT (1626 HKT)

China says it will end organ transplants from executed prisoners but tradition means that donors are unlikely to make up the shortfall.
December 5, 2014 -- Updated 0648 GMT (1448 HKT)

China's skylines could look a lot more uniform in the years to come, if a statement by a top Beijing official is to believed.
December 3, 2014 -- Updated 0855 GMT (1655 HKT)

Despite an anti-corruption drive, China's position on an international corruption index has deteriorated in the past 12 months.
November 26, 2014 -- Updated 1201 GMT (2001 HKT)

A daring cross-border raid by one of Russian President Vladimir Putin's associates has -- so far -- yet to sour Sino-Russian relations.
November 24, 2014 -- Updated 0051 GMT (0851 HKT)

A 24-hour Taipei bookstore is a hangout for hipsters as well as bookworms.
November 25, 2014 -- Updated 0153 GMT (0953 HKT)

China is building an island in the South China Sea that could accommodate an airstrip, according to IHS Jane's Defence Weekly.
November 19, 2014 -- Updated 1057 GMT (1857 HKT)

North Korean refugees face a daunting journey to reach asylum in South Korea, with gangs of smugglers the only option.
November 21, 2014 -- Updated 2319 GMT (0719 HKT)
China and "probably one or two other" countries have the capacity to shut down the nation's power grid and other critical infrastructure.