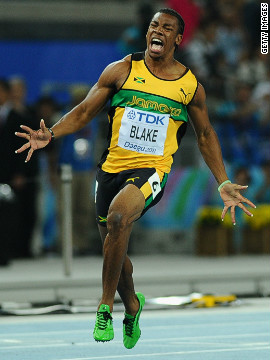 Jamaican sprinter Yohan Blake announced himself as an Olympic contender when he won gold in the 100 meters final at the 2011 World Athletics Championships in South Korea.
Blake's compatriot Usain Bolt was favorite to add the title to his 100m and 200m Olympic crowns, but he was disqualified for a false start. In the background, Blake walks back to the blocks.
Blake (R) set a Jamaican national junior record of 10.11 seconds at the Carifta Games -- a competition for Caribbean juniors -- in 2007. He also claimed a bronze medal at the 2006 World Junior Championships in Beijing, China.
In terms of training partners, Blake couldn't have a better role model than world record-holder Bolt -- who he looks up to for all that he has achieved in athletics. But though the pair are friends, Blake still wants to take his titles.
Jamaica's men secured their status as the undisputed sprint kings of the world as Blake's success at the 2011 World Championships was complemented by Bolt's 200m win and victory in the men's 4x100m . Jamaica also did the treble in 2009 and at the Olympics the year before.
Bolt's disappointment of missing out in the 100m was tempered by the relay success, and he and Blake celebrated in Daegu with a few nifty dance steps.
Blake posted personal bests in both the 100m and 200m in 2011, and has seen his profile rise as a result. Here he celebrates with fans in Zurich after running the fastest time of his career -- 9.82 seconds.
Blake got the taste for gold at Daegu, and is aiming to emulate his success at the Olympic Games in London this year.
On top of the world
Bolt's loss = Blake's gain
Rising star
Learning from the best
Jamaican joy
Best foot forward
Personal best
Going for Gold
STORY HIGHLIGHTS
Jamaican Yohan Blake is the current world 100 meter sprint champion
Blake took gold at the 2011 World Athletics Championships in South Korea
The 22-year-old trains with Olympic champion and 100m record holder Usain Bolt
Blake aiming to challenge Bolt for gold at the London Olympics this year
(CNN) -- Everyone expected Jamaican flags to be flying high after the 100 meters final at the 2011 World Athletics Championships -- but no-one predicted that Usain Bolt would not be performing his customary celebration rituals.
The world's fastest man had to watch as his training partner Yohan Blake took his title in South Korea, with the Olympic champion having been disqualified for a false start.
The furore over Bolt's predicament completely overshadowed the achievement of his 22-year-old compatriot, who became the youngest world champion since U.S. sprint legend Carl Lewis was crowned in 1983 aged just 21.
They are firm friends as well as training partners, but when the starting gun sounds at this year's London Olympics, there will only be one thing on Blake's mind -- scooping another one of Bolt's titles.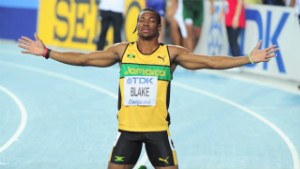 Human to Hero: Sprinter Yohan Blake
Bolt won the 100m and 200m events in record times at Beijing 2008, and earned a third gold in the 4x100m relay, but Blake is closing the gap on his idol with personal bests last year.
CNN's Human to Hero show caught up with the boy from St. James as he turns his attention to performing on the biggest stage of all.
Early days
Blake's sprinting career took off in his early teens when he was spotted running at his school in Spanish Town, and he made a big impression at the Carifta Games -- a Caribbean track and field meeting for young athletes.
Event: 100m, 200m 4x100m relay

Hometown: St James, Jamaica

Age: 22

Honors: 100m world champion, 4x100m relay champ

Olympic appearances: 0

Daily routine: Up at 6.30am, train for five hours, bed at 1am

How do you relax? Read, play cricket, dominoes, go to the beach (with girls)

Calorie intake: 4,000 or 5,000 a day
"Somebody just saw me running, went up to my school principal and said 'You've got a new track star there," and from there it started, from the age of 15 or so I started running," he says.
"When I was in High School I ran the Jamaican national junior record of 10.11 seconds. I was running at the Carifta Games when I ran 10.18 secs in the semis. And I ran 10.11 in the final, so from there I knew I could do something great.
"I think it's fate because I believe in fate and that it leads towards good things."
Heroes
"I really have to look up to Usain Bolt because of what he has done. Just to be his training partner and know what he thinks and know what he can do -- I have to look up to him.
"Asafa Powell (100m world record holder between June 2005 and May 2008) started it back in the day, and for a guy to do that to put Jamaica on the world stage and say 'Look, Jamaica can dominate the world,' I have to look up to someone like that that even though he did not get a world medal at the time. He has put Jamaica out there."
Gold in Daegu
Blake posted a time of 9.92 seconds, enough to beat a strong field in the final but still well short of Bolt's world record of 9.58.
"What happened at Daegu -- Usain Bolt is on the world stage and people are always going to look at that," Blake says.
"But I think I turned people's minds. It wasn't a fluke, so I think when they look back on Daegu they'll say, 'Oh, there's a young man who is going to challenge him.' "
London 2012
What I got at Daegu is what I've been working on over the years and it is finally coming true
Yohan Blake
"My first time going into the Olympics, you know, I think it is going to be a breathtaking moment for me. I want to go to the Olympics, have some fun and come back home with some medals.
"When I feel it is a big stage for me as the Olympics is where the big times, the big things really happen because an Olympic medal would really mean a lot.
"It makes more sponsors come out to you, so going out to the Olympics is going to be a really wonderful gift for me, really."
The competition
"When you have Tyson Gay, Asafa Powell, Usain Bolt and myself lining up for the 100m, I'm always excited because the competition is really good and I want to be the best person on the day, the best person to execute well," Blake says.
"I think that is what the world wants to see. It's going to be really interesting, all them guys they come out feeling fit and feeling ready to go.
"Also in the 200m, Water Dix, me, Usain Bolt and Tyson Gay if he is fit, you know I think anything can happen and I think it's just going to be interesting."
Work ethic
"I'm a hard worker and I believe in time -- things take time to happen and it's my time and it's coming out.
"I work assiduously at what I do, I like the heights by a great man. I work at night, always working. And what I got at Daegu is what I've been working on over the years and it is finally coming true."