Fears for stricken soccer player Muamba's recovery
March 19, 2012 -- Updated 1113 GMT (1913 HKT)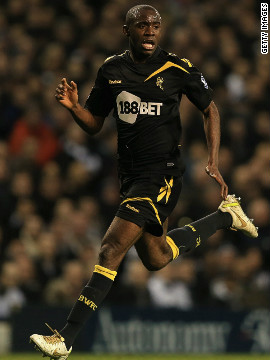 Doctors have described Fabrice Muamba's progress since his cardiac arrest during a match on Saturday as "miraculous." The Bolton star's heart stopped beating for 78 minutes after his collapse but now he is talking and joking with visitors.
Barcelona's Lionel Messi wore a t-shirt with a message of support for Muamba before Wednesday's game with Granada, in which the Argentina striker scored a hat-trick and became the club's leading goalscorer of all time.
Bolton announced Thursday they will fulfill their Premier League fixture with local rivals Blackburn on Saturday after postponing the midweek clash with Aston Villa. Before Blackburn's win over Sunderland on Wednesday their players offered messages of support for Muamba.
Bolton Wanderers fans have left flowers and scarves outside the English club's Reebok Stadium in support of Muamba, while most of the playing squad have been to visit him in the London Chest Hospital.
Muamba's former teammate Gary Cahill, who left Bolton to join Chelsea in January, revealed a t-shirt honoring his ex-colleague after scoring against Leicester City on Sunday.
Tributes were paid to Muamba from across the footballing world. Real Madrid's players took to the pitch before last Sunday's Spanish league match with Malaga wearing shirts displaying a message of support for the midfielder.
Fans at Liverpool's FA Cup quarterfinal against Stoke City send their best wishes to Muamba. Supporters also chanted his name at various points during Sunday's Anfield match.
Bolton manager Owen Coyle (left) and chairman Phil Gartside outside the London Chest Hospital where Muamba is being treated.
'Miraculous' Muamba
Messi wishes Muamba well
Bolton to face Blackburn
Fans pay tribute
Ex-teammate honors Muamba
International support
Best wishes
Bolton's concern