'Holy fuel economy, Batman!' Radical race car unveiled for Le Mans test
March 15, 2012 -- Updated 1232 GMT (2032 HKT)
STORY HIGHLIGHTS
Nissan unveils the radical new DeltaWing car for the Le Mans 24 Hour race
The DeltaWing has drawn comparisons with Batman's iconic Batmobile car
The experimental car is powered by a 1.6 liter four-cylinder engine
The DeltaWing will be driven by Britain's Marino Franchitti and German Michael Krumm
(CNN) -- Is it a bird? Is it a plane? No, it's a Batmobile-like race car which will take to the track at the legendary Le Mans 24 Hour event in June.
Nissan's experimental DeltaWing, which bears a startling resemblance to the vehicle made famous by the "Caped Crusader," was unveiled by the Japanese manufacturer in London on Tuesday.
The purpose of the car is to promote fuel efficiency, with the DeltaWing's 1.6 liter engine set to complete motorsport's legendary endurance challenge using half the gas of its regular counterparts.
Despite being granted entry to the marquee French race, the DeltaWing will not be counted in the final Le Mans 24 Hour classification as it is participating as an experimental vehicle.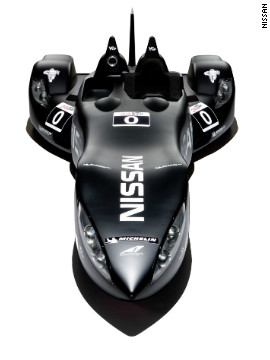 Nissan's radical DeltaWing will take part in June's Le Mans 24 Hour race. It has drawn comparisons with comic-book hero Batman's iconic "Batmobile."
The DeltaWing was designed by Briton Ben Bowlby and was unveiled at a ceremony in London on Tuesday.
The DeltaWing will not be included in the official Le Mans 24 Hour race classification, but its inclusion is aimed at promoting greater fuel economy. It will complete the race using half the fuel of its conventional counterparts.
The DeltaWing will not be driven by the "Caped Crusader" but by Germany's Michael Krumm and Britain's Marina Franchitti, left -- the younger brother of IndyCar legend Dario Franchitti and cousin of Formula One's Paul di Resta.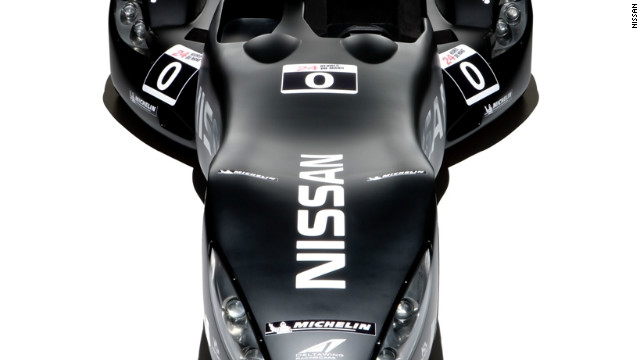 Nissan DeltaWing unveiled
"This announcement gives Nissan the opportunity to become part of a ground-breaking motorsport project, and one which could shape the future of the sport," Nissan's executive vice president Andy Palmer said in a statement.
It's a spectacular piece, we've got the engine of our dreams
Ben Bowlby
"As motor racing rulebooks have become tighter over time, racing cars look more and more similar and the technology used has had less and less relevance to road car development.
"Nissan DeltaWing aims to change that, and we are delighted to have become part of the project."
The DeltaWing's radical design has half the aerodynamic drag of a conventional car and is only half the weight. It can also produce 300 bhp (horsepower) thanks to a turbocharged four-cylinder engine.
Rather than being piloted by Bruce Wayne's vigilante alter ego, the first two drivers of the DeltaWing will be Britain's Marino Franchitti, the younger brother of IndyCar legend Dario Franchitti, and Michael Krumm of Germany.
"It's a spectacular piece," DeltaWing designer Ben Bowlby said. "We've got the engine of our dreams: it's the right weight, has the right power and it's phenomenally efficient."

Part of complete coverage on
March 15, 2014 -- Updated 0108 GMT (0908 HKT)

The big winners of this Formula One season could be road drivers rather than F1 racers, according to one former world champion.
March 14, 2014 -- Updated 1730 GMT (0130 HKT)

The Williams team welcomes the biggest rule changes to Formula One cars for a generation.
March 13, 2014 -- Updated 1916 GMT (0316 HKT)

Mercedes driver Lewis Hamilton sums up the dawn of a new Formula One era in three juicy words -- weird, mind-blowing and challenging.
March 12, 2014 -- Updated 1216 GMT (2016 HKT)

Formula One is taking another step in its techno evolution this season, which could be more unpredictable than it has been for a long time.
February 24, 2014 -- Updated 2255 GMT (0655 HKT)

Despite being a sport well into its seventh decade, only two women have ever driven in Formula 1 but Susie Wolff hopes to become the third.
February 24, 2014 -- Updated 1736 GMT (0136 HKT)

Jann Mardenborough on the similarities and differences between driving a race on a video game and driving a real F1 car.
February 22, 2014 -- Updated 1226 GMT (2026 HKT)

How Russian president Vladimir Putin helped turn a muddy hole in the ground into a $400 million futuristic grand prix track in Sochi.
February 21, 2014 -- Updated 0013 GMT (0813 HKT)

Vilified by the the international community for his government's attitude on gay rights, Russian president Vladimir Putin has found an ally.
January 22, 2014 -- Updated 1217 GMT (2017 HKT)

CNN's Rosie Tomkins speaks to Caterham F1 owner Tony Fernandes on the team's driver line-up for 2014.
March 13, 2014 -- Updated 1613 GMT (0013 HKT)

He is Formula One's undisputed No. 1, and next season Sebastian Vettel will have proof of that fact emblazoned on his Red Bull.
December 4, 2013 -- Updated 1633 GMT (0033 HKT)

A new era of F1 looms large on the horizon in 2014, but what do the new rules mean for how we watch the sport? Get up to speed here.
October 17, 2013 -- Updated 1056 GMT (1856 HKT)

Explore our interactive of one of F1's most important and complicated pieces of kit.

Today's five most popular stories