Fighting talk: Why wrestling is booming in Senegal
March 13, 2012 -- Updated 1147 GMT (1947 HKT)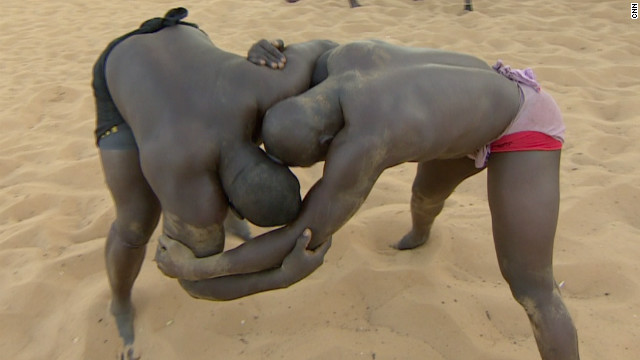 Wrestling rivals football for popularity in Senegal.
CNN's Errol Barnett with Senegalese wrestling star Gris Bordeaux.
Senegal's biggest wrestling stars can earn up to $200,000 per contest. Many see wrestling a way out of poverty, which might explain the popularity of workouts on the beaches of Dakar.
Lacking the money to use a proper gym, some men have built a makeshift gym of their own using whatever materials they can, such as car tires.
Wheel rims are loaded with rocks to make them heavier for weight lifters.
"For young men who do not have a lot of money, this is how you keep your body in shape," says Barnett.
Senegalese wrestling
Errol Barnett and Gris Bordeaux
Dakar beach workout
Imporvized gym
Wheel-rim weights
Bench press on the beach
STORY HIGHLIGHTS
Wrestling is hugely popular in the West African country of Senegal
Star wrestlers can earn $200,000 per contest, and others want to emulate their success
Wrestling legend Gris Bordeaux says the sport has allowed him to support his family
Dakar, Senegal (CNN) -- In most of Africa, football reigns supreme among sports, but in Senegal wrestling challenges it for popularity. It provides entertainment and exercise, and offers young men dreams of fame and fortune.
Wrestling's popularity in Senegal makes it big business. For the sport's superstars the rewards can be huge, with the biggest names earning up to $200,000 per contest. In a country where unemployment is pushing 50%, some young men see it as a way out of poverty.
Gris Bordeaux is a star in Senegal, a wrestling champion who also teaches at a wrestling school in the capital Dakar.
He says wrestling is a mental, as well as physical, discipline and that reaching the top of his profession takes dedication.
"It's all about making sacrifices," says Bordeaux. "It requires training and meditation; your mindset is important. You have to educate yourself well.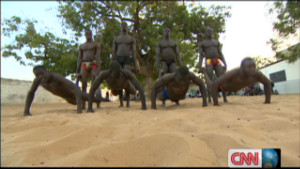 Senegal's wrestling boom
"Not all wrestlers get to realize their dreams, because on the bigger level it is few that get to where I am. You need to be focused on the sport -- like over 5,000 wrestlers you will get only 10 that make it."
See also: Senegal island exposes horrors of the slave trade
Bordeaux credits wrestling with changing his life, bringing him success and wealth.
"What I do know is that it has given me a lot of opportunities," he says. "It has opened doors for me because I am able to take care of myself and my family and especially to help the young people in the community."
It's perhaps a desire to emulate the likes of Bordeaux -- as well as a desire to keep fit -- that motivates young Senegalese men to work out on the beaches of Dakar.
Wrestlers fight to unite world's newest nation
Lacking the money to use a proper gym, some men have built a makeshift gym of their own. On the city's public beaches they have set up workout benches, using whatever materials they can -- be it car tires or wheel rims loaded with rocks to make them heavier.
Some of those training at Bordeaux's school and pumping iron on the beach may one day make it onto the professional wrestling circuit, earning the right to wear the wrestler's traditional pre-fight regalia.
Bordeaux describes the costumes as art. He says: "The way we dress is to show harmony -- we dress for the fight and we become different. When we wear the full attire for a fight, you won't recognize me!"

January 22, 2014 -- Updated 1139 GMT (1939 HKT)

Known for its diverse geography and culture, Cameroon could be on the dawn of becoming known for tourism.
June 3, 2014 -- Updated 0437 GMT (1237 HKT)

Vintage helicopters, ziplines, private flying safaris offer new, spectacular views of wildlife and rugged terrain.
March 21, 2014 -- Updated 1020 GMT (1820 HKT)

Morocco is famous for its historic cities and rugged landscape. But it's becoming known as a surfer's paradise.
March 14, 2014 -- Updated 1415 GMT (2215 HKT)

A huge spiral in the Sahara had Google Earth users baffled by what it could be. So what exactly is it?
March 6, 2014 -- Updated 1027 GMT (1827 HKT)

A photographer took to an ultra-light aircraft to capture Botswana's savannah from above. The results are amazing.
April 18, 2014 -- Updated 0934 GMT (1734 HKT)

The Hadza are one of the oldest people on Earth. Today, they battle for land, and continued survival.
June 13, 2014 -- Updated 1635 GMT (0035 HKT)

No one knows what causes "fairy circles" in Namibia's desert. A new study, however, may have solved the mystery.
February 13, 2014 -- Updated 1159 GMT (1959 HKT)

You might not associate Botswana with rock music, but in recent years its heavy metal scene has been making a name for itself.
January 29, 2014 -- Updated 1117 GMT (1917 HKT)

The ruined town of Great Zimbabwe is part of a kingdom that flourished almost 1,000 years ago, and a bridge to the past.
June 30, 2014 -- Updated 1030 GMT (1830 HKT)

Vintage clothes are proving a hit with fashionistas across Africa, as retro goes back to the future.
January 16, 2014 -- Updated 1011 GMT (1811 HKT)

The Tour d'Afrique is a four-month, 12,000 km cycle race across the length of Africa.

Each week Inside Africa highlights the true diversity of the continent as seen through the mediums of art, music, travel and literature.

Today's five most popular stories